Floyd Mayweather Net Worth And Biography 2023 [Age, Career, News]
We will be discussing Floyd Mayweather net worth, biography, and other juicy news you will be interested to know about him. Floyd Mayweather is a world-renowned American boxing champion and promoter, considered to be one of the greatest boxers in boxing history.
He is known to be among the few athletes to have total career earnings a little above $1.1 billion. He won numerous awards during his active boxing days for over a decade. Journey with us as we unveil to you much information about this successful boxer.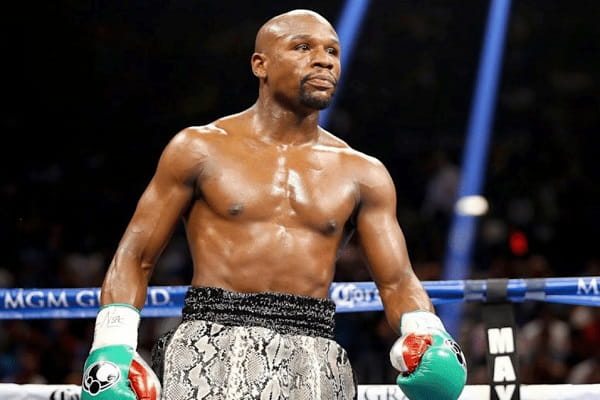 Do you know Floyd Mayweather worth over $450 Million?
Floyd Mayweather Profile
| | |
| --- | --- |
| Full Name: | Floyd Joy Mayweather Jr. |
| Birth Date: | 24th February 1977 |
| Age: | 46 Years Old |
| Birth Place: | Grand Rapids, Michigan, USA |
| Nationality: | American |
| Marital Status: | Single |
| Spouse: | Anna Monroe |
| Children: | Yes (4) |
| Profession: | Boxing |
| Net Worth: | $450 Million |
Floyd Mayweather, Jr., birthdate was on the 24th February 1977, in Grand Rapids, Michigan, U.S. Mayweather was born into a family of boxers, with his father and uncles been former boxers and they inspired him to become a boxer. His parents are Floyd Mayweather Sr., (father), is a former welterweight contender, and Deborah Sinclair (mother).
Mayweather grew up with his mother and they both lived in New Jersey in an apartment with one bedroom shared by 8 occupants. His father was not always around and was imprisoned due to his drug sales.
Sadly, his mother abused drugs and was an addict. He often finds used syringes from drugs in front of his house when he returns from school.
Read Also: The 10 Richest Olympians In The World (Updated)
Mayweather attended Ottawa Hills High School before dropping out to focus on boxing and became an amateur.
Floyd Mayweather Net Worth
Floyd Mayweather's career flourished and it brought him fame and fortune, as of the time of this publication, Floyd Mayweather's net worth is $450 million. Also, when you total up Floyd Mayweather's career earnings, it is estimated to be around $1.5 billion.
Floyd Mayweather earned around $2 million from his first 15 fights that proceeded the 2005 match against Arturo Gatti. Also, he has earned around $25 million outside the ring selling merchandise, likewise, through relatively small endorsement deals.
Career
Floyd Mayweather went on to become one of the most successful boxers in the world after winning a record title six boxing championships in five different categories including Super Featherweight, Lightweight, Junior Welterweight, Welterweight, and Super Welterweight.
Mayweather's professional boxing record is an astonishing 50 wins and 0 losses. Of the 50 wins, 27 were by knockout.
His journey to professional boxing began when he dropped out of school. However, we are unsure of the exact period he began his amateur boxing career. But we know that Mayweather had an impressive record in his amateur career.
During his amateur career, he won the national Golden Gloves championships three times (1993, 1994, and 1996). Also, in 1996, he won a bronze medal at the Atlanta Olympics as he lost due to a controversial decision to Serafim Todorov of Bulgaria in the semifinals. He set an unbeatable amateur record of 84 – 4.
Eventually, Mayweather Jr. turned pro in 1996, winning American Roberto Apodaca in a second-round knockout. Furthermore, he won the WBC junior lightweight title in 1998, in his 18th bout by defeating veteran American titleholder Genaro Hernandez in the eighth round. Again, he won Ring magazine's Fighter of the Year award in the same year.
Mayweather quickly moved up in weight four times, winning again the Ring magazine as well as the WBC lightweight titles in 2001, the WBC super lightweight title in 2005, and another Ring magazine and WBC welterweight titles in 2006.
In 2007, fans and analysts worldwide already considered Mayweather to be the best pound-for-pound fighter in the world, remaining undefeated in 38 professional bouts (24 by knockout).
Despite his previous accomplishments, his most successful spell which landed him more fortune and fame was the fight between him and fellow American Oscar De La Hoya, defeating him in the WBC super welterweight (junior middleweight) title thereby Mayweather gained mainstream recognition.
Also, Mayweather's fight against De La Hoya was an enormous financial success, with a record-breaking normal limit of pay-per-view including live-gate records. He in December 2007, he returned to the ring and scored a 10th-round knockout against Britain's previously undefeated Ricky Hatton in Las Vegas.
The bout further stretched his successful spell and attracted another capacity crowd and, together with his victory over De La Hoya, Mayweather earned the Ring magazine's Fighter of the Year award in 2007.
Interestingly, in June 2008, Mayweather announced his retirement from boxing. He returned to the ring in September 2009 against Juan Manuel Márquez, and although Márquez was in great opposition and fought hard, the judges awarded Mayweather a unanimous decision after 12 rounds.
Mayweather won three-time welterweight champion, Shane Mosley, via a unanimous decision 2010 nontitle bout. Mayweather's next bout was against Victor Ortiz in September 2011, and he defeated him to recapture the WBC welterweight title—which he had surrendered at his retirement.
Mayweather continues his successful fighting spell with a victorious bout against fought Miguel Cotto in May 2012, winning via unanimous decision to win the World Boxing Association (WBA) light middleweight title. His next match was against Robert Guerrero which he won in a unanimous decision in 2013.
Mayweather won majority decisions against Mexico's Saul Alvarez in September 2013, and Argentina's Marcos Maidana in 2014. The two bouts became only the second and third times throughout his career that he did not win a fight by knockout, unanimous decision, or opponent retirement.
Mayweather and Pacquiao agreed to fight on May 2, 2015, after years of rumors and on-and-off negotiations. Mayweather the winner by unanimous decision. On August 26, 2017, he fought Conor McGregor, a mixed martial arts champion. After the bout, Mayweather again announced his retirement from boxing with a remarkable 50–0 career record.
Personal Life
In brief, Mayweather Jr. is not married yet and he is still single as of the time of this writing. Also, he is a father to 4 biological children and one adopted. 3 of his children were with her ex-wife a former reality star Josie Harris and one child with television star Melissa Brim.
However, in 2020, his ex-girlfriend Josie Harris, the mother of his three children was found dead in her home in California.
Other News About Floyd Mayweather
Another news you need to know about Mayweather is that in 2002, he was charged on two accounts of domestic violence and one of those counts as a misdemeanor battery. He was suspended for six-month and sentenced to community service for this charge. Also, in 2004 he was suspended for a year after being convicted of two counts of misdemeanor battery.
However, in 2005 Mayweather pleaded no-contest to a misdemeanor battery charge after kicking a bouncer. But he received a 90-day suspended sentence. In 2011, Mayweather was ordered to serve 90 days in county jail on the count of battery charges.
In addition, he was sentenced to carry out 100 hours of community service as well as, to attend a 12-month domestic violence program. In the end, he served 63 days in jail.
Floyd Mayweather Private Jets
Do you know Mayweather owns two private jets?
Some fans have to ask of Floyd Mayweather's private jets. One of Mayweather's jets is the Gulfstream G650 jet which has an interior beauty capable of sweeping you off balance staring at it. Also, he owns a plush £43.5million private jet which is another toy that has been making his traveling seamless.
Houses
Mayweather owns a $10 Million Mansion in LA, also he owns a $25 million house in Vegas. these houses are full of luxuries and ecstasy that will make you enjoy every bit of the house. one has a private vineyard inside of the house, swimming pool, and other facilities that make this money man comfortable.
Cars
Do you want to know the car collection of Veteran boxing king? here are the cars owned by Floyd Mayweather;
Lamborghini Murcielago.
Bugatti 16.4 Veyron.
Koenigsegg CCXR Trevita.
Bentley Mulsanne.
Mercedes-Benz SLR McLaren.
LaFerrari Aperta.
Floyd Mayweather Wife
Currently, Mayweather's Girlfriend (Wife) name is Anna Monroe, she is a social media influencer, dancer and currently works at the Las Vegas strip club owned by Mayweather.
Read Also: Mike Tyson Net Worth And Biography [Wife, Age, Fights]
Conclusion
I hope you had fun reading through our discussion on Floyd Mayweather net worth, biography, and all other information about him. It is most amazing to see his achievement in boxing and how he grew to become one of the greatest boxers in the world most impressively in the 50-0 record.