Angelique Kidjo Biography and Net Worth 2023 – Family, Awards, and Fact
Talking about one of Africa's finest singers with creative music lyrics and videos with distinct musical influence. Angelique Kidjo has found a way to blend both traditional and modern music styles. Today, we will be exploring Angelique Kidjo's biography and life history with her net worth.
Angelique Kidjo as popularly referred to, is a Beninese singer, songwriter, actress, author, and social activist and a Grammy award winner. She has over 13 albums sung in different languages.
Most of her song revolves around AfroPop, AfroBeat, Jazz, Latin styles, and Reggae. Angelique is a 4 times Grammy award-winning singer. She's also currently married to a French musician with a child from the marriage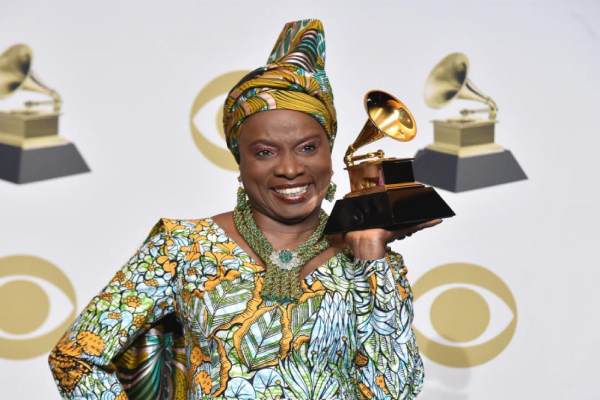 Continue reading Angelique Kidjo's biography to learn more about her family background, songs, and albums produced with other interesting facts.
Family Background
Angélique Kpasseloko Hinto Hounsinou Kandjo Manta Zogbin Kidjo Who is popularly known as Angelique Kidjo was born in Ouidah in Benin on the 7th January in 1960. She was born into a family of 11 by a father from Fon ethnic group in Ouidah and a mother from the Yoruba ethnic group.
She has a strong musical background which influences her musical career to date. Her father is a musician while the mother runs a theatre and choreography school.
Musical Career
Being the theatre's director's daughter, Angelique Kidjo started practicing and performing with her mother's troupe as early as 6 years of age. This includes listening to many songs produced by different musicians who she sees as a role model in the industry.
Musicians like Miriam Makeba, Otis Redding, Santana, Hugh Masekela, James Brown, Manu Dibango, Jimi Hendrix, Stevie Wonder, and Osibisa made her childhood memories.
She later joined "Less Sphinx", a band in her school where she started singing. Joining the brand proves to be successful as her integration of "Les Trois Z" Miriam Makeba's song was played on national radio.
She also released an album that she titled "Pretty" with her brother, Oscars, and a Cameroonian producer. "Pretty" received a lot of commendations widely in Africa and becomes a success. 
Due to the political struggle in her home country, she left for Paris in 1983 where she continues to pursue her musical passion. She started doing many part-time jobs during her stay in Paris. Which was used to pay her tuition fee at CM; a reputable Jazz School, where she studied music. It was in this school she met her lover and current husband whom she later got married to in 1987.
Angelique Kidjo started singing as a backup singer with various local brands. Not until 1985 when she became a front singer at Pili Pili brand. During her stay as their front singer, 3 albums were released including "Jalako" in 1987, "Be in Two Mind" in 1908, "Hotel Babo" in 1990.
She also released a solo song for the label which was titled "Parakou" in 1980 which made her very popular. This popularity is what made her be noticed by many record labels which she later got signed to.
In 1991 she got signed by Island Record where Chris Blackwell was the founder. About 4 albums were also released during her stay at the record label. She later departs from the record labor after the founder also left.
She later got signed to another Columbia musical record label in New York where she released 2 albums. Angelique Kidjo has also collaborated with a lot of other musicians in the production of different songs at different periods.
Some of those musicians include Alicia Keys, Branford Marsalis, Ziggy Marley, Philip Glass, Peter Gabriel, Bono, Carlos Santana, Dave Matthews Band, Kelly Price, John Legend, Herbie Hancock, Josh Groban, Dr. John, the Kronos Quartet, Yemi Alade, and many others.
Apart from being a musician, she is also an author who published a memoir titled Spirit Rising; My Life, My Music on 7th January 2014. The book mainly is all about a call for dignity, freedom, and the right of citizens.
Angelique Kidjo as a Social Activist
The award-winning singer is a social activist who has contributed a lot to society. She has contributed a lot through her songs which always encourage freedom in society, call for dignity, and exercise the right of the citizens.
In 2002, she became the UNICEF Goodwill Ambassador and has made tons of trips to advocate in different countries like Benin, Senegal, Ethiopia, Tanzania, Syria, South Africa, Haiti, Malawi, Uganda, Kenya, Sierra Leone, and Zimbabwe.
She is also a co-founder of The Batonga Foundation along with John Phillips and Mary Louise Cohen. The foundation helps young and vulnerable females in acquiring new skills in financial literacy and build social capital. In 2005, during the Hong Kong WTO meeting, she also campaigned for their trade meeting while traveling with the different group leaders to different countries.
With the backup of the International Federation of Human Rights (FIDH), she did campaigning for "Africa for women's rights" in 2009. She has also partaken in many activities that focused on health, water, the environment, and so on.
TV Shows and Soundtracks
Angelique Kidjo also featured in many TV shows, hosted special concerts, and write Soundtracks for many movies.
Below is the list of a TV shows she has featured in.
Angelique Kidjo has appeared on;
Later TV show with Jools Holland
In 2002, NOW TV show with Bill Moyers
In 2003, Politically Incorrect show with Bill Maher 
In 2007, Late TV Show  with David Letterman, the Tonight Show  with Jay Leno, and CBS Early Show 
In 2015, Austin City Limits show
A host of the Tavis Smiley Show on PBS both in 2010 and 2014.
In 2010, Late Night Show with Jimmy Fallon
In 2017, Pink Christmas" special of Neo Yokio as Aunt Angelique
Some of the soundtracks she has produced include; Le Code A Changé by Danielle Thompson, The Lion King 2, My Favourite Season by André Téchiné, Pray the Devil Back To Hell, Sahara, Ace Ventura: When Nature Calls, Bimboland, The Truth About Charlie, The Wild Thornberrys Movie, Blood Diamond, Caro Diario by Nanni Moretti, Changing Times by André Téchiné, Krippendorf's Tribe, Six Feet Under Streetfighter, The Air Up There, Who Does She Think She Is and, Without a Trace.
Relationship and Family
Angelique Kidjo is currently married to a French musician, Jean Hebral since 1987. They both gave birth to a daughter; Naimat Hebrial who is also an actress and a writer.
Songs and Albums
Without mentioning the albums she has released, Angelique Kidjo's biography won't be completed. Below is the list of her albums released by her.
Pretty was released in 1981
Parakou released in 1989
Logozo released in 1991
Aye released in 1994
Fifa in 1996
Oremi in 1998
Black Ivory Soul in 2002
Oyaya in 2004
Djin Djin in 2007
Oyo in 2010
Spirit Rising in  2012
Eve in 2014
Sings with
Ochestre Philharmonique Du Luxembourg in  2015
Remain in Light in 2018
Celia in 2019
Awards and Recognition
Angelique Kidjo is an award-winning singer with an international appeal. Check out the list of some of her awards and an honorary degree.
She received;
Best Female Singer Award by Danish Music Awards in 1995
Best African Female Artist Award by Kora Music Awards in 1997
Best World Music Act Award by MOBO in 2002
Africa-Festival Award and SAFDA African Pride Award in  2006
Antonio Carlos Jobim Award in 2007
Outstanding World Music Album Award by N.A.A.C.P Image in 2008
Best Contemporary World Music Album Award by Grammy in 2008
Music Award by Go Global World in 2008
Afropop Hall of Fame in 2009
New York Women's Foundation in 2009
Champions of the Earth Award in  2011
Best Contemporary World Music Album Award by Grammy in 2015
Leadership Award by David Rockefeller Bridging in 2015
Population Council Organization Impact Award in 2015
World Economic Forum Crystal Award in 2015
Amnesty International Ambassador Conscience Award in 2016
Grand Duchy of Luxembourg Officer of the Order of Merit in 2016
All Africa Leadership Award in 2016
Best Actress in a Supporting Role Award by the African Movie Academy in 2017
Songlines Magazine Music First World Pioneer Award in 2018
German Award for Sustainability in 2018
International Society for the Performing Arts Award as Distinguished Artist in 2020
62 Annual Grammy Awards for Best World Music Album in 2020
She also has an honorary degree from the following universities including Yale University, Middlebury College, UCLouvain University, and Berklee College of Music.
Read Also: Meet The 10 Richest Musicians In Africa
Angelique Kidjo Net Worth
Angelique Kidjo Net worth is currently estimated at $5 Million, her wealth is attributed to money made from her music career, as we all know she is one of the most successful musicians in Africa.