10 Biggest Purchases Of Technology Companies In History
Do you care to know the highest technology purchases in history? With the now more than likely sale of Twitter to suitors like Google or SalesForce, we have decided to compile the sales of the largest technology companies of all time.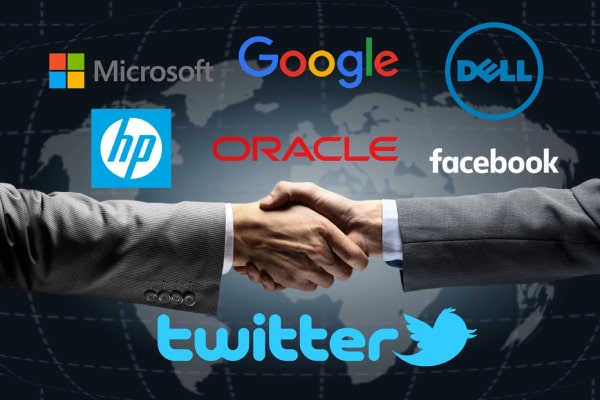 Spoiler: the purchase of Yahoo! by Verizon it is not in the Top 10, and it was 4.830 million dollars.
Top 10 Highest Technology Purchases In History
1. Dell buys EMC ($67 billion, 2015)
It is the most expensive purchase of a technology company in history and combines the manufacturer of hardware Dell with the EMC software company, specializing in data storage, data analytics and cloud computing.
The transaction closed in October 2015 for $67 billion and marks the acceleration of Dell's strategy to exit the PC market and focus on the world of business services, for which EMC (now officially Dell EMC) is an exceptional ally.
2. Elon Musk buys Twitter ($44,000 billion, 2022)
Unlike previous purchases, this one was made by a single person. Although Musk bought part of Twitter with financed money, there is also money that comes out of his pocket and now he owns a platform that is highly consumed and above all important in public and daily discussion. The future is still uncertain.
3. SoftBank buys ARM ($32.3 billion, 2016)
The first major purchase of the Top 10 took place in 2016: SoftBank, the Japanese telecommunications and Internet multinational, buying the British developer of ARM chips for more than 32,000 million dollars. As a curiosity, it is also the largest acquisition of a European technology company.
Once again, an example of a "mix" between a hardware company and a software company. The objective in this case is to improve SoftBank's position in the Internet of Things.
4. Microsoft buys LinkedIn ($26 billion, 2016)
Another big notorious purchase of 2016 was that of Microsoft by LinkedIn for 26,000 million dollars, also the most important made since Satya Nadella was CEO of the Redmon company.
And why did this movement occur? Microsoft saw a great possibility of growth in the professional market thanks to LinkedIn, the largest social network oriented to companies, businesses and employment.
HP has a long history of purchases since its inception in 1986 (and by long we mean more than 130 acquisitions). The most important of his career was that of Compaq, the PC manufacturer and one of Hewlett-Packard's biggest rivals in its day.
Subsequent analyzes and the cold results on the stock market (HP came to drop half its valuation after the purchase), usually agree that it was not a good purchase. In fact, one of the sons of HP's founders, Walter Hewlett, confessed that the purchase was a "$25 billion mistake," implying that the deal was too expensive.
6. Facebook buys WhatsApp ($19 billion, 2014)
Two years after buying Instagram for 1,000 million dollars, Facebook decided to shelve it by disbursing 19,000 million dollars for WhatsApp, which is still the most-used messaging service in the world, with more than a billion active users per month.
At the time of the purchase, two years ago, WhatsApp had 450 million users. Judging from its growth, we could say that it was not a bad purchase, right?
7. HP buys Electronic Data Systems ($15.4 billion, 2008)
Another purchase of HP in the Top 10 biggest purchases of technology companies in history. This time the 15,400 million paid by EDS were seen with better eyes than the investment by Compaq, and that is that it allowed HP to double its billing for computer services, and put itself in second place in the ranking of companies of this type behind its competitor IBM.
Previously, EDS had belonged to General Motors, which bought the company for $2.5 billion in 1984. Starting in 1996, EDS became independent again until HP came along with the wallet.
8. Symantec buys Veritas ($13.5 billion, 2005)
Symantec, known for its Norton antivirus, bought Veritas Software Corporation for $13.5 billion in 2005 to enter the world of data storage and recovery, while continuing to distance itself from competitors like Cisco.
In 2015, Symantec announced that it was selling Veritas to The Carlyle Group for $8 billion.
9. Google buys Motorola ($12.5 billion, 2011)
Under the headline "Android Supercharging", Google's Larry Page announced the purchase of Motorola's mobile division for $12.5 billion in 2011.
What interested Google in Motorola was not the devices, but the patents, which were the ones it ended up keeping when, several years later, it ended up selling Motorola to Lenovo for less than 3,000 million dollars.
10. Oracle buys PeopleSoft ($10.3 billion, 2005)
Negotiations lasted a year and a half that ended up resulting in the purchase of Oracle by Peoplesoft, both rivals in software creation.
PeopleSoft came to reject Oracle's offers up to five times, which ended up offering 10.3 billion dollars to increase its customer base and its billing.
Read Also: The 17 Biggest Social Networks in the World
11. HP buys Autonomy ($10.3 billion, 2011)
And we close the Top 10 highest technology purchases in history again with the big technology buyer, HP, who set his sights on Autonomy to continue growing in the world of software.
Once again, the play did not go too well. Later analyzes ensure that HP paid too much; Raymond J. Lane, the then president of the company, ended up resigning because the purchase resulted in millions in losses.