The 17 Biggest Social Networks in the World (2023)
What are the biggest social networks in the world? Social networks dominate our lives, and every year, new platforms appear to connect us even more with other people.
You've probably heard of YouTube and WhatsApp, but are you familiar with QQ or WeChat? In this list, you will see that not all the most used social networks in the world are popular in some countries, we specifically published this article to keep you updated with the largest social networks in the world.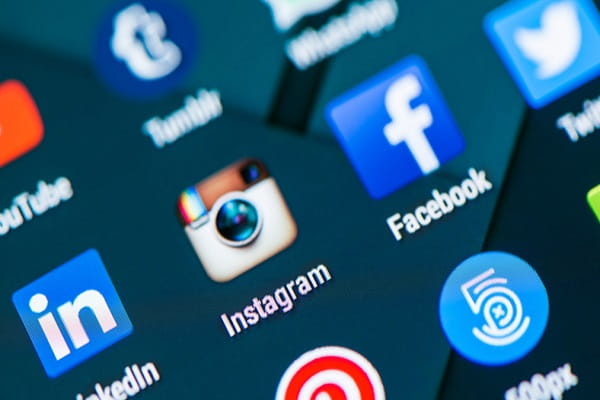 17. Quora – 300 million
Launched to the public in 2010, Quora is a social network based on questions and answers mediated by the user community itself. This network was created by two former Facebook employees and has become very popular around the world, counting today with around 300 million users!
16. Reddit – 430 million
News, conspiracy theories, pranks and support groups all in one place! Reddit is very popular with anyone who wants to voice their opinion and be heard by people around the world. The curiosity of this social network is the fact that it has moderators, who are not afraid to eliminate bad content.
15. Twitter – 436 million
Despite being the social network for several controversial politicians, Twitter only ranks 15th on the list. Even so, 436 million active users is staggering. It's amazing how a few characters can make such a difference!
14. Pinterest – 444 million
Fantastic decorations, DIY step-by-step, photos and interesting facts about the world. Pinterest is one of the coolest and most different social networks today. Founded in 2009, pins have been popular with people of various nationalities around the world and remain very popular.
13. Telegram – 550 million
Telegram is one of the most popular messaging apps in the world right now. Like Whatsapp, it allows the exchange of messages and files between users and is available for iOS, Android and Windows. One of Telegram's great differentials is that it allows the creation of groups with up to 200,000 users.
Read Also: How To Protect Whatsapp From Fraudsters And Hackers
12. Snapchat – 557 million
The little ghost that is Snapchat's symbol already reveals the main purpose of the social network: to send a photo or video for a short period of time that will soon disappear. It was the predecessor of Instagram stories and was widely used by teenagers. Snapchat has lost some popularity in recent years, but it continues to attract a new generation, especially for the filters and masks it makes available.
11. Kuaishou – 573 million
One of Douyin's biggest current competitors, Kuaishou was launched in 2011 and is based on sharing videos between users. Developed by the Chinese company Beijing Kuaishou Technology Co, the app has become increasingly popular in other countries outside of China, including Brazil.
10. Sina Weibo – 573 million
China has a number of very strong social networks, because the country blocks some of the most well-known global networks, such as Facebook. Weibo means "microblogging" in Chinese and is quite popular in Asia.
9. QQ – 574 million
QQ is yet another very popular Chinese social network. Like WeChat and Qzone, QQ belongs to the Chinese company Tencent. Their logo is a penguin in a red scarf winking.
8. Douyin – 600 million
Douyin is the original Chinese version of Tik Tok. It was launched in 2016 and soon fell in favor of the people by presenting a dynamic layout for viewing and sharing short videos. Currently, Douyin and Tik Tok, despite having the same function, are presented as two different platforms.
7. Facebook Messenger – 988 million
Facebook is so big that its messaging app counts as a separate social network! Messenger serves as a competitor for WhatsApp, despite the fact that the two apps belong to the same company. Messenger users like to share messages, photos and videos privately with their friends.
6. Tik Tok – 1 billion
Tik Tok is a very recent social network, but it has grown very fast, especially during the year 2020. Launched worldwide in 2018, this app is for creating and sharing short videos with a strong emphasis on music and viral challenges.
5. WeChat – 1.26 billion
WeChat is the big Chinese competitor to WhatsApp. Most of WeChat's active users are Chinese, and the social network is strongest in Asia. Everything popular in China becomes world leader, because Chinese are almost 20% of the world's population.
4. Instagram – 1.47 billion
For lovers of selfies and dinner photos, Instagram is heaven! With over 1 billion (1,000,000,000) active users, this mobile social network has an impressive repertoire of photographs. Hairstyles for dogs? Instagram has it!
3. WhatsApp – 2 billion
WhatsApp is breaking all growth records! Created in 2009, WhatsApp is already the third most used social network in the world and has the potential to steal the throne from Facebook. The appeal? The user can send messages on the cell phone without paying telephone charges.
2. YouTube – 2.56 billion
YouTube ranks second in terms of active account users but its total view numbers are much higher. You don't need an account to enjoy YouTube. Every day, over 1 billion hours of video are viewed on YouTube!
1. Facebook – 2.91 billion
Facebook is the great king of social networks, with more than 2 billion active users. This means that about 1 in 4 people in the world have an active account on the social network! Facebook appeals to people of all ages and keeps people all over the world connected (except in China, where it's banned).
Read Also: Top 5 Best Internet Companies In the United States
We hope with this list you now know the biggest social networks in the world you can use aside from the ones already installed on your devices.