The 8 Busiest Ports in the World [2023 Updated]
This article examines the eight busiest ports in the world based on container traffic, with a special focus on China's dominance in this sector.
Shanghai has held the title of busiest port since 2010, followed by Ningbo-Zhoushan and Shenzhen.
Guangzhou and Tianjin also play significant roles as important logistics hubs, while Singapore, Busan, Hong Kong and Rotterdam are prominent international shipping hubs.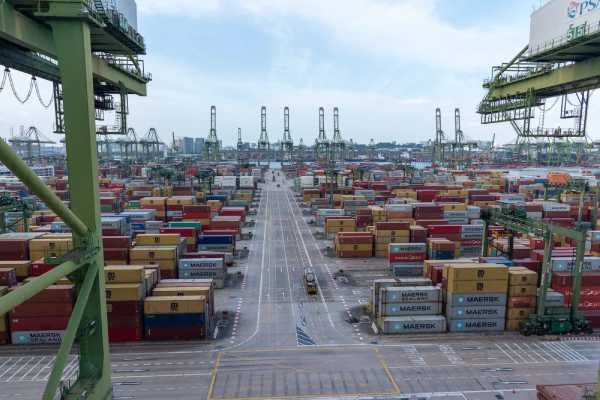 By analyzing these ports, we can gain insights into global trade patterns, regional development, and the economic importance of maritime transport.
1. Shanghai, China
The port of Shanghai in China has been the busiest port in the world since 2010. It covers an area of ​​3,620km2 and is made up of 293,000m2 of warehouses and 4.7 million square meters of storage areas. Approximately 2,000 ships depart the port every month.
The environmental impact of Shanghai port operations is a significant concern. The high volume of container traffic contributes to air and water pollution, noise pollution and habitat destruction. Efforts to mitigate these impacts include implementing stricter emissions standards, using cleaner fuels, and developing environmentally friendly infrastructure.
Furthermore, the port of Shanghai faces challenges in managing its huge volume of container traffic. These challenges include congestion, limited capacity and the need for efficient logistics operations. To face these challenges, the port has invested in infrastructure improvements, advanced digital technologies and optimized operational processes.
Continuous efforts and innovations are needed to ensure sustainable and efficient port operations in Shanghai.
2. Singapore
The Port of Singapore, comprised of PSA Singapore and Port Jurong, is a major transshipment hub, handling a substantial portion of the world's shipping containers. Singapore's strategic location plays a crucial role in its prominence as a global trading hub. Situated at the crossroads of major shipping routes, Singapore benefits from its proximity to key markets in Asia and beyond. Its deep-water port and advanced infrastructure enable efficient and economical transshipment operations.
Singapore has also been actively pursuing initiatives to become a smart port, leveraging technology and digitalization to enhance productivity, optimize operations and improve sustainability. These efforts include the adoption of automated systems, data analytics, and Internet of Things (IoT) technologies. By embracing innovation, Singapore aims to strengthen its position as a leading maritime hub and continue to thrive in the dynamic global trade landscape.
3. Ningbo-Zhoushan, China
Ningbo-Zhoushan, China, operates on the coast of the East China Sea and serves as a meeting point between shipping routes and China's inland waterway system. This strategic location allows for efficient transport and trade connections, both nationally and internationally.
With its seaports, estuaries and inland rivers, Ningbo-Zhoushan offers diverse options for maritime transportation and logistics, attracting a significant volume of container traffic. The port has 191 berths, including 39 deep-water berths, which further increases its capacity and capabilities.
Furthermore, Ningbo-Zhoushan's inland waterway connections contribute to its importance as an important commercial hub, facilitating the movement of goods to and from various regions in China.
This meeting point location and an extensive network of inland waterways make Ningbo-Zhoushan a key player in China's maritime trade and logistics industry.
4. Shenzhen, China
Located in the Pearl River Delta near Hong Kong and Guangzhou, Shenzhen, China is a rapidly growing port with a significant number of berths. Shenzhen's rapid growth has had a profound impact on the surrounding region.
The increased volume of container traffic over the last 15 years has not only contributed to the economic development of the area, but has also presented challenges in terms of environmental sustainability. Shenzhen Port Operations has implemented several initiatives to address these challenges.
These initiatives include adopting green technologies to reduce emissions and improve air quality, implementing waste management systems to minimize pollution, and promoting environmentally friendly practices among port users.
These initiatives aim to ensure that Shenzhen Port's growth is sustainable and minimizes its environmental impact on the surrounding region.
5. Guangzhou, China
Guangzhou, China, is an important logistics hub in the Pearl River Delta with a rich history dating back to around 200 BC. The port of Guangzhou has a significant economic impact on the Pearl River Delta region. As one of China's busiest ports, it plays a crucial role in facilitating trade and commerce, attracting investment and stimulating economic growth in the surrounding areas.
The port's strategic location and extensive trade routes with more than 300 other ports contribute to its prominence in global trade. Recognizing the importance of the port, there are ongoing infrastructure development and expansion plans for Guangzhou Port. These plans aim to enhance the port's capacity, efficiency and connectivity, further strengthening its position as a key player in the global maritime industry and promoting sustainable economic development in the Pearl River Delta region.
6. Qingdao, China
Located on the Yellow Sea, Qingdao is a significant port in China that plays a crucial role in international trade. Comprised of four areas, namely Dagang, Qianwan, Huangdong and Dongjiakou, Qingdao trades with more than 450 other ports, solidifying its position as a major global trade hub.
One of the main factors contributing to Qingdao's success in international trade is its connection to the Qingdao Free Trade Zone (FTZ). The FTZ offers several incentives and benefits to companies, including simplified customs procedures, tax exemptions and simplified regulations. These advantages attract foreign companies and promote a favorable business environment.
Consequently, Qingdao serves as a gateway for foreign investment and trade into China, facilitating the flow of goods and services between domestic and international markets.
7. Busan, South Korea
Located in South Korea's second most populous city, Busan has emerged as an important port, especially for the shoe and blade industries. With container traffic of 21,590 TEUs in 2020, Busan Port's impact on the South Korean economy cannot be underestimated.
The port's strategic location on the country's southeast coast has facilitated its growth as an important center of commerce and business. In response to the growing demand for container traffic, Busan Port has undertaken infrastructure development and expansion projects. These initiatives aim to meet the growing demand for container traffic and increase the port's capacity to handle larger ships.
Busan Port's future growth prospects remain promising as it continues to strengthen its position as a vital economic gateway to South Korea.
8. Hong Kong
Hong Kong, as one of the busiest ports in the world, faces several challenges due to geopolitical tensions. These challenges include political uncertainties, trade disputes and regional conflicts that could affect the port's operations and its attractiveness to international shipping companies.
Despite these challenges, Hong Kong has developed future expansion plans to maintain its position as a major international shipping hub. These plans include infrastructure improvements such as the construction of the Hong Kong-Zhuhai-Macao Bridge and the third runway at Hong Kong International Airport, which will enhance connectivity and support the port's growth.
Furthermore, Hong Kong intends to take advantage of its strategic location within the Greater Bay Area to strengthen cooperation with neighboring ports and develop complementary services such as logistics and maritime-related industries.
9. Tianjin, China
Tianjin, China, serves as a sea gateway to Beijing and has undergone several expansions over the past 20 years to accommodate its growing commercial demands. The impact of the Belt and Road Initiative on the development of Tianjin port has been significant.
As part of China's ambitious plan to increase global connectivity and promote economic cooperation, the Belt and Road Initiative has played a crucial role in boosting the development of Tianjin port. China's role in global trade through the port of Tianjin has expanded exponentially, making it one of the busiest in the world.
This can be attributed to Tianjin's strategic location, its well-developed infrastructure, and the government's focus on promoting trade and investment. The Belt and Road Initiative has provided much-needed impetus for the development of Tianjin port, elevating China's position as a key player in global trade.
10. Rotterdam, Netherlands
The port of Rotterdam is the largest port outside Asia and in operation since the 14th century, covers more than 12,500 hectares and is located in the Rhine Delta and the North Sea.
Rotterdam's historical significance in the shipping industry is notable. As one of the oldest ports in the world, it played a key role in facilitating trade and connecting Europe with the rest of the world.
Over the years, Rotterdam has undergone significant port expansion, which has had a profound impact on global trade. The expansion has enabled an increase in capacity, efficiency and connectivity, making Rotterdam a key hub for international shipping.
Read Also: The 10 Most Dangerous Airports In The World
The expansion of the port has not only enhanced its role as a major trade gateway but also contributed to the growth and development of the global economy.