Cross Country Transport Price List 2023 Updated: Terminals & Contacts
In today's article, you will get to know the necessary information about Cross Country Transport price list, Cross Country Terminals nationwide, easy online booking and other services rendered by Cross Country Transport.
The transportation business has taken a new dimension in Nigeria and is now a very competitive business even though there is a huge demand for more transport companies. Transport companies have upped their games with the help of technology and setting aims and goals for their individual companies.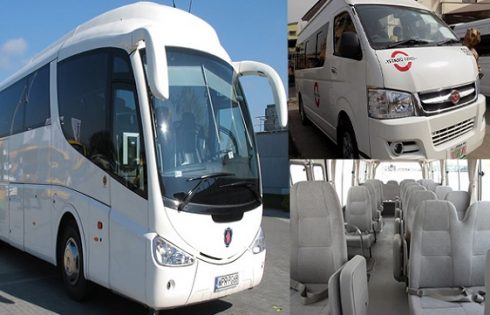 For you to be at the top or to be one of the top best transport companies in Nigeria you have to be up and doing, leverage on many things to keep your heads high, this exactly is what Cross Country Transport company has been doing that placed them on the list of top best transport companies in Nigeria.
About Cross Country Transport
Cross Country Transport Limited was established and commenced transport operation officially in 2001, 2nd of May to be precise with the aim of transporting passengers, goods and services via private and public buses.
The company started inter-city and inter-state transportation in December 2002 with brand new 132 fleets of buses which have now been multiplied getting to around 100 fleets of vehicles.
Cross Country Transport Limited head office was sited at No 345, Muritala Mohammed Way, Yaba, Lagos State Nigeria.
Due to quality service being rendered to their customers, Cross Country was able to massively expand within few years and was named as the "Corpers' Best Friend" because of the preferential treatment given to National Youth Service Corps members (NYSC) and also preferred by most young Nigerians.
Read Also: Top 10 Best Investment Opportunities In Nigeria
The company was able to win the heart of the masses with their new fleets of luxury buses and double-decker buses fully air-conditioned with ergonomic seats, the buses have the capacity to ply the good and rough Nigerian routes.
As a consistent company with quality service delivery both in their passenger conveyance and logistics the company was rewarded by different firms winning multiple awards with the recent which is the "Nigeria's Best Travel Portal Award".
Traveling With Cross Country Transport
Ever wondered how traveling with Cross Country Transport would be? A lot is in stock for you if you travel with Cross Country Transport, this is the main reason why most people prefer Cross Country to other Transport companies in Nigeria.
In case you are not aware, All Cross Country buses have a tracking device installed on them which enables the control center to monitor the routes taken by the driver and also so as to notify the driver of the best routes to take and those to avoid. It also compels the drivers so as not to go beyond the normal speed limit for the safety of the passengers.
With the installed tracker, it is easy to also detect if there are any faults and to make sure the vehicles are in good working condition.
Another benefit of traveling with Cross Country is that you can travel following any routes all over the country, it is easy for passengers to stick with Cross Country as they have terminals all over Nigeria some of the top cities and states they travel to include Aba, Lagos, Abuja, Ibadan, Onitsha, Maiduguri, Kano, Sokoto, Yola, Jos, Umuahia, Uyo, Port Harcourt, Calabar, Owerri, Nnewi and so on.
Aside from traveling to states and cities in Nigeria Cross Country Transport also travel outside of Nigeria to Neighbouring West African Countries like Ghana, Togo, Ivory Coast, Benin Republic, Burkina Faso, Mali, etc.
Other Cross Country Transport Services
Aside from transportation of passengers Cross Country Transport Limited also offers some transport-related services like:
Haulage Services
Hotels and Hospitality
Courier Services / Logistics
Cross Country Transport Bus Variants
Below are the types of buses used by Cross Country Transport:
Hummer Buses
Luxury Buses
Double Decker Buses
How To Book A Ticket Online With Cross Country Transport
To book a ticket easily all you need is an internet-enabled phone or laptop and you are done. If you have made the decision to try out Cross Country Transport then you have made the right decision, to book a ticket online with Cross Country transport follow the steps below.
Launch your browser and visit Cross Country Official Website.
Under the "Select Journey" form choose your location where you are traveling from, destination and date then click on "Find my journey".
Choose your preferred seat and proceed.
Make your payment online with your ATM card.
After a successful payment, the confirmation will be sent to you.
Cross Country Routes
From Port Harcourt …
Onitsha
Enugu
Calabar
Owerri
Warri
Awka
From Owerri …
Onitsha
Uyo
Calabar
Warri
PHC
Enugu
From Calabar …
Enugu
Owerri
Umuahia
PHC
Warri
From Warri …
Umuahia
PHC
Awka
Owerri
Calabar
From Uyo …
Warri
Enugu
Owerri
Umuahia
Calabar
Cross Country Terminals / Parks Nationwide
TERMINAL

ADDRESS

CONTACT

Ohafia Terminal
345, Eni Njoku Road, Ohafia, Abia State
08028419211

Eket Terminal
50, Liverpool Road, Eket, Akwa-Ibom State
08028462080

Uyo Terminal
Terminal 4, Item Park, Uyo, Akwa-Ibom State
08028462080

Bauchi Terminal
5, Maiduguri Bye Pass, Bauchi
08024000340

Maiduguri Terminal
Kano Station, Maiduguri, Borno State
08024000340

Calabar Terminal
Opposite U Esuene Stadium, Calabar, Cross River
08028427406

Ikom Terminal
1, Border Road, Ikom, Cross River
08028433741

Ogoja
Terminal

Opposite Diamond Bank, Igoli, Ogoja, Cross River
08028443930

Asaba
Terminal

89,
Dennis Osadebe Way, Opposite Textile Mill, Asaba, Delta State

08180315567

Utako Terminal
Dan Suleiman Crescent, Off Okotie Eboh Street, Utako District, Abuja
08028408277

Kubwa
Terminal

Gado Nasko Way, Opposite 2/2 Court, Kubwa, Abuja
08028408277

Kaduna
Terminal

Mando Park, Mando Lagos Garage, By Airforce Base, Mando, Kaduna
08028448945

Kano
Terminal

Angwauku, Opposite Federal Govt. College, Kano
08028415483

Ajah Terminal 1
Ikota Shopping Plaza, Ajah, Lagos State
 

Ajah
Terminal 2

After Abraham Adesanya Round About, Lekki-Epe Express Way, Ajah, Lagos State
 

Cele
Terminal

158, Atinuke Complex Okota Road, Isolo, Lagos State
08028456127

Ikotun
Terminal

22, Ikotun Egbe Road, Opposite Synagogue Church, Of All Nations, Ikotun, Lagos State
08028445647

Jibowu
Terminal

12, Ikorodu Road, By Immac Group, Chicken Republic Building, Jibowu, Lagos State
08028445647
Maza-Maza Terminal
Badagry Express Way By Festac Gate
08028445261
Yaba
Terminal

345,
Muritala Mohammed Way, Opposite The Presbyterian Church, Beside Conol, Yaba,
Lagos State

08055555595

Lafia
Terminal

18, Makurdi Road, Opposite Magoda Petrol Station, Lafia, Nasarawa State
08028447950

Abeokuta
Terminal 1

Oando Filling Station, Opposite Lipede Shopping Complex, Abeokuta, Ogun State
08028402699

Abeokuta
Terminal 2

Car Wash Bus Stop, Abiola Way, Olorunsogo, Abeokuta, Ogun State.
08028402699

Ibadan
Terminal

4, Town Planning Way, Near Mobile Bus Stop, Ring Road, Ibadan, Oyo State
08028435347

Jos
Terminal

5, Zaria By Pass, Jos, Plateau State
08028440595

Port
Harcourt Terminal

Opposite
Water Line Building, Waterline Junction, Bye Pass, Port Harcourt, Rivers
State

08028452731

Sokoto
Terminal

Lemi Petrol Station, Gida Denre, Sokoto Western Bye Pass, Sokoto
08028457694

Accra
Terminal

Opposite Apollo Theatre, Ring Road, Kwame Nkrumah Circle Accra, Ghana
+233274447838,
+233542652055

Cotonou Terminal
Plot 162, Gbenonko Akpakpa, By Catholic Church, Dantokpa Bridge, Cotonou, Republic of Benin
+22966999241,
+22997243053

Cross Country Transport Price List 2023
| Departure | Destination | Price |
| --- | --- | --- |
| Lagos | Abuja | ₦6,500 – ₦11,500 |
| Lagos | Abakaliki | ₦6,000 – 6,500 |
| Lagos | Asaba | ₦4,000 – 4,500 |
| Lagos | Benin | ₦3,500 |
| Lagos | Calabar | ₦7,000 – 7,500 |
| Lagos | Enugu | ₦5,000 – 6,000 |
| Lagos | Ikom | ₦7,500 |
| Lagos | Jos | ₦9,000 – 10,500 |
| Lagos | Kaduna | ₦8,500 – 10,000 |
| Lagos | Kano | ₦9,000 – 12,000 |
| Lagos | Lafia | ₦9,000 -12,500 |
| Lagos | Ogoja | ₦7,500 – 8,500 |
| Lagos | Onitsha | ₦4,000 – 5,000 |
| Lagos | Orlu | ₦5,000 – 5,500 |
| Lagos | Owerri | ₦4,500 – 6,000 |
| Lagos | Port Hacourt | ₦5,000 – 6,500 |
| Lagos | Sokoto | ₦11,500 – 14,500 |
| Lagos | Umuahia | ₦5,500 – 6,500 |
| Lagos | Enugu | ₦5,000 – 6,000 |
| Lagos | Uyo | ₦6,000 – 6,500 |
| Abuja | Calabar | ₦8,500 |
| Abuja | Lagos | ₦7,500 |
| Calabar | Lagos | ₦7,500 – 8,500 |
| Lagos | Cotonou | ₦4,500 |
| Lagos | Ghana | ₦13,500 |
| Lagos | Lome | ₦13,500 |
| Accra | Lagos | ₦14,500 |
Contact Details
Address: No 345, Muritala Muhammed Way
Opposite Presbyterian Church Yaba, Lagos State, Nigeria.
Opening hours: Mon-Sun: 6:00am–5:00pm
Phone: +234-805-555-5595, +234-802-846-0890
If this post is helpful kindly hit the share button below to encourage us. Also, if you are having any questions or challenges on this topic kindly make use of the comment box and we will respond with the proper information.