Full Biography Of Olakunle Churchill & Net Worth: Career, Wife and Facts
Oladunni Olakunle Churchill is a businessman, real estate boss, philanthropist, IT specialist, and a Nigerian patriot, he is an award-winning personality. His biography, early profile, age, education, family, siblings, career, and net worth will be extensively analyzed here.
The name Olakunle Churchill isn't a strange name in Nigeria and even in Africa, we all must have seen one or two things about this wonderful man, his influence on the economy, helping the needy and less privileged and also always very calm to listen to people, it is worth writing the biography and net worth of Olakunle Churchill so those who don't know much about him can know him better.
Before we begin our discussion proper on the biography and net worth of Olakunle Churchill, below is a quick fact about Olakunle Churchill:
Olakunle Churchill Profile
| | |
| --- | --- |
| Full Name: | Olakunle Oladunni Churchill |
| Popular Name: | Olakunle Churchill |
| Date of Birth: | 27th December, 1982 |
| Place of Birth: | Ondo State |
| State of Origin: | Ogun State |
| Native language: | Yoruba |
| Nationality: | Nigerian |
| Education: | Don Bosco India |
| Married to: | Rosaline Meurer (m. 2020) |
| Children: | Andre Omodayo Churchill, King Churchill Junior |
| Occupation: | Computer Engineer, Entrepreneur, Philanthropist |
| Net worth: | N/A |
| Instagram: | @olakunlechurchill |
After this brief information about Olakunle Churchill, you will find it interesting to read details of his full biography.
Early Profile
Olakunle Oladunni Churchill was born on the 27th of December, 1982 in Ondo State, Nigeria. He is from Ogun state, his father is from Ogun state while his mother hails from Ondo state.
He was raised by his grandmother Reverend Dr. Wuruola who is a pastor, a school principal and a philanthropist, she is currently based in London. Olakunle Churchill spent most of his early life with his grandmother and also at the boarding house.
The reason why he doesn't spend his kid days with his parents are unknown but he had a good upbringing from his grandmother who is very disciplined and respected.
His upbringing took place in Ondo state, Ogun state and also in Lagos state, he attended schools in the three states before traveling out of the country.
Education
Olakunle Churchill had his primary school education in Ondo state but completed his primary school education at the Nigerian Navy Primary School in Lagos.
He started his secondary school education at Apata Memorial Secondary School, Isolo in Lagos state but complete his senior secondary school education at Nigerian Navy Secondary School at Abeokuta, Ogun State.
After obtaining his first school leaving certificate he had an opportunity as a student who graduated from a military secondary school to enroll for the Nigerian Defence Academy NDA to become a military officer but he later changed his mind and chose to go with Information Technology.
His choice was mainly because since he was a kid and growing up he has a love for computers and this developed the passion in him to study ICT and now he is a Computer Scientist with a lot of programs developed by him.
He had a Bachelor's Degree in Computer Application from Don Bosco India and also got an Honorary Doctorate Degree from the ISCG University in the Republic Of Benin.
Olakunle Churchill is well vast in ICT and gathered every needed knowledge for him to excel in his career.
Career
With all the knowledge gathered in studying ICT, he had a very successful career in the line and was able to establish himself for other businesses.
He started his career with a real estate company in Ghana and this was achieved alongside the ICT Company he is into. He was able to build his first duplex from the money gathered from ICT and the real estate business, he was also able to build other mini duplexes in Ghana.
With the money gathered from his houses, real estate and also from ICT he was able to build a formidable company, he founded the Big Church Group a conglomerate with subsidiaries in agriculture, entertainment, IT, mining, real estate and construction businesses.
His business started expanding and he was able to establish in Nigeria, Ghana, Switzerland and in other African countries. Within few years he started an NGO foundation which is named Big Church Foundation.
Olakunle Churchill is deeply into agriculture as he took advantage of agriculture through technology with the help of E-Agric. He was able to have physical farms in Ondo state, Abuja and some other states in Nigeria, though his aim is to cover the 36 states in the country.
There is no doubt that Olakunle Churchill is a successful businessman that knows what he is doing. He has signed a lot of deals with big brands and it is paying off.
Philanthropy
As stated earlier Olakunle Churchill is a philanthropist and he was able to effectively achieve this through his NGO "Big Church Foundation" a subsidiary of Big Church Haven Limited which he created in 2010. The foundation goal is to help children and women and most especially the less privileged all over the world.
The foundation helps physically challenged, those with disabilities of any form and also started helping communities that lack some basic amenities.
He started a 36 million youth empowerment initiative and also partners with Microsoft to empower 1000 youths in Nigeria with ICT, also on the E-Agric platform he picks 500 students from different schools yearly to train them in agriculture.
Personal Life
Olakunle Churchill decided to start a family and luckily for him, he met Tonto Dikeh a Nigerian A-list actress at a club "Escape Nightclub" in Lagos state during the birthday of Olakunle Churchill brother, within some months Tonto Dikeh became pregnant and they started dating which translates to marriage on the 29th of August 2015.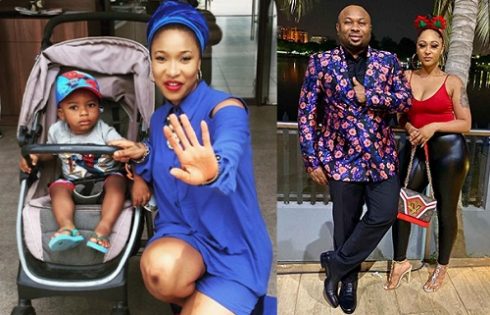 The wedding was elaborate and colorful, in 2016 Tonto Dikeh gave birth to a son the couple both named Andre Omodayo Churchill but sadly the couple divorced in 2017 due to Tonto Dikeh accused him of infidelity and domestic abuse.
In 2021 Tonto Dikeh got married to Prince Kpokpogri of which they got divorced within some months, the marriage didnt last up to a year. You can read more about Prince Kpokpogri and Tonto Dikeh below.
Read Also: Prince Kpokpogri Net Worth & Bio [Tonto Dikeh's Ex-Husband]
A lot of controversies trailed their divorce of which Tonto Dikeh took a lot of swipes at him. Olakunle Churchill is a mild, meek, optimistic and gentle person, he doesn't like troubles and this has been seen in him on several occasions.
There was a rumor that Olakunle Churchill is having an affair with a lady called Bimbo Coker also a Nollywood actress Rosaline Meurer. It all started when Olakunle Churchill wished Rosaline Meurer a happy birthday on social media. Tonto Dikeh didn't take this likely Rosaline continued her lovely relationship online with Churchill.
Olakunle Churchill claimed Rosaline Meurer stood by him when it seems the whole world was against him, this was when their relationship started and now they are happily married and have a baby boy named King Churchill Junior in 2021.
Worthy of note, Olakunle Churchill's father is a brother to the Nigerian Ex-President "Olusegun Obasanjo".
Olakunle Churchill is a sports lover, most especially football, this made him sign many deals with some football academies with the aim of helping upcoming footballers.
Awards & Recognition
In 2015, he won the Nigeria Goodwill Ambassador Award
In 2016, he got an honorary doctorate degree in communication sociale from ISCG University, Cotonou
In 2017, he was conferred with a Chieftaincy title from the Kagoro community and from the council of chiefs of Kamara in Liberia
In 2017, he won the Man of the Year by Scream Awards
In 2017, he won a Special Recognition Award at City People Movie Awards
In 2018, he was conferred a chieftaincy title as Ezinwa Chukwu Mere Eze by Nike Community in Enugu State
In 2019, he appeared on the cover for the 12th edition of Attention Magazine impact impression
These are just few among those he has on his shelf.
Net Worth
Olakunle Churchill's net worth estimate has not been made public, though it is known that he is a multi-millionaire. His net worth will be communicated once we have access to it.
I hope I have been able to give you full details about the biography and net worth of Olakunle Churchill, his story is a very interesting one and we will always update this post to keep you abreast of new happenings about Olakunle Churchill.
Kindly hit the social media share button to encourage us to do more, also you can make use of the comment box below to air your opinion. Thanks.
[sc_fs_faq html="false" headline="h2″ img="" question="How much is Olakunle Churchill worth?" img_alt="" css_class=""] Olakunle Churchill's net worth estimate has not been made public, though it is known that he is a multi-millionaire. [/sc_fs_faq]