The 8 Best Cleaning Companies In The United States
Cleaning is not for everyone. Tidying up the bedroom is not the same as cleaning a whole house, especially if it has more than 2 rooms. In these cases, it is best to request the services of a person trained for it and who has the necessary implements, which is why we have listed the best cleaning companies in America.
If you came this far, it is because you are surely looking for a cleaning service. Well, you have been lucky because we have made a list of the best cleaning companies in the United States. We rely on the variety of services they provide, as well as the positive reviews they have on the web. Let's find out what they are!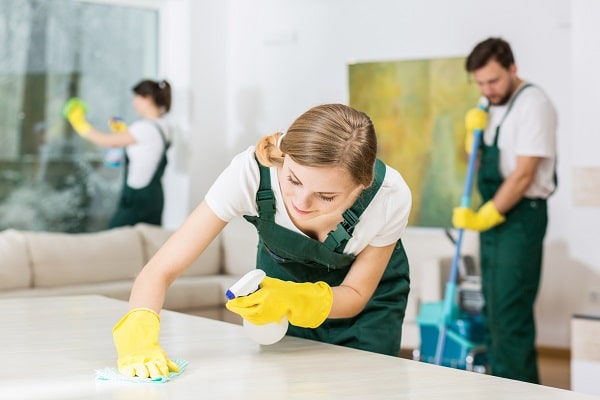 The most in-demand cleaning companies in the USA
Below we detail one by one the cleaning companies that have the best rating nationwide, we have also made a table with their strengths and weaknesses.
1. Molly Maid
Has over 35 years of experience cleaning houses. They have packages based on your location, an aspect that can help you find the final price in a simple way. The best thing about this company is that they will not ask you to sign any contract.
They are insured and work with the best equipment and cleaning products on the market. Once the work is finished, you can do a review to make sure that the house was completely cleaned. In case you are dissatisfied, they will take care to resolve the situation.
Molly Maid has gift cards, a great idea for that friend or family member who knows nothing about cleaning at home. They are characterized by having a professional team, providing sanitation services, personalized programs, 24-hour guarantee, among others. In addition, it is considered the best cleaning agency in terms of customer service.
2. Merry Maids
It is one of the longest running house cleaning companies in the country. It was founded in 1979. Since then, it has grown into a huge franchise, with more than 500 corporate locations across North America. Currently, Merry Maids provides its services in more than 100,000 homes in the USA.
If you have previously hired their services, each time you do so they will always send the same staff to your home. This is how they get your trust. You can ask them for whatever you need, whether it's a thorough cleaning or a quick session before a party. They use their own products, including an EPA-regulated, environmentally friendly line of supplements.
The prices are totally personalized, of course, for this you must request a budget. However, with this cleaning company you do have to sign a contract, but they will seek to offer you the best deal. They also have a 24-hour guarantee.
3. Tidy
It is one of the best cleaning companies near me. They work with a very simple method: create a task list for the cleaning staff or select a ready-made one from the company itself. Then, choose the time (normally 4 hours) and you just have to wait for the job to finish.
Choose the day and time for your cleaning. Tidy will ask you a series of questions, such as how many bedrooms are in the house. Automatically, they will give you the estimated time in which they will finish cleaning and if it is possible for them to achieve it. This agency is available in the main cities of the United States and is rated as one of the best cleaning companies in the United States.
If for any reason you have to cancel the shift, you can do so without any restrictions. They provide their services for Airbnb lodgings. However, one of its main disadvantages is that it is not easy to contact a customer support representative. As for the prices, they vary depending on the location. 
4. MaidPro
He has the best quotes. MaidPro has a 49-point checklist for employees to complete before leaving home, work, etc. The products they use are all environmentally friendly.
You can choose between a one-time, weekly, bi-weekly or monthly cleaning. Based on this, they will determine the final price. So if you only want the kitchen and bathrooms cleaned, it will cost you very little. Nor will they make you sign a contract. So you can cancel without problem.
In the event that you are not happy with MaidPro's work, the company will clean your house again, as long as you tell them within 24 hours. Keep in mind that the costs also depend on your location.
5. The Maids
Provides one of the most efficient and effective cleaning services. It is a very well organized company. The groups that are assigned have a supervisor who reviews the work at all times. So you can be sure that they will be totally satisfied.
The service is guaranteed and most customers speak highly of The Maids. They have very good reviews on the web (4.6/5 on Google). However, some have complained that this cleaning agency does not take the initial price into consideration. That is, you may end up paying more in the end.
In any case, the exhaustive cleaning service is highly valued, they will even clean the oven or refrigerator if you request it. They also offer a cleaning of carpets and of the external patio (garden, garage). They use products that do not pollute the environment and their schedules are flexible.
6. USA Clean Master
If you need carpet cleaning, this company specializes in this type of service, as well as upholstery. They have been in the industry for 20 years. Whether you require a thorough cleaning of air ducts or hardwood floors, USA Clean Master is the best option.
Do you need to clean the stains that your pet left on that rug brought from India? Call them! They will also help you restore your home to its previous condition before a fire or flood. Make sure the quote they give you is final, because there have been complaints about it.
This house cleaning company near me provides their services weekly or bi-monthly. As one of the best cleaning companies in the United States they are available throughout the country. Its professionals are trained and if you request it, they will only work with eco-friendly products.
7. Maid Brigade
Its focus is to provide you with a cleaning that does not affect the environment, therefore, all its products are certified by Green Seal. Inclusively, Maid Brigade has been recognized by the American Lung Association for different actions. For example, they only use microfiber cloths, instead of paper towels.
They have years of experience. They offer regular, thorough cleanings and one-time sessions. Keep in mind that the most complete ones have an additional cost and include silver polishing, cleaning under the rugs, etc. Keep in mind that its capacity may depend on the city where you live.
8. The Cleaning Authority
Last but not least on the list of best cleaning companies in the United States we have Cleaning Authority. It is the best option if you need a deep cleaning in your house. They also focus on the use of eco-friendly products. The Cleaning Authority has different plans. Even has a detailed list of tasks to do and what you need the cleaners to do weekly.
Its services are available in both the United States and Canada. Users speak highly of this house cleaning company near me. But like anywhere else, your satisfaction largely depends on who is assigned to your home. They offer sanitization in houses, apartments, after a move and others.
Read Also: 7 Most Profitable Businesses in Florida
FAQs
What is the average price of a house cleaning service?
The average cost varies depending on the location. Also, some office cleaning companies charge by the hour and others by the square footage of the space. To give you an idea, a freelancer charges 
between $25 and $50 for cleaning, while $100 is the price for a deep clean.
Is it worth hiring a cleaning company?
In most cases, yes. A recognized company will provide you with a complete and professional service. They will be in charge of cleaning your furniture, floors, walls, with appropriate products. A cleaning service also relieves you of daily tasks, so you will realize that you will get more free time for your things. If you are a very busy person, it will be an excellent investment.
Should I tip a house cleaning company?
If you hire a person to do a particular cleaning for you, it is recommended that you tip them between $10 and $20, depending on the tasks they have to do. However, it is not necessary if you use a cleaning service throughout the year. In this instance, what you can do is give him a bonus at the end of the year, for example, for the Christmas holidays.
What is included in a deep cleaning of a house?
Normally, it includes services such as cleaning floors, upholstery, windows, doors, tables, lamps, tiles, picture frames, among others. Be sure to tell the cleaning staff if you're interested in them adding a service to the to-do list, like cleaning under rugs.