The 10 Biggest Churches in Nigeria (2023 Updated)
It will interest you to know about the biggest churches in Nigeria as Nigeria is one of the most religious countries on earth. The country boasts a handful of pastors who ranked top among the richest pastors in the world.
If you have been asking the question what are the "largest churches in Nigeria", we at Naijaxtreme have taken our time to list out the biggest churches in Nigeria, these churches are also the biggest in Africa except some few from South Africa and some other African countries but Nigerian curches dominates the top biggest churches in Africa.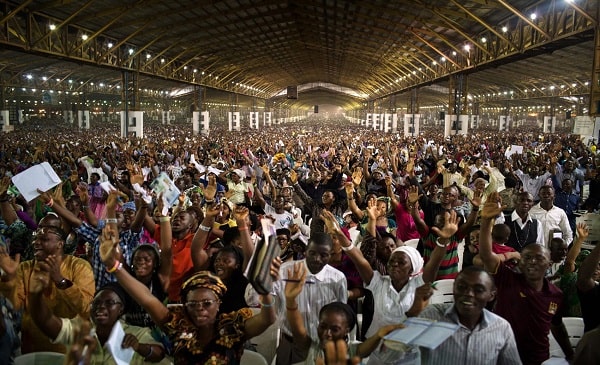 Nothing more is expected as Nigeria is the most populous country in Africa and has a large number of her citizens being Christians it is expected that gospel ministers in Nigeria will have a huge number of members.
Mind you, most of the richest pastors in the world are from Nigeria so you can tell the kind of expensive lifestyle they live as the majority of the General Overseers G.O's own their personal private jets and classic cars.
Read Also: List Of Universities In Nigeria & Year Founded
Nigerian churches have their different doctrines which is usually the reason why members troop into them, we have the old generation churches which are now depleting in terms of members, the new generation churches are gaining more members because of their exposure and types of doctrine which gives space for varieties of programs.
Without taking much of your time let's reveal to you the top 10 biggest churches in Nigeria presently.
The 10 Biggest Churches In Nigeria
1. The Redeemed Christian Church of God (RCCG)
RCCG as it is popularly called or Redeemed is the largest church in Nigeria, it was founded in 1952 by Pa Josiah Akindayomi and currently being managed under the ministration of Pastor E.A. Adeboye.
The church own a lot of branches scattered allover the 36 states of Nigeria including the federal capital territory Abuja and boasts of over 50,000 members. RCCG has its camp which is the RCCG auditorium located in Ogun STate at Redemption Camp on over 40,000 hectares of land along the popular Lagos-Ibadan expressway.
It has been recorded numerous times that the church camp accomodated over 1 million worshippers at once. The Redeemed Christian Church of God headquaters is located at Ebute-Metta in Lagos State and has its own personal university.
2. Living Faith Church Worldwide
The second on our list of largest churches in Nigeria is the Living Faith Church which is popularly known as Winners Chapel. Winners Chpel was founded in 1983 by the church general overseer Bishop David Oyedepo, he is currently the richest pastor in the world.
Just as we have Redemption camp for RCCG Winners chapel has its own camp auditorium known as Canaanland which is also situated in Ogun State in Ota on a land of over 10,500 acres, this is the most expensive church in Nigeria as at the time this article is publishes and also currently building a much more bigger and classic auditorium.
The church auditorium Canaanland can accomodate up to 50,000 worshipers at once, Canaanland is the second largest church in Nigeria and the church has numeous branches all over Nigeria nad worldwide.
3. Mountain of Fire Miracles Ministry (MFM)
This is a very popular church in Nigeria founded in 1989 by Dr. Daniel K. Olukoya. The church is known for their type of prayer, which distinguish the members from other churches in Nigeria.
It has its prayer camp popularly known as "Prayer City" also in Ogun state along Lagos-Ibadan Expressway and can contain over 250,000 worshipers at a go.
Although it has a roofed area which can contain over 250k worshipers but also has an extention which gives room for over 500,000 worshipers, it also has its branches all over the country and worldwide.
4. The Apostolic Church (TAC)
This church has been in existence for years and one of the early churches in Nigeria. The Apostolic Church was founded in 1918 from "Apostolic Church" which was one of the earliest penticostal churches in Africa.
Thje church is very big and has over 5 million members presently which keeps on growing day by day. Its camp is located in Lagos State (Ketu) and record has it that it took engineers over 25 years to complete the building.
TAC camp autditorium can accomodate over 100,000 worshipers and the church keep on expanding it branches all over the country.
5. Deeper Life Bible Church
Deeper Life Church was founded in 1973 by Pastor William Folorunsho Kumuyi, it is currently one of the biggest churches in Nigeria with thousands of members spread across the country.
Its camp is located in Lagos state at Gbagada and can contain up to 30,000, there is a space underneath it known as underground parking space which has the space enough forover 200 cars.
6. Dunamis International Gospel Center
Dunamis Churchwas founded by a couple Dr. Paul Idoko Enenche and his wife Dr. Becky Enenche, it is one of Nigerias biggest churches and very classy in design.
The church auditorium is known as "The Lords Garden" situated in Abuja and has a siting capacity of 100,000.
Read Also: 10 Most Valuable Companies In Nigeria
7. Christ Embassy Church
This is another popular church in Nigeria that has its presence allover the states and federal capital of Nigeria, it also has its tentacles spread across other countries of the worlsd.
Christ Embassy was founded in 1987 by Pastor Chris Oyakhilome, this is a church mostly attended by youths.
The church is known for miracle of different kinds that will wow you, it is also known as Loveworld Incorporated and boasts of thousands of worshipers.
Its auditorium is located in Lagos state and has a space enough to accomodate over 40,000 worshipers at once, the church has a strong spresence in most higher institutions in Nigeria.
8. Commonwealth of Zion Assemby (COZA)
The Commonwealth of Zion Assemby popularly known as COZA is a multi-site new generational church in Nigeria founded in 1999 by Pastor Biodun Fatoyinbo. Its doctrin is from the penticostal church and it is also charismatic.
Having one of the biggest capacities in Nigeria the church has its campuses in Abuja, Port Harcourt, Lagos and Ilorin. It is also one of the favourite of young people in Nigeria.
Its auditorium can accomodate up to 10,000 worshipers at once and you can find it branches in Dubai and other countries of the world.
9. Daystar Christian Center
This is a church founded by Pastor Sam Adeyemi and his wife Mrs. Nike Adeyemi in 1995, it was first hosting its services on live radio before the establishement of its headquaters.
This is a new generation church and is one of the fatsest growing churches in Nigeria presently. The church auditorium can contain up to 6,000 worshipers at once.
10. Fountain of Life Church
Latly on the list of the biggest churches in Nigeria we have the Fountain of Life Church which was established in 1994 by Pastor Taiwo Odukoya and his late wife Pastor Mrs. Bimbo Odukoya.
Read Also: The 10 Largest Churches in the World
The church has its auditorium situated in Lagos State at Ilupeju with the space that contains over 5,000 worshipers, its branches are also scattered accross Nigeria.