The 10 Countries that Produce the Most Uranium
Some of the countries that produce the most uranium have increased their individual reserves and production, on the one hand, even though global production has reduced in the last five years, on the other. 
The numbers are due to the low price of uranium on the market recently, in addition to the COVID-19 pandemic, which affected production.
Today, 10% of global electricity is generated by nuclear energy, and it is believed that this number will grow. Due to its significance for energy generation, a very important topic today, it is important to know where uranium is mined, and which nations are the main producers.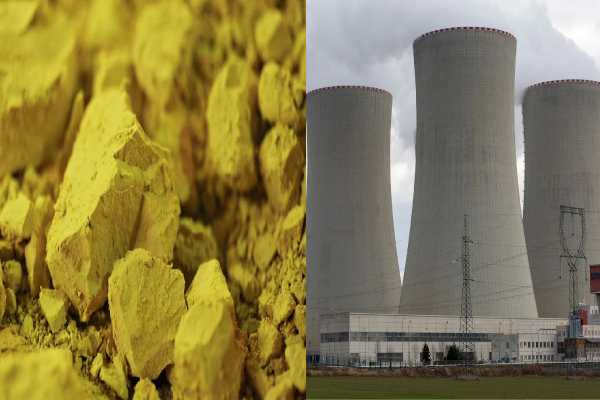 Countries that produce the most uranium
Kazakhstan easily leads and has done so since 2009. Namibia and Canada make up the rest of the podium of the three largest producers.
1. Kazakhstan
Kazakhstan tops the list of countries that produce the most uranium. In 2021, total production was 21,819 tonnes, or 45% of the global total and has increased till today. Most of the country's uranium is extracted through an in-situ leaching process.
2. Namibia
With 2,993 tonnes in 2015, the African nation saw production growth, reaching 5,753 tonnes in 2021 and has also increased annually. There are two uranium mines in the country, capable of producing 12% of global production.
3. Canada
After peaking at 14,039 tonnes in 2016, Canadian production has reduced dramatically, reaching 4,693 in 2023. Still, Canada remains one of the top uranium-producing countries, with most exploration taking place in the Athabasca Basin. This region is recognized for its high-quality uranium deposits.
4. Australia
With more than 4,129 tonnes of production annually, Australia ranks fourth. The country has 28% of the planet's known recoverable uranium resources. Uranium mining is somewhat controversial in Australia; Even though the sector is highly regulated, the future of the industry is somewhat uncertain. 
Recently, the government allowed current projects to continue but was resolute in stating that new projects would not be approved.
5. Uzbekistan
In 2020, with an estimated production of 3,500 tons, Uzbekistan became one of the five countries that produce the most uranium. Production has grown since 2016 in this country, and has expanded thanks to joint ventures with Japan and China.
6. Russia
With 2,635 tonnes produced in 2021, Russia ranks sixth. Production has been stable since 2011, ranging up to 3,000 tons. Experts believe that uranium production can increase to meet energy demand in the country and around the world, but the war against Ukraine and its economic impact could affect this outcome.
7. Niger
Niger's uranium production has fallen over the past decade, reaching 2,248 tons in 2021 and falling more due to the coup d'état that sees the legally elected president President Mohamed Bazoum usurped by the country's presidential guard.
The African nation has two uranium mines in production, SOMAIR and COMINAK, which account for 5% of global production. Both projects are operated by subsidiaries of Orano, a private uranium mining company with projects in top-list countries such as Kazakhstan and Canada.
8. China
Chinese production grew from 885 tons in 2011 to 1,885 tons in 2018, and has remained stable since then. The only national supplier seeks to expand its nuclear fuels with agreements made with Kazakhstan and other foreign companies. 
The Chinese goal is to supply a third of the nuclear fuel cycle with uranium from domestic producers, a third through joint ventures with other nations and a third through open market purchases.
9. India
India produced 615 tons in 2021, and the country's production has remained stable, between 300 and 420, over the last decade. India is also one of the countries increasing its uranium production, with a strong focus on expanding the nuclear energy sector.
Read Also: 8 Largest Lithium Producers in the World
10. Ukraine
After reaching 1,200 tons in 2015, Ukrainian uranium production fell to 800 tons in 2016, before reaching 455 tons in 2021. Ukraine is heavily dependent on nuclear energy, and has 15 reactors that provide about half of the country's energy needs. The nation has 2% of the known uranium reserves on the planet.