Top 20 Largest Stadiums in the World 2023 [Updated]
Which are the largest stadiums in the world? Sports has been made enjoyable to spectators through well-structured sports buildings or facilities, this houses many sections of which the spectators stay, sports officials, pitch, stores, e.t.c.
Aside from the beautiful and modern structures stadiums serve a whole lot of purposes be it outdoor sports, concerts, and events, it has a structure in which spectators can conveniently sit and at the same time watch what is going on.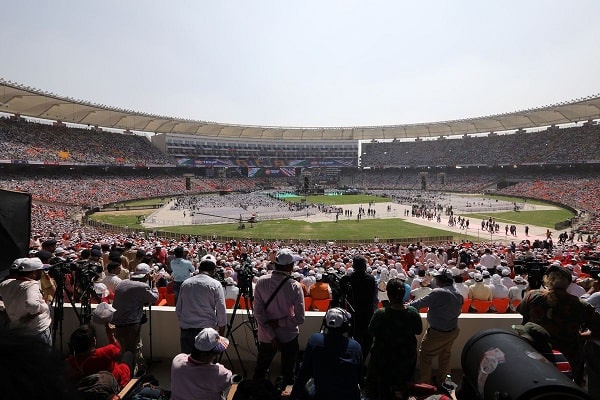 There have been some arguments on which stadium is the largest in the world and when talking about large it means a wide space will be utilized considering the number of spectators intended to accommodate.
In this sense, we will be taking the seating capacity and standing areas in total, never forget stadiums are convertible based on the kind of events that will take place there.
For this, we will exclude temporary seating or standing space like spaces for concerts or crusades.
On this list we have excluded the inactive parts of the stadiums, race tracks, closed areas and so on, we are going to base this on the number of sitting spectators.
Read Also: Top 20 Largest Stadiums in Africa
The 20 Largest Stadiums in the World
Below is a table showing the top biggest stadiums in the world:
| Rank | Stadium | Country | Capacity |
| --- | --- | --- | --- |
| 1. | Narendra Modi Stadium | India | 132,000 |
| 2. | Rungrado 1st of May Stadium | North Korea | 114,000 |
| 3. | Michigan Stadium | United States | 107,601 |
| 4. | Beaver Stadium | United States | 106,572 |
| 5. | Ohio Stadium | United States | 102,780 |
| 6. | Kyle Field | United States | 102,733 |
| 7. | Neyland Stadium | United States | 102,455 |
| 8. | Tiger Stadium | United States | 102,321 |
| 9. | Darrell K Royal-Texas Memorial Stadium | United States | 100,119 |
| 10. | Bryant–Denny Stadium | United States | 100,077 |
| 11. | Melbourne Cricket Ground | Australia | 100,024 |
| 12. | Camp Nou | Spain | 99,354 |
| 13. | FNB Stadium | South Africa | 94,736 |
| 14. | Sanford Stadium | United States | 92,746 |
| 15. | Cotton Bowl Stadium | United States | 92,100 |
| 16. | Rose Bowl | United States | 90,888 |
| 17. | Wembley Stadium | United Kingdom | 90,000 |
| 18. | Ben Hill Griffin Stadium | United States | 88,548 |
| 19. | Jordan–Hare Stadium | United States | 87,451 |
| 20. | Bukit Jalil National Stadium | Malaysia | 87,411 |