The 10 Best Cinemas in Lagos State
If you are a movie lover or maybe just for relaxation and fun you need the list of the best cinemas in Lagos we've got you covered. In today's article, you will know about the top best cinemas in Lagos, their ticket prices, address and every other information about them.
Cinemas were once underrated in Nigeria even though it was a thing back then in other top world countries but things are changing in this present century we find ourselves.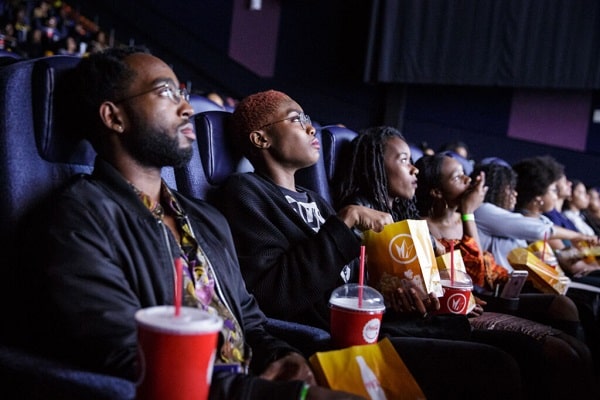 Lately, the Nigerian entertainment industry has been receiving a whole lot of income from cinemas and much attention is now being placed on it.
Before most of the movies you see in the market become accessible to the public to buy the movies are being played in the cinemas for some weeks and a lot of income is being generated from that.
Read Also: Top 10 Richest Actors In Nigeria & Their Net Worth
Without taking much of your time if all you seek is to have fun seeing highly rated movies while you eat some popcorn or you want to have a memorable date with your partner, good time with family e.t.c. just make sure you grab a bucket of popcorn and enjoy the list below.
The Top 10 Best Cinemas In Lagos
Filmhouse Cinemas
Filmhouse cinemas is one of the most visited cinemas in Lagos state as it has a serene environment and a space which can accommodate over 300 people at once. Aside from the fact that you can sit comfortably and watch a nice movie this cinema also has bars, luxury rooms, dining rooms, and a children's play area for maximum satisfaction.
You are always open to seeing various top movies about to be released from large cinema screens, auditoria, recycling chairs, and the movies here ranges based on different age rating.
Also, you can find this wonderful and well-maintained cinema in other countries like England, Italy, Spain, USA and many more. Below we have the address to all Filmhouse Cinemas locations in Lagos including the price list and their opening hours for working days and weekends.
Filmhouse Cinemas Leisure Mall, Surulere
Address: Leisure Mall, Adeniran Ogunsanya Street Surulere Lagos State
Phone: +234-9024997900
Email: [email protected]
Website: https://filmhouseng.com/
Filmhouse IMAX Cinema Lekki
Address: The Rock Drive Off Bisola Durosinmi Etti Drive Lekki Phase 1, Lagos State
Phone: +234-9024997900
Email: [email protected]
Website: https://filmhouseng.com/
Their opening hours from Monday to Friday are 10:00 am to 2:59 pm and this goes for ₦600 while from 3:00 pm to 4:59 pm is ₦800. For weekends you have the full day which goes for ₦1,500. Weekend late-night shows go for ₦800.
Also, on public holidays you enjoy blockbuster movies for ₦2,000, ₦800 for late-night shows 10:00 pm to 12:30 pm and ₦1,500 for all day.
Genesis Deluxe Cinemas, Lagos
This is another prominent cinema in Lagos which started in 2008 is a cinema you want to visit, taking your friends and family here will be a nice thing to do and the interesting thing about this cinema is that you can find it scattered across Lagos state.
Seeing movies here is fun and made enjoyable as you will be open to drinks, appetizers, popcorn, desserts at a cheap price compared to other cinemas in Lagos.
This cinema boast of being the first cinema in Nigeria to show 3D movies and not only in Nigeria but in West Africa, isn't that a remarkable achievement?
Genesis Deluxe Cinemas is a subsidiary of the popular Genesis Group and the cinema has space enough to accommodate over 5000 viewers and 35 screens for their viewers to enjoy a nice view from. This is currently the most popular in Abuja, Port-Harcourt, Asaba, Warri and Owerri because of its high presence in these cities.
Below we have the address to Genesis Deluxe Cinemas all across Lagos State.
Novare Mall Genesis Cinema, Ajah
Address: Palms Shopping Mall, Lekki – Epe Exp, Maroko, Lagos
Phone: +234-8095738937
Maroko Genesis Cinema
Address: 1 Bisway Street, Maroko, Lagos
Maryland Genesis Cinema
Address: Maryland Mall Anthony Lagos, Ikorodu Rd, Anthony, Lagos
Phone: +2349098634784
Palms Mall Genesis Cinema, Lekki
Address: Palms Shopping Mall, Lekki – Epe Exp, Maroko, Lagos
Phone: +234-8095738937
Their opening hours from Monday to Friday excluding Wednesday are 10:00 am to 5:00 pm and this goes for ₦1,000 (+drinks) while from 5:00 pm to 12:00 am is ₦1,500 (+drinks). For Wednesdays, you have the full day which goes for ₦1,000, and Sundays ₦2,000.
On Sunday you get to watch blockbuster movies for ₦3,000 with popcorn and chilled drinks.
Ozone Cinema
Ozone Cinema started in 2012 and is currently being managed by Dominos Company Limited, over the years the cinema has been dishing out the top-ranked movies in the movie industry, you get to see blockbuster movies and also has a moving rating for all ages so if you want a nice movie time with your family Ozone Cinema is the right place to be.
As far as movies are concerned Ozone Cinema ticks all boxes and also in terms of price they offer the cheapest price in Lagos mainland which gives a lot of students the opportunity to come to have fun there as the cinema is very close to various tertiary institutions in the state.
You don't just enjoy the movies alone, you also enjoy appetizers, drinks, popcorn e.t.c., just dash out to Ozone multiplex building cinema in E-Centre, 1-11 Commercial Avenue Sabo-Yaba Lagos.
Ozone cinema is always opened during working days and weekends and their price list for Adults is ₦1,500, for students ₦1,000 and for children ₦800 while they also offer promos.
Read Also: Lagos State Zip Codes: Lagos State Postal Codes
Silverbird Cinemas, Lagos
Silverbird Cinema is one of the most popular cinemas in Lagos State and Nigeria boasting over 10 multiplex cinemas in West Africa and still increasing its reach.
The cinema was established in 2004 by Ben Murray-Bruce who is a politician, inventor and businessman. He owns Silverbird Groups which has other companies under it like the Silverbird Television, Silverbird cinemas, Silverbird properties (real estate), and also is the official sponsor of MBGN with numerous awards both locally and internationally.
We have below the address to one of Nigeria's finest cinemas.
Silverbird Galleria Lagos
Address: 133 Ahmadu Bello Way, Lagos Nigeria
Phone: +23412701413
Festive Mall Silverbird Cinemas, FESTAC
Address: Golden Tulip Hotel Compound Festival Mall, Amuwo Odofin.
Ikeja City Mall Silverbird Cinemas
Address: Ikeja City Mall around 174 / 194, Obafemi Awolowo way, Alausa in Ikeja, Lagos State.
Their opening hours and days are Monday and Wednesday which cost ₦1,000 with refreshments (drinks & popcorn), Tuesday and Thursday for Adults cost ₦1,000 and for children/students₦500. On weekend Friday – Sunday it goes for ₦1,500 for adults, children/students ₦1,000 and if you want to enjoy Indian movies you pay ₦2,500 and you get free refreshment too.
Magnificent Cinema
This is also one of the best cinemas in Lagos with a high recommendation it is a subsidiary of Magnificient International Limited and well managed by the company. It is designed in a way that there is the provision of relaxation rooms for various movies services.
Magnificient Cinema is located at 180/184 Ikorodu Road on the 2nd Floor of Moyosore House, Onipanu Somolu Lagos State. It is a perfect place to enjoy your free time with your loved ones.
They are open to viewers on Monday for ₦1,000 and you will get free popcorn and drink while on Tuesday to Thursday from 10:00 am to 12:00 pm for ₦500 and from 2:00 pm you get to enjoy your movie for ₦1,000 and sometimes ₦800. On Friday it goes for ₦1,500 and you get free popcorn and drink.
Every Saturday and Sunday plus public holidays you enjoy blockbuster movies for ₦1,000 and can sometimes range between ₦2,500 to ₦1,500.
Viva Cinemas
This list won't be complete without mentioning Viva cinemas, this is a cinema situated in a serene environment specially made for relaxation and fun. This is the first cinema in Nigeria to use Sony 4K projector and since it started there it has been the favorite of many Lagosians.
Viva Cinemas is located at Jara mall, Simbiat Abiola Way in Ikeja and you can reach their customer care hotline via 08172657928.
Booking a viewing ticket at Viva cinema is easy and cheap, on Monday to Thursday excluding Wednesday you get a ticket for ₦1,200, if you want some nice refreshment a ticket will cost you ₦2,000 and you enjoy a medium popcorn and a 50cl drink.
They have a different price for students and corpers which requires you to show your ID card and you get charged ₦1,500, this comes with a drink and popcorn. For Wednesday you pay ₦1,000 with free popcorn and drink.
On weekends i.e. Friday to Sunday, it goes for ₦2,500 and you enjoy large popcorn and a pet drink of 50 cl.
Ground Zero Arcade and Cinemas
At Ground Zero cinemas you have a quality fun time as you will be able to enjoy different classic facilities and technical equipment. You have the choice to play games, car race, fruit ninja for different age brackets.
If you love nightlife you can also take advantage of their nightclub which is mostly open at night. You as a movie lover will also enjoy a 5D clip.
Ground Zero Cinema is located at No 87, Cemetry Street, Off Abeokuta Street, Ebute-Metta Lagos Nigeria.
Read Also: List Of The Most Handsome Nollywood Actors
Conclusion
All the listed cinemas are top-notch and they deliver the best viewing experience but we also have others you can patronize in Lagos State the likes of; Sky Cinemas, Masas Cinema, and many others.
Just choose the right time to go enjoy quality time with your family, friends and even for students.