TOP 5 Most Recognized Universities In Toronto (Canada)
Toronto is one of the most important cities in the world, not only is it the economic and financial center of Canada, but it is also one of the TOP 5 most livable cities in the world. It is also the multicultural city par excellence where almost half of its population is not a native of the place.
This also translates into its educational system; Toronto has a large number of prestigious and world-renowned universities from which some of the most outstanding professionals in the country and the world have emerged.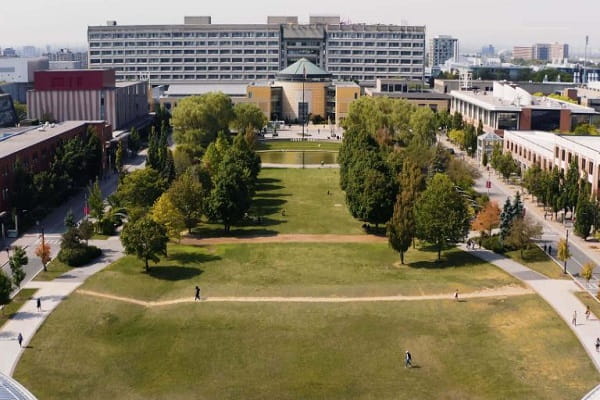 That is why it is a mecca for students of different nationalities who seek to carry out their professional studies.
University of Toronto
Founded in 1827, the University of Toronto has become Canada's leading institution of learning, discovery and knowledge creation. It is currently one of the best research-intensive universities in the world, driven to invent and innovate.
Here students have the opportunity to learn and work with outstanding thought leaders through a multidisciplinary network of faculty, alumni, and teaching and research partners.
The University of Toronto is known for fostering a fair and inclusive working and learning environment. Its excellence is based on freedom of expression, academic freedom and research freedom.
York University
York University located in Toronto, popularly known as "York U" is the third largest in Canada with about 50,000 face-to-face students, 200,000 more around the world and about 7,000 employees.
Founded in 1959, it has 11 faculties and some of the most relevant personalities in the country have emerged from them in areas such as the humanities and sciences. In addition, this university stands out for its active participation in the space program, developing equipment that is even used by NASA.
Ryerson University
Known for being a world-class public research university, Ryerson is one of the most famous in the world. It was established in 1948 with the aim of welcoming young people returning from the war and offering them job training.
It is located in downtown Toronto and is home to Canada's largest business school and Canada's third largest engineering school. But they also excel in architecture, science, communication and design.
In addition, Ryerson offers full and part-time undergraduate and graduate programs leading to bachelor's, master's, and doctoral degrees, as well as distance education and certificates.
Trent University
One of the best universities in Canada, Trent University was founded on the ideal of interactive learning that is personal, purposeful and transformative.
Trent is characterized by bringing to life critical and integrative thinking in all disciplines. Trent's unique approach to personal development through collaborative and supportive community engagement breeds a lifelong passion for inclusion, leadership and social change, generating engaged global citizens who are catalysts in developing sustainable solutions to problems. complexes. Here students lead the way by co-creating experiences based on dialogue, diverse perspectives, and collaboration.
OCAD University
OCAD U is Canada's largest and most comprehensive university of art, design and media. Founded in 1876, this institution is dedicated to the education, practice and research of art and design and to knowledge and invention in a wide range of disciplines.
Its programs and research bridge the fields of digital media and design, sustainability, health and wellness, cultural diversity, and indigenous cultures. Here students engage in studio-based creative, aesthetic, and technical learning, along with critical, theoretical, scientific, and historical knowledge and methods, added to the contribution of new technologies.
Other Universities in Toronto
In addition to those already mentioned, in Toronto there are a large number of prestigious educational institutions that offer bachelor's, postgraduate and other certifications.
One of them is Humber College. Humber emphasizes hands-on, career-focused learning through a polytechnic education. It offers a wide range of credentials, including Ontario bachelor's degrees, diplomas, certificates and graduate certificates.
Another prestigious university is Gelph Humber University, which was the first in Ontario to offer the opportunity to earn an honors degree and diploma in four years of full-time study in one location when it opened in 2002.
We cannot fail to mention the Royal Conservatory, one of the largest and most respected music education institutions in the world. For more than 130 years, The Royal Conservatory has translated the latest thinking on creativity into inspiring programs that benefit millions of people around the world.
Read Also: The 6 Best Universities In Canada
With the aim of developing human potential, it is based on the conviction that the arts are humanity's greatest means of achieving personal growth and social cohesion.