TOP 5 Most Renowned Universities in Ontario (Canada)
Today you will know which are the best universities in Ontario, Canada. Each of them is recognized not only in the country but worldwide for the contributions they have provided in areas such as science, health and engineering. Great figures in the country's history have graduated from them.
This TOP will help you make the best decision for your future, so be sure to read this post. Let's start…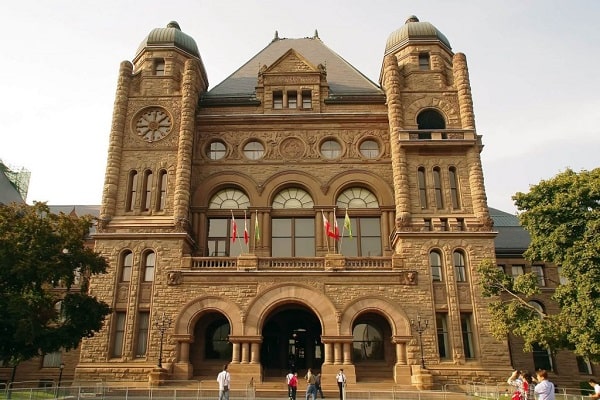 University of Toronto
The University of Toronto is one of the best universities in Canada, it is located in the prestigious financial area of ​​Ontario. It is a recognized house of study and this is mainly due to being a research center. This has allowed it to be of worldwide interest.
It was founded in 1827 and since then it has attracted students from all over the world. Annually, more than 70,000 people enroll, including 6,000 international students. Each year it distinguishes itself for being a leading university in research and innovation.
University of Waterloo
Known as the number one university in computer science and number two in the field of engineering at the national level, according to US News and World Report Best Global Universities 2019.
Founded in 1957, in the populated city of Waterloo, Ontario, Canada. It is a public, non-profit university. This institution offers courses and programs with recognized titles worldwide. The main options of interest for the student body are the area of ​​Arts and Humanities, Business and Social Sciences, Medicine, among some others.
York university
York University is one of the largest institutions in the country. The university hosts around 50,000 students each year, including 200,000 people from all over the world and 7,000 employees.
It has more than ten faculties, among which the Faculty of Science and Engineering, the Faculty of Economics and Business, and the Faculty of Law stand out.
York University is active in Canadian space programs. Among all the faculties, the most related is the Faculty of Sciences and Engineering, which has participated in research in the country for explorations to Mars, as well as special applications for NASA.
Western University
Founded in 1878, Western University is home to thousands of students, both national and international. All seek to expand their knowledge in the more than 400 undergraduate and 88 graduate programs.
Students have the opportunity to improve their academic performance with diverse activities, such as research, leadership, athletics, social participation, and volunteer experience.
This prestigious university has had 13 Global Winners and around 150 students highly recognized by the Global Undergraduate Awards, Western University being the first in this competition.
McMaster University
McMaster University is home to more than 18,000 full-time students each year. This prestigious university applies various programs that have been improved over time, for example, Problem-based-learning began in this institution and spread throughout the continent.
This house of study is dedicated to innovating education and research, which has kept it in the rankings of the best universities in the world.
McMaster has six faculties, which are: Engineering, Science, Health Sciences, Business, Humanities and Social Sciences. Some of the best comedians in the world are McMaster alumni, including John Candy, Eugene Levy and Martin Short.
Read Also: The 6 Best Universities In Canada
What do you think of this TOP? We hope you have enjoyed them and continue learning from the best universities in the world, but especially from Ontario, Canada.