Nadia Comăneci Net Worth And Biography [Career & Hidden Facts]
Nadia Comăneci is a popular figure in the sport of gymnastics and based on popular demand we have here Nadia Comăneci net worth and biography. She is retired and a five-time Olympic gold medalist which she won in all individual events.
In 1976, she got awarded because of a 10.0 score in the Olympic Games and received six more perfect scores to win additional three gold medals in the same sport and this was just when she was just 14 years old.
Aside from her sporting career; she is also an actress and entrepreneur. Today, you will know more about this great professional and decorated gymnast as we discuss Nadia Comaneci biography, net worth and other hidden information about her.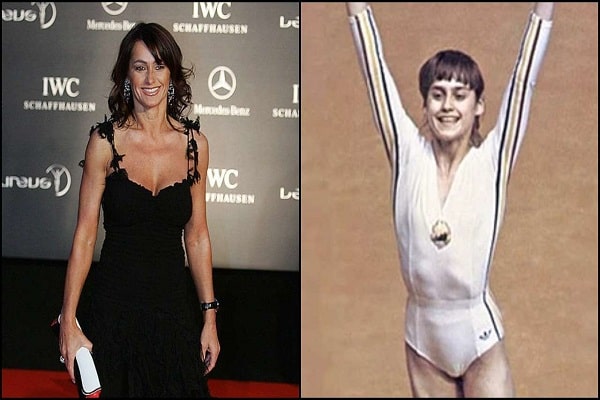 Comăneci is a great gymnast who wowed the world with her talents and skill as a gymnast. But before we continue with our discussion, you can check below the highlight of Nadia Comaneci's profile.
Nadia Comăneci Profile
| | |
| --- | --- |
| Full Name: | Nadia Elena Comaneci |
| Date Of Birth: | 12 November 1961 |
| Place of Birth: | Onesti, Romania |
| Age: | 61 Years Old |
| Nationality: | Romanian |
| Marital Status: | Married (1996 till date) |
| Spouse: | Bart Conner |
| Children: | Yes (1) |
| Profession: | Retired Professional Gymnast/Actress/Businesswoman |
| Net Worth: | $15 Million |
Nadia Comaneci was born on the 12th day of the 11th month of 1961 in Onesti, a small town in Bacau County, Romania. Her parents are Gheorghe and Stephanie Comaneci, and she has a younger brother named Adrian.
Growing up, her parent separated in the 1970s, and her father eventually moved to the capital city, Bucharest. Her brother and she were raised in the order of the Romanian Orthodox Church.
Comăneci's mother revealed in an interview that she enrolled her daughter in a gym class because she was a child full of energy and very active. Fortunately, the venture paid off after years of top-level athletic competition.
In terms of education, Comăneci pursued her education despite her passion for gymnastics has grown. She eventually graduated from Politehnica University of Bucharest with a degree in sports education, which gave her the qualifications to coach gymnastics.
Career
Comăneci is a retired professional gymnast who set her mark in the sport before she called it to quit. She began her journey into Gymnastic when she was 6-years old. That was the period when she was discovered by Coach Bela Karolyi.
By the year 1970, she had begun to compete as a member hometown team in several local competitions. At age 9, she became the youngest gymnast ever to win the Romanian Nationals. 1971 was the year she won her first all-around title.
When she was 11-years old, in 1973, during the Junior Friendship Tournament, a popular international meet for junior gymnasts where she won the all-around gold, vault and uneven bars titles.
Fast forward, she embark on her first international successive title when she was 13-years old winning almost all the available medals in the 1975 European Women's Artistic Gymnastics Championships in Skien, Norway winning all-around and gold medals in every event except for the floor exercise.
Comăneci participated in several competitions among which she won the Romanian National Junior Championship, European Championship, and American cup as a senior.
When she was 14-years old, she participated in the Olympic Games representing Romania, she stuns the world after she became the first woman to score a perfect 10 in an Olympic gymnastics event. She eventually won 3-Gold Medals, and seven perfect medals for the uneven bars, balance beam, and individual all-round, as well as a bronze medal for her floor exercises.
Also, she represented the Romanian national team in the Olympic Games hosted by Russia where she won another two gold medals for the floor exercise and balance beam. Also, she won two silver medals for the team competition as well as individual all-around.
She appeared in a host of other competitions and like her custom is, she never returns empty but with medals. In 1984, Comăneci officially retired from active gymnastics and began to work as a coach for the Romanian team until she later moved to the United States.
Aside from her successful sporting career, she was involved in a few television films, and she is also an entrepreneur been a co-owner of the Bart Conner Gymnastics Academy, the Perfect 10 Production Company, and other sports equipment shops. She alongside her husband is the editor of International Gymnast Magazine.
Nadia Comăneci Net Worth
You've learnt about Nadia Comăneci biography, and career, you will now get a peek into her net worth. I know you are interested to find out what she is worth currently especially now that she is no longer active in the sport.
As of the moment this informative piece is compiled, Comăneci's net worth is estimated to be around $15 million. The source of her income comes majorly from her sports engagements, and money getting from her gymnastic schools. In addition, she was involved in series of provocative underwear commercials which further add to her net worth.
Presently, she does television commentary and as well writes for gymnastic publications. In addition, she travels around the world promoting gymnastic sport. She is also involved in raising funds for charity.
Also, her net worth is reflected by the array of exotic cars and quite a handful of magnanimous mansions she owns within and outside the country. We will discuss more her cars and houses in the review of this topic when we have sufficient detail about it.
Comăneci Age, Height, and Body Specification
From the biography highlight of Comăneci outlined above, she was born on the 12th of November 1961 which means she is currently 59 years old. She is tall at 1.63 inches and she weighs 57kg meaning she is not overweight but maintains normal body size.
Also, she is healthy and active to date still involved actively promoting gymnastic activities around the world.
Award and Achievement
Nadia Comăneci is a highly decorated gymnast who attained a lot of achievement and numerous awards won throughout her active career years. To date, she is regarded as one of the outstanding gymnasts ever.
Her unique skill and ability which is a blend of innovative and difficult original skills that is stoic and cool demeanour when she performs are responsible for the host of awards she won over the years.
Comăneci is regarded as the first gymnast to perform series of spectacular gymnast actions including aerial walkover, aerial cartwheel back handspring flight series, among others. Furthermore, she is celebrated to be the first gymnast to perform a double twist dismount, a double twist and a tucked double back salto.
Comăneci remains a well-known figure in the world of gymnastics. She enjoys several honorary titles including serving as the president of the Romanian Gymnastics Federation which was an honorary position to her, the honorary president of the Romanian Olympic Committee, and the sports ambassador of Romania. Also, she is a member of the International Gymnastics Federation Foundation.
Her attainment in the Gymnastic world is highly recognized and awarded. she has many awards under her belt which include The United Press International Athlete of the Year, Associated Press Athlete of the year (1976), Hero of socialist labour (1976), International Gymnastics Hall of Fame (1993), BBC Overseas Sports Personality of the year (1976), International Women's Sports Hall of Fame (1990), The Olympic Order (2004), International Women's Sports Hall of Fame (1993), Marca Layenda (1998), Flo Hyman Award (1998), etc. just to mention a few.
Personal Life
Going further in our discussion regarding Nadia Comăneci Biography is a tidbit of her personal life. She was not into multiple relationships because of her determination and hard work geared towards her career.
The highly decorated gymnast has been married since 1996 to Bart Conner, who also is an American gymnast. He is the owner of the Conner Academy of Gymnastics, a company of high repute and known to produce the perfect 10 and manages other sport equipment stores.
The wedding was held in Bucharest, and the couple is still married and living happily together to date. Also, the marriage was blessed with a son named Dylan Paul Conner.
Presently, she lives in Oklahoma with her husband and son.
Read Also: Morgan Freeman Net Worth And Biography [Wives, Movies & Shows]
Conclusion
Nadia Comăneci is an inspiration for most young gymnasts that are coming up and she is known to help young girls in gymnastics in making their dreams come through. She began her journey from the age of 17 and she rose to become an icon in the world of gymnastics setting unmatched records and winning almost all of the medals and awards there is to win in the sport. She remains relevant in the sport and active as a coach and trainer.