The 10 Richest Women In South Africa 2023 – [Forbes Updated]
Who are the richest women in South Africa? South Africa, one of the largest and most resourceful countries in the continent of Africa, is home to wealthy and successful people. Specifically, South Africa has produced wealthy women over the years. There are so many confident South African women that have been able to thrive tremendously in their careers and businesses, thereby amassing a large chunk of fortune.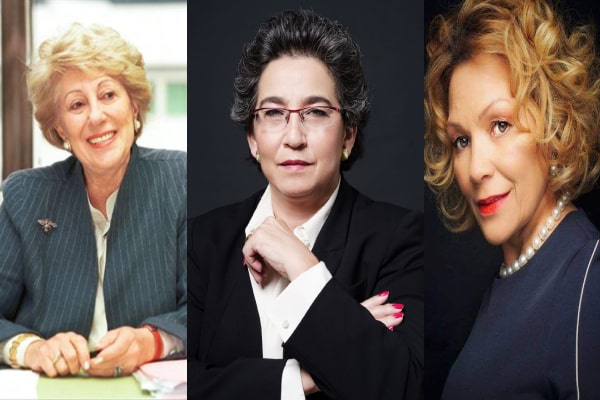 This article will openly itemize the top 10 richest women in South Africa, as well as how they have been able to accumulate their wealth.
Read Also: 50 Most Valuable Companies In Africa
10 Richest Women In South Africa
From bottom to top, here are the top 10 wealthiest women out of South Africa:
#10. Christine Ramon
Christine Ramon is currently one of the most successful South African women who has created not just wealth for herself, but also a legacy and good reputation. Amazingly, she's not a business owner. She gradually built her wealth through her career, working with some of the biggest multinational organizations in South Africa.
As of today, she holds two different positions in AngloGold Ashanti Limited, serving as the Chief Financial Officer and the Executive Director as well. Christine Ramon is not only an associate of a South African company. She's working at MTN Group Limited, serving as a Non-Executive Director at Lafarge, a large establishment based in Paris.
Her net worth is currently estimated to be around R49.6 million.
#9. Mamphela Ramphele
Mamphela Ramphele is one of South Africa's most respected women, majorly known for her involvement in South African politics. Before she kick-started her career as a politician, she had been a medical doctor and was already thriving in the medical field when the opportunity came for her to venture into politics.
Moreover, she is a businesswoman and she has used her influence and wealth in activism against apartheid. As of 2011, Mamphela Ramphele was considered one of the richest women in Africa. Her net worth as of today is estimated to be around R55 million.
#8. Nonhlanhla Mjoli-Mncube
This is another successful woman out of South Africa that has clearly proven that women can also amass wealth for themselves and their families. She's the founder of Women for Housing and has grown her fortune by working with other large corporations. Currently, she's serving in the position of director and chairman of various organizations within and outside South Africa.
She doesn't own and operate multiple businesses, but she's been able to generate significant wealth from her lucrative career over the years as well as the organization she founded – Women for Housing.
Her net worth is currently estimated to be around R94 million.
#7. Judy Dlamini
Judy Dlamini is a very beautiful black woman in South Africa who has successfully built a huge fortune for herself through her persistent hard work. Initially, she didn't start out as a wealthy lady. She started growing her wealth as she progressed in her career. For years, she has been serving in top positions in two giant companies – Mbekani Investment Holdings Limited and Aspen Pharmacare Limited.
When asked how she has been able to create wealth, Judy Dlamini suggests that focus, passion, hard work, and ambition are all essential to creating a wealthy life that is fulfilling.
As of today, her net worth is estimated to be around R125 million.
#6. Elizabeth Bradley
Elizabeth Bradley is one woman that has ingeniously amassed great wealth as an investor. After taking advantage of her first investment opportunity at a young age, she never stopped. She invested her hard-earned money in profitable ventures, and fortunately for her, she succeeded greatly.
Aside from Elizabeth's venture as an investor, she also holds top positions in multinational companies headquartered in South Africa. She's chairman of Wesco Investments and Vice-chairman of Toyota South Africa. She is also a shareholder at some of South Africa's largest companies including Standard Bank, Hilton Hotel, AngloGold, and Rosebank Inn. Her net worth is currently estimated to be at least R332 million.
Read Also: The 10 Most Beautiful Cities In Africa
#5. Sharon Wapnick
Sharon Wapnick started growing her huge fortune after inheriting some portion of her father's. She's the daughter of the well-known billionaire businessman, Alec Wapnick, who had built one of the biggest establishments in South Africa. Having inherited wealth from her rich father, Sharon Wapnick invested in some ventures and bought shares. She later became the non-executive chairman at Premium Properties Limited as well as Octodec Investments.
According to Forbes, Sharon is one of the top biggest shareholders in these two large establishments. As one of South Africa's richest women, her net worth is estimated to be around R433 million.
#4. Bridgette Radebe
Bridgette Radebe is not just one of South Africa's richest women, but actually one of the wealthiest persons in the country. Her immense wealth is connected to her successful mining company in South Africa. The company deals in gold, platinum, uranium, coal, chrome mining, and exploration. Initially, she started out as a miner before progressing to establish her own company.
Although she really worked hard for her wealth, she comes from a very wealthy family. Probably one of the richest families in the country. She is also married to South Africa's Justice Minister, Jeff Radebe. Her net worth is estimated to be at least a whopping R1 billion.
#3. Irene Charnley
Irene Charnley is one of the most successful businesswomen in South Africa. Aside from her thriving involvement in business, she's also a former trade unionist in the country. Amazingly, Irene is not only operating her business but she's also engaged in the operation and management of other big South African companies. She's currently holding directory positions in Johnnic Communications Limited, MIH Limited, as well as Time Media Limited.
In 2012, she received an award for businesswoman of the year and was also listed as one of the richest women in the African continent. Her net worth is estimated to be around R1.5 billion.
#2. Wendy Ackerman
This billionaire business tycoon is has been of the richest South Africa for many years. She's largely engaged in the retail business, establishing her own company and contributing significantly to other successful retail businesses. She's currently a non-executive director of Pick N Pay Holdings Limited – a multinational company with outlets within and outside Africa. Wealthy Wendy Ackerman's net worth is estimated to be almost R2 billion.
#1. Wendy Appelbaum
Born to a billionaire businessman, Wendy didn't have to dig the earth for gold. By the time she became an adult who wanted to work her own money, her father's wealth and influence facilitated her journey to becoming one of South Africa's richest women. She began amassing her own wealth when she was appointed the director of her father's insurance and real estate firm.
Before she assumed this position, she previously held other top positions in different large companies. Specifically, she served as deputy chair of Connection Group Holdings Limited. As of today, aside from controlling her father's business, she owns a successful wine farm in South Africa.
Read Also: Top 10 Richest Men In Africa [Forbes Ranking]
Conclusion
The wealth of these aforementioned South African women are undoubtedly huge. Notwithstanding, such great wealth isn't built overnight. It requires several years of persistence, passion, focus, and dedicated hard work. More importantly, these women are not just wealthy. They are financial literates who know how to manage and grow their finances.