Steve Harvey Net Worth: Bio, Wife, Career, Family & Facts
Who is Steve Harvey and why are we interested in him? Do you watch any of the following shows or have you ever heard of them? "The Steve Harvey morning show, Family Feud, The Miss Universe competition". Well, at least you should know about the competition. Have you ever cared to know who the host of these programmes are? It's no other person but BRODERICK STEVE HARVEY, who happens to be a top famous actor, comedian, a businessman, an author and a Television & Radio presenter.
Without further ado let us take a look at Steve Harvey biography and net worth, his family, love life, career, age, and other important fact you should know about him.
Steve Harvey's Profile
| | |
| --- | --- |
| Full Name: | Broderick Steve Harvey |
| Nickname: | Steve Harvey |
| Date of Birth: | 17th January 1957 |
| Age: | 64 Years Old |
| Place of Birth: | Welch, West Virginia, United States |
| Ethnicity: | All-American |
| Nationality: | American |
| Height: | 5'11 |
| Religion: | Christianity |
| Marital Status: | Married |
| Spouse: | Marjorie Elaine Harvey |
| Occupation: | Actor, Comedian, Author, Businessman, Television and Radio Presenter |
| Net worth: | $200 million |
Steve Harvey Biography
Broderick Steve Harvey was born on the 17th day of January 1957 in Welch, West Virginia, United States by Eloise Harvey, a Sunday school teacher and Jesse Harvey, a coal miner. He happens to be the youngest of the five children produced by his Parents.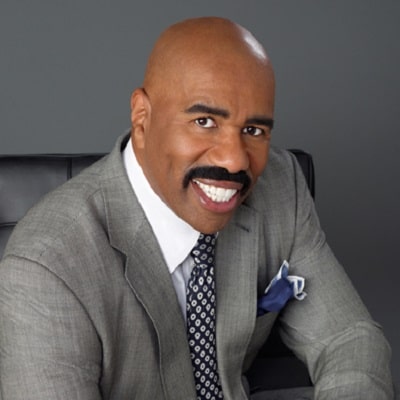 He graduated from Glenville High School in 1974, after which he attended West Virginia University. He also attended Kent State University but was said to have left without graduating.
The road to success was not an easy one. It left Harvey homeless, living in his car and traveling the country for performances.
In 1985, for the very first time, Steve Harvey performed a stand-up comedy on stage and performed incredibly well. It was on that stage he realized his talent and from there, he started performing acts on stages in small clubs before hitting a big one. In the 1990 Johnnie Walker National Comedy, Steve Harvey was said to have made it to the finals. It was from there he gained his popularity, Steve Harvey's age is 64 years.
Read Also: 10 Highest Paid Musicians In The World
Career
Steve Harvey won the 1990 National Johnnie Walker's comedy. His success in this competition led to his being the host of the then-popular show, "it's Showtime at the Apollo" for eight (8) years, this is where Steve Harvey biography and net worth started. In addition to that, he also hosted the following shows,
Family Feud
Miss Universe
The Steve Harvey morning show
New year's eve with Steve y
Little Big shots and others……
In 1997, he acted as one of the Kings of Comedy alongside the late Bernie Mac, Cedric the Entertainer and D.L. Hughley.  His success led to the making of "The Original Kings of Comedy", one of the most successful Comedy specials in history.
Harvey's 27-year career as a stand-up comedian ended in 2012 after he performed his final act on stage at the MGM Grand in Las Vegas.
Asides from being a TV presenter and a Comedian, Harvey is also an author. He wrote motivational books on relationships majorly. Amongst his works is the popular "ACT LIKE A LADY, THINK LIKE A MAN", which was at that time, a New York Times bestseller. This inspired his starring in the 2012 movie, "Act like a lady, think like a man". He also authored "Straight Talk, No Chaser", a book discussing how to find, keep and understand a man. He is also the author of "Act like a success, Think like a Success", a book discussing how to discover one's gift and the way to life's riches.
Harvey is beyond doubt, a prolific best-selling author whose books have been translated into 30 languages around the world.
Awards
Steve Harvey biography and net worth wouldn't have been complete without listing his awards:
Harvey was nominated 14 times for the Daytime Emmy awards for which he won 6 of them.
He received a total of 10 National Association for the Advancement of Colored People, NAACP image awards
He was the first-ever double-winning host, by winning both the outstanding game show host and the outstanding talk show host in 2013 and 2017
In 2015, he won the Marconi Award winner for the Network/Syndicated Personality of the Year
In 2001, he won the Emmy award for the Entertainer of the Year
For more details, go to Steve Harvey's Awards and Honors
Family
Steve Harvey is currently married to Marjorie Elaine Harvey, who is the mother to 3 out of his 7 kids. The other four children are known to be products of his divorcees, Mary Shackelford and Marcia Harvey of which Marcia had three and Mary had one. Four of Seven children happen to be biological and three happen to be his step children. His seven children are:
Lori Harvey
Wynton Harvey
Jason Harvey
Morgan Harvey
Broderick Harvey Jr
Brandi Harvey
Karli Harvey
All three children by Marjorie Elaine Harvey, Lori, Morgan and Jason were said to be adopted. The others from his divorcees are his biological children. Brandi and Karli are twins and the both of them alongside Broderick Harvey Jr are from Marcia Harvey while Wynton is from Mary Shackelford.
Facts About Steve Harvey
His Parents were not rich. Steve Harvey grew up on a farm, with his father, Jesse, as a coal miner and his mother, Eloise as a Sunday school teacher. When coal mining in West Virginia wasn't as productive again, his family moved to a farm in Cleveland, Ohio where they grew their own food and survived on a small income.
Steve's first performance was when he was 27 years old. In 1985, he performed his very first stand-up comedy in Cleveland nightclub during an Amateur night competition.
Steve struggled. He was once homeless just like any other homeless person. He once had nothing, just like people who have nothing. His hard work, sacrifice and determination only paid off.
Read Also: Top 10 Richest Actresses in Hollywood – Updated
Summary
Steve Harvey didn't become a star in one day. He toiled hard. He quit his own job to give himself an opportunity. As they say, you have to take risks to be successful. Steve worked, and when I mean worked, yeah he worked for years to build this reputation. Dedication, Hard work, Perseverance and Spirit of sacrifice defined his career for him.
As Harvey says, "You have to jump and take a leap of faith in order to soar".