The Best Professional Camera: 7 Options For You
Photography is a fascinating and versatile art, capable of capturing unique moments and immortalizing them. For professionals, having a high-quality camera is essential to guarantee incredible results and, at the same time, provide a practical and efficient experience during work. In this context, the best professional cameras stand out as an excellent option for those looking to improve their skills and raise the level of their photographs.
The best professional photography cameras offer a combination of advanced features, quality design and durability, allowing photographers to explore different styles and techniques with precision and confidence.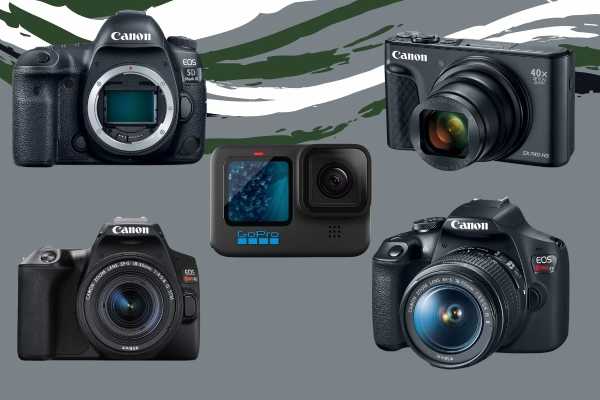 However, it is important to highlight that professionals have different needs and preferences, varying depending on their area of ​​expertise and photography style. Therefore, it is essential to take into account some relevant aspects when choosing, such as image quality, ergonomics, speed and specific features for each purpose.
When looking for a professional camera, it is essential to pay attention to the technical characteristics of the equipment, such as the sensor, image processor, resolution, dynamic range, ISO sensitivity and focusing system. 
Additionally, it's important to consider the size and weight of the camera body, compatibility with different lenses and accessories, and the ability to record high-quality video if necessary for your work.
In this article, we present the most outstanding professional cameras, their characteristics and their advantages. This way, you can make an informed decision and find the perfect model for your needs and goals.
The 7 Best Professional Cameras
Here is our selection of the best professional cameras available on the market. Based on personal experience, technical characteristics and comparison between models, this list will help you choose a perfect camera that meets your needs, thus increasing the quality of your photos.
Best professional still camera: Canon EOS 5D Mark IV
The Canon EOS 5D Mark IV features a 30.4MP full-frame CMOS sensor that, together with the DIGIC 6+ image processor, provides a perfect balance between fine detail, resolution and sensitivity in low-light conditions. This model offers several improvements over the previous version, such as more precise focusing and a quieter shutter.
With built-in Wi-Fi, NFC, and GPS, this camera makes connectivity and image sharing easy. Plus, the 3.2-inch screen lets you view and adjust settings easily. However, it is important to consider that the price of this camera may be high for amateur photographers.
In terms of performance, the Canon EOS 5D Mark IV exceeds expectations, but its weight of 1.24 kg and optical zoom limited to 1x may be negative points for some people. Overall, this camera is a great option for those looking for excellent performance and image quality in professional environments.
Pros
30.4MP full-frame CMOS sensor
DIGIC 6+ image processor
Built-in Wi-Fi, NFC and GPS
Cons
High price
Weight 1.24 kg
Optical zoom limited to 1x
Best value for money camera: Canon SL3 DSLR Camera
The Canon SL3 is a versatile DSLR camera with a 24.1-megapixel APS-C CMOS sensor, delivering stunning image quality in both photos and videos. Additionally, the camera has built-in Wi-Fi and Bluetooth connectivity, making file transfer and remote control easy.
Armed with the ability to record videos in 4K, the SL3 stands out for its quality and features aimed at audiovisual production. The vari-angle LCD touchscreen option lets you creatively frame photos and videos, as well as being useful for producing content for social media and YouTube. The external microphone input ensures that the audio captured is of high quality.
Although it's compact and easy to use, the Canon SL3 has some limitations, such as the lack of built-in image stabilization and the optical zoom range being limited to 3x. Additionally, to make the most of 4K video recording, you will need to invest in higher-speed memory cards.
Pros
4K video recording and external microphone input
Dual Pixel CMOS AF technology for fast, accurate focusing
Touch-sensitive, vari-angle LCD screen
Cons
Does not have built-in image stabilization
May require higher speed cards for 4K recording
Limited optical zoom range (3x)
Best entry-level camera: Canon EOS Rebel T7
The Canon EOS Rebel T7 is a compact and capable DSLR, combining powerful features and easy operation to create high-quality images. Equipped with a 24.1 MP APS-C CMOS sensor, this camera offers high-resolution photos and excellent performance in a variety of situations. Thanks to its built-in Wi-Fi and NFC connectivity, you'll be able to share your photos quickly and easily.
The EOS Rebel T7's fast autofocus system lets you capture incredible moments as they happen, viewing each shot through the bright optical viewfinder. However, this camera has some disadvantages. The image processor is DIGIC 4+, a little older than the most recent models available on the market. Additionally, the rear screen is not articulated and video recording is limited to 1080p.
Pros
24.1MP high resolution
Built-in Wi-Fi and NFC connectivity
Fast autofocus system
Cons
Older DIGIC 4+ image processor
No articulating display
Limited to 1080p video recording
Best for Beginners: Nikon B500 Camera
The Nikon B500 Camera is a perfect option for those looking for a user-friendly and easy-to-use camera. With a 16-megapixel low-light sensor and a lens with vibration stabilization, your photos will come out sharp and well-lit, even in low-light environments.
The 3.0″ flip-up LCD lets you shoot with ease from creative angles, while Bluetooth and Wi-Fi connection make it easy to share your photos directly from the device. With easy menus and controls, this camera becomes a practical option for beginners and photography enthusiasts.
However, there are some limitations, such as the use of AA batteries instead of a rechargeable battery, fixed lens and limited automatic adjustments. Additionally, the Wi-Fi connection app has negative reviews, which can make transferring files a bit problematic.
Pros
Connection to smartphones via Bluetooth Low Energy (BLE)
16-megapixel sensor and lens stabilizer with vibration reduction (VR)
3.0″ flip-up LCD for creative angles
Cons
Wi-Fi works with inefficient app
Fixed lens and limited automatic adjustments
Requires 4 AA batteries for operation
Best for Professionals: Sony Alpha A6400 Mirrorless Camera
The Sony Alpha A6400 Mirrorless Camera is a good choice for those looking for a professional camera with remarkable performance and versatility. Its 20.1MP Exmor RS CMOS sensor ensures sharp, high-quality images, while fast, accurate autofocus lets you capture even the most fleeting moments with clarity.
In terms of video, the A6400 stands out for the variety of functions it offers, including time-lapse and slow motion recording without the need for post-production. This means more practicality when recording your adventures and projects.
The tilting LCD screen, although useful for vlogging and video recording, could be more intuitive and easier to adjust. Regarding optical zoom, the camera only has 1.07x, which can be a negative point for those looking to get closer to distant objects or landscapes.
Another aspect that may not be ideal for all users is Bluetooth connectivity, which may present instability in some situations. However, this does not compromise the overall performance of this incredible camera, the Sony Alpha A6400, a valuable option for those who want to invest in improving their photography and videography skills.
Pros
20.1 MP Exmor RS CMOS sensor with excellent image quality
Fast, accurate autofocus with 425 contrast detection points
Diverse features for video production, including time-lapse and slow motion recording
Cons
Tilting LCD screen could be more intuitive for vlogging
Not the best option for those looking for a powerful optical zoom
Bluetooth connectivity may be unstable in some situations
Best action camera: GoPro HERO11 Black Camera
The GoPro HERO11 Black is a professional still camera that offers 27MP photos and high-resolution 5.3K60 videos. Additionally, it features HyperSmooth 5.0 technology, providing superior stabilization and making it ideal for capturing images on the move. Its durable design and waterproof up to 10 meters depth ensures versatility for use in various conditions.
However, some users have noticed that the camera may become warm during prolonged use and battery life may be limited in some situations. Additionally, image quality in low-light environments may suffer, making recording difficult in certain conditions.
Pros
High resolution of photos and videos
Advanced stabilization with HyperSmooth 5.0 and Horizon Lock
Resistant and waterproof up to 10 meters deep
Cons
Warming up when recording for long periods
Limited battery life
Difficulties in low light conditions
Most Versatile: Canon PowerShot SX740 HS
The Canon PowerShot SX740 HS is a compact and versatile digital camera that stands out for its powerful 40x optical zoom and optical image stabilization. With this combination, you'll be able to capture sharp, focused photos of both near and far objects, making this camera a great choice for travel and adventure.
Bluetooth and Wi-Fi connectivity make it easy to transfer your photos to mobile devices, which makes it easier to share your experiences in real time. The camera also has a 3-inch screen, which allows a comfortable view for most users.
However, the Canon PowerShot SX740 HS has a non-ergonomic grip, which can cause discomfort during handling, especially when using the zoom. Furthermore, its Digic 8 image processor, although powerful, may limit some features compared to newer models available on the market.
Pros
20.3 MP CMOS sensor
40x optical zoom with optical image stabilizer
Bluetooth and Wi-Fi connectivity
Cons
Not very ergonomic grip
3-inch screen size may be small for some people
Digic 8 image processor may limit features compared to newer models
How to choose the best professional camera
When choosing a camera, it's important to consider your needs and preferences. Here are some tips to help you make an informed decision and find the perfect camera for you.
Technology and sensor
The size and quality of the sensor are fundamental to image quality. Full-frame (35mm) sensors offer higher quality and better performance in low light conditions. However, consider your needs: APS-C sensors may be better suited to beginner photographers and advanced amateurs as they are lighter, more cost-effective, and compatible with a wider range of lenses.
Resolution
Resolution, measured in megapixels, is an important factor when choosing your camera. The higher the resolution, the more detailed the image and the greater the ability to enlarge without loss of quality. Consider your specific needs: For commercial photography like weddings and portraits, higher resolutions are important. However, if your interest is street photography, sports, or travel, a lower number of megapixels should be sufficient.
Speed ​​and performance
For action, sports and wildlife photographers, camera speed and performance are key. Check the continuous shooting rate (measured in frames per second) and the autofocus system to ensure you can track movement and get sharp, clear photos. Also, research the battery life and processing speed of the device.
Video
If you need a camera that can also record videos, check out the video capabilities. Cameras that record in 4K or higher offer high-quality video, while image stabilization and high frame rate recording are useful additional features for video professionals.
Construction and ergonomics
The camera's durability and ergonomics are essential for everyday use. Make sure the camera fits comfortably in your hands, has a solid construction, and is resistant to harsh environments such as rain and dust. Also, make sure the menu and controls are intuitive and easy to navigate.
Remember that investing in a professional camera also includes the purchase of lenses, accessories and equipment. So, take the total cost and ecosystem of the camera into consideration when making your decision. With these tips in mind, you'll be on your way to finding the perfect camera for your needs and taking your photography work to the next level.
Read Also: The Best Photography Schools In The World
FAQs
What is the best camera for beginners?
For those of you just starting out in photography, the Canon Rebel T7 and Nikon B500 are great options. Both offer manual control and automatic modes, as well as being easy to use and affordable.
What cameras have 4K quality?
Many cameras are 4K quality these days. Some options include the Canon EOS 5D Mark IV, Canon SL3, and HERO 11.
What is the best professional camera in the world?
It is difficult to say which is the best professional camera in the world, as it depends on the needs and preferences of each photographer. However, the Canon EOS 1DX Mark III and Nikon D5 are considered two of the best options currently available.
Which Canon models are best for photography?
The best Canon cameras for photography vary depending on your experience level and requirements. For beginners, the Rebel series is a great choice. For professionals, the Canon EOS 5D Mark IV and Canon EOS 1DX Mark III are excellent options.
Which Nikon models are best for photography?
Just like Canon, Nikon offers great options for different levels of photographers. For beginners, the Nikon B500 is an excellent choice. In the professional field, consider the Nikon D750 and Nikon D5, which deliver exceptional image quality and performance.