Audi vs. Mercedes Benz: Which Car Brand Is Better?
Which is the best brand, Audi or Mercedes Benz? Audi and Mercedes-Benz are European luxury car brands with a storied rivalry that extends to the earliest dates of motorsport. Established by August Horch in Zwickau, Germany in 1910, Audi derives its name from a translation of its founder's Latin middle name, which in German means "to listen." Audi is currently part of the Volkswagen group. The origin of Mercedes-Benz dates back even further, when Karl Benz was granted a German patent on January 29, 1886 for what would become the world's first automotive production company.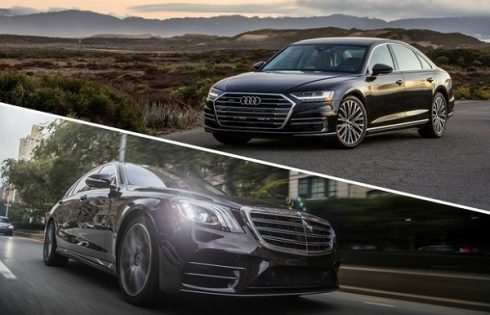 Both brands sell highly desirable luxury models in virtually every size and class, from subcompacts to large SUVs, most of which offer high-performance variants. But which brand makes the best cars? find out below.
Small luxury cars
2019 Audi A5, Audi vs. Mercedes: Which is Better?
Winner: Audi
Audi is well represented here, with the compact A5 sedan/hatchback/convertible, and its more conservative cousin, the Audi A4 sedan. They are listed as the best cars in the class, scoring 8.8 and 8.7 out of 10, respectively. The A3 subcompact sits No. 10 on the rankings with a respectable 7.7 rating.
We especially like the A5 for its range of engines, dynamic and smooth handling, and a good interior trim with user-friendly features. Mercedes offers three models in this class: the compact C-Class, the subcompact A-Class, and the compact CLA.
The C-Class is offered in sedan, coupe, and convertible styles, and sits No. 6 on the rankings. It receives an overall 8.2 rating for its stylish interior, refined performance, and a great list of features, plus its impressive safety rating. It seems excessively expensive to us, however. It also loses points for other complex infotainment systems.
Midsize Luxury Cars
Winner: Mercedes-Benz
The midsize cars of each brand are stylish, comfortable, and fierce opponents, but the Mercedes E-Class outperforms the Audi A6 in the rankings. Ranked No. 3 and receiving an 8.2 rating, the E-Class is available as a sedan, station wagon, coupe, or convertible.
There are also high-performance AMG variants, which means there is something for everyone. We give this model high marks for a stylish and comfortable interior, smooth handling, powerful engines, and an extensive number of driver assistance systems and functions.
A high price, low reliability, and a somewhat small trunk in several of its models are its negative points. Sitting at No.7 with an 8.0 rating, the Audi A6 sedan gets high marks for its good finish and spacious interior, smooth handling, and intuitive infotainment system. A performance-oriented A6 is available for those who want to go fast and look good while doing it.
Read Also: Toyota vs. Mazda: Which Car Brand Is Better?
Large luxury cars
Winner: Audi
The Audi A7 takes the top spot in terms of large luxury cars, with an overall rating of 8.3 out of 10. It is attractive from the outside with that coupe-like silhouette and has a sleek interior that is finished in high-quality materials to give a truly luxurious feeling.
We like the A7's smooth, quiet and powerful engine, and its range of high-tech features, and spacious cargo area, although we feel the headroom is somewhat cramped. Like the A7, the Mercedes-Benz CLS sedan has a silhouette that adds visual appeal. It is ranked No. 4 among large luxury cars with a 7.7 rating.
We appreciate its refined engines and compound handling, along with its scaled interior, well-supported seats, and user-friendly safety features. However, we find its performance not as energetic as that of its direct competitors. It also suffers from a small trunk, limited space in the rear seats, and poor visibility.
Super luxury cars
2019 Mercedes-Benz S-Class, Audi vs. Mercedes: Which is Better?
Winner: Mercedes-Benz
Crowning the top of luxury cars is the Mercedes-Benz S-Class, with a high rating of 9.1 out of 10. Available in sedan, coupe and convertible versions, we believe it is one of the finest cars on the market. With powerful engine options, smooth handling, an extensive list of standard and optional features, and an interior with incredibly comfortable seats.
The only flaw we cited is a lack of trunk space on the coupe and convertible variants. The Audi A8 sedan is also large and luxurious, ranking fourth for luxury cars with a rating of 8.2. It has merit in including quiet and comfortable handling, a sleek, comfortable interior, and safety features that operate very easily, but the A8's boot is small for the class, where it is beaten by its rivals in terms of acceleration and reliability.
Luxury sports cars
2020 Audi R8, Audi vs. Mercedes: Which is Better?
Winner: Audi
Audi takes the lead in this close race, thanks to the fast R8 sports coupe and the much less aggressive TT coupe/convertible. Rated No.6 in the luxury sports car class, the dramatic Audi R8 earns a rating of 8.7. We especially like your choice of two powerful engines, superb handling, well-executed interior, and comfortable seats.
On the negative side, it is quite expensive among cars in the class, and offers fewer features than some competitors. On the Mercedes-Benz side we have several offerings for this class, the GT being the closest to the R8. In fact, it is tied with the R8, bearing an identical rating of 8.7.
Available as a two-door coupe, roadster, or four-door sedan, the GT offers a choice of six engines that allow for impressive speed. We found that it handles extremely well and treats its occupants with an elegantly designed cabin that ranks among a long list of features. However, your fuel economy hurts you a lot.
Luxury convertibles
2019 Audi TT and 2020 Mercedes-Benz GT, Audi vs. Mercedes: Which is Better?
Winner: Tie
Many of the same contestants in the previous category offer convertible tops and can be found here, and it's a fierce tie when it comes to convertibles from Audi and Mercedes. The highest model would be the Audi A5, which has also been highly rated among small luxury cars. Mercedes-Benz models in this segment, similarly, have already been featured elsewhere in this competition.
The best model here is the GT, which has been rated 8.7. The Mercedes SL can be considered both a coupe and a convertible by virtue of its collapsible roof. Again, it has a rating of 8.5. The convertible version of the Mercedes C-Class ranks No. 9 on the list with a rating of 8.2. Another model with a collapsible roof, the Mercedes SLC, was rated a 7.5.
Read Also: How To Buy Used Cars In The United States
Luxury subcompact SUV
2020 Audi Q3, Audi vs. Mercedes: Which is Better?
Winner: Audi
This growing automotive segment is filled with a fair number of inexpensive models that, while small, often prove more practical than subcompact sedans. The Audi Q3 finishes almost at the top of the pack, No. 2 among the best subcompact luxury SUVs.
We report that it is fun to drive and gives your passengers a high-quality, spacious interior with an easy-to-operate entertainment system. We found on the not-so-positive side of the Q3 a poorer fuel economy compared to other models in the same class.
The Mercedes-Benz GLA has not been rated yet, because it has yet to go through crash tests, so Audi will win by default. We rate the GLA a 7.0 out of 10. While we cited its lively handling and user-friendly features, we weren't particularly in love with the power of its base engine, somewhat stiff handling, poor interior quality, or its little headroom. load and in the back seat.
Luxury compact SUV
2020 Mercedes-Benz GLC, Audi vs. Mercedes: Which is Better?
Winner: Mercedes-Benz
Compact SUVs are one of the most competitive segments these days, with the Mercedes-Benz GLC tied for first with the Acura RDX in the United States. The Mercedes GLC comes in both a standard version and a coupe variant with a more curved silhouette.
It was given an 8.6 rating for its powerful engines exceeding 500 horsepower, well-composed handling and attributes, a well-designed and comfortable interior, and a highly manageable infotainment system. We note that the coupe has somewhat limited rear quadrant headspace, however, both versions have noticeable turbo lag when accelerating from rest.
The Audi Q5 comes close, however, it resides in fourth place in the category with an overall score of 8.4. As with the Mercedes, we like its handling capabilities, spacious cabin, and intuitive infotainment system. But we found the cargo capacity somewhat lacking, and noted that the Q5's base trim is more expensive than several of its direct competitors, including the GLC.
Midsize luxury SUV
2020 Mercedes-Benz GLE, Audi vs. Mercedes: Which is Better?
Winner: Mercedes-Benz
The top-rated model in the midsize luxury SUV class is the Mercedes-Benz GLE, with a score of 8.7 out of 10. We noted its superb performance, supreme safety technology, and its spacious and luxurious cabin. We found that the infotainment system can be distracting when driving, however.
Audi has two participants in the class, the tallest model being the A7. The model comes in second after the GLE, with a score of 8.5. We favored its optional FV6 engine, its entertaining handling, and its comfortable, luxurious interior.
The Audi A8 for its part is rated No.5 on our list of luxury midsize SUVs, with an overall rating of 8.0. We like its spacious and sleek cabin, excellent handling, and extensive feature list, but it lacks acceleration and poor fuel economy.
Large Luxury SUVs
2019 Mercedes-Benz G-Class, Audi vs. Mercedes: Which is Better?
Winner: Mercedes
Mercedes offers two large luxury SUVs, and it takes the honors without a fight, as Audi does not offer a model in this class. The Mercedes-Benz G-Class sits in second place in the category with its 8.2 rating. We like its powerful engine options, off-road prowess, well-designed interior, and cite poor fuel economy and great price as negative points.
Read Also: Toyota vs. Honda: Which Car Brand Is Better?
Luxury SUVs Crossovers
2020 Mercedes-Benz GLC, Audi vs. Mercedes: Which is Better?
Winner: Mercedes-Benz
This segment represents the best of crossover SUVs, with Mercedes-Benz filling the catalog of options, which have already appeared on this list. The midsize Mercedes-Benz GLE ties the BMW X1 in the ranking of luxury crossovers.
The Compact Mercedes GLC comes in at No. 3. Among its many luxury crossovers, the subcompact Audi Q3 represents with a rating of 8.6 out of 10. The midsize Audi Q7 ties for sixth place and the Q5 ties for eighth with 8.4 out of 10.
The winner is…
2020 Mercedes-Benz GT, Audi vs. Mercedes: Which is Better?
Mercedes Benz
Taking the honors in this sprawling luxury car battle is Mercedes-Benz, winning more than half of the individual segments and tying one with Audi. The highest-rated model in this vehicle group is the Mercedes S-Class luxury sedan, which was given an excellent rating of 9.1 out of 10.
While the models from both brands provide different levels of performance, the Mercedes offerings tend to outperform Audi in terms of muscle and precise handling in their AMG models.
Both brands have very well-designed interiors, although Mercedes models generally win a bit in terms of sheer opulence.
However, there are more similarities than differences between this great amalgam of cars and SUVs, and which one you decide to ultimately choose between Audi or Mercedes will depend on your personal tastes in terms of performance, style and comfort.