Best Business and Management Universities in Canada 2023
If you are planning on relocating to Canada or you currently live there then you definitely want to know the best business and management universities in Canada. Universities in Canada offer international students a wide range of options to study business and management. 
For those interested in pursuing a career in business, we have compiled a list of the best Canadian universities based on rankings from different international trade publications.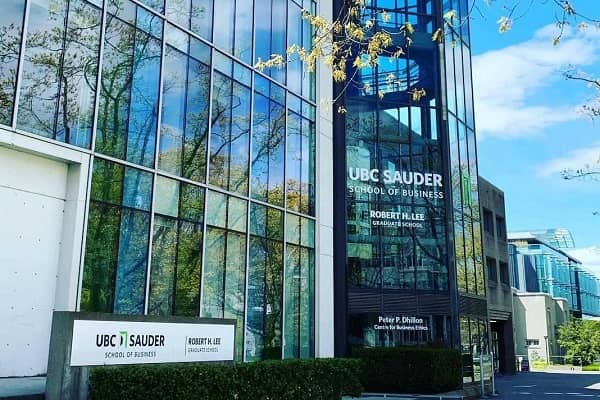 Without taking much of your time on introduction let us dive into the topic which is the top best business and management universities in Canada.
Top Best Business and Management Universities in Canada
Below is the list of the best universities of business and management in Canada:
1. University of Toronto
The Rotman School of Management at the University of Toronto has a long history with business and management courses dating back to 1901 and today it ranks as one of the best business and management universities in Canada.
Students can pursue undergraduate and graduate programs in business administration, finance, and commerce. Bcom's curriculum combines business with other interdisciplinary studies so that students can pursue their interests and gain broad experience in various fields.
2. University of British Columbia (UBC)
The UBC Sauder School of Business offers undergraduate and graduate programs to approximately 4,000 students, it is also one of the leading business schools in Canada.
The school is located in the city of Vancouver on the UBC Point Gray Campus. UBC Sauder offers a global business perspective through rigorous and relevant teaching.
Read Also: The 10 Highest Paying Jobs In Canada
The school offers many international study opportunities from semesters abroad to business development workshops in destinations such as China and Kenya, among others. UBC Sauder is committed to research with specialist research centers focusing on social innovation, impact investing, the urban economy and much more.
3. Western University
Western University offers more than 400 majors, majors, and minors at the undergraduate level. The university has 82 physical locations in London, Ontario.
Western's Ivey School of Business may have fewer programs on offer than other business schools, but its quality means that Honors Business Administration is offered in a 2+2 format, so students can pursue subjects that interest them in the first two years of your studies, and then focus on business studies in the last two.
Business Administration students at Western Business School have the opportunity to spend a semester abroad. Up to 25% of students decide to participate in an exchange program in the second year of studies. Western's Ivey School of Business currently has more than 40 partner schools in Europe, Asia and South America.
4. York University
York University's Schulich School of Business was ranked first in several leading international publications. The school offers a popular Bachelor of Business Administration program at the undergraduate level, giving students the chance to study abroad at any partner school.
At the postgraduate level, six MBA programs are offered, including an MBA in India, and a joint MBA/Master of Fine Arts/Master of Arts program. In addition to five specialized master's programs, five postgraduate diploma programs and one doctoral program.
The school offers exclusive entry to an average of 250 new enrollments each year.
5. University of Alberta
The University of Alberta is primarily known for engineering, science, and medicine. The University of Alberta is also one of the best Canadian universities to study Computer Science. Located in the city of Edmonton, the university also offers more than 400 programs in 18 faculties.
Established in 1916, the University of Alberta School of Business offers undergraduate, master's, and doctoral programs, as well as executive education and lifelong learning. Entrepreneurship at the University of Alberta is carried out through partnerships with different faculties and industry stakeholders. eHUB is the business hub of the University of Alberta, offering resources, networking opportunities and funding to students or student teams.
6. Montreal University
The Montreal University is located just outside of downtown Montreal. The picturesque neighborhood of Côte-des-Neiges is made up of several cafes, bars and restaurants, and several student accommodation options.
It has its own business school, offering undergraduate, graduate, and doctoral degrees. HEC Montréal (École des hautes études commerciales de Montréal) is a French language school founded in 1907.
HEC offers students the Bachelor of Business Administration in several languages: French, bilingual (French and English), and trilingual (French, English and Spanish).
HEC currently has 149 partner institutions in 45 different countries.
7. McMaster University
The Degroote School of Business at Mcmaster offers a variety of study programs, including a Bachelor of Commerce, Bachelor of Commerce, MBA and PhD programs, executive development and international exchanges.
The school's Business Internship Program offers business students the opportunity to work for 12 to 16 months. In addition to internship opportunities, undergraduate programs take into account professional accreditation. A student enrolled in the Bachelor of Commerce Honors Program may apply to become a Certified Professional Accountant (CPA) and a Certified Human Resources Professional (CHRP).
8. Queen's University
Queen's University is located in Kingston Ontario. The school is home to international students from more than 100 countries. The university is known for its lively student life and excellent research facilities.
Queen's Smith School of Business offers undergraduate and postgraduate students one Bcom program and four MBA programmes.
The school combines team-based and experiential learning with small classes. The maximum class size is 80 students in Bcom classes. There are many ways for students to get involved and expand their professional network through cooperative programs, coaching services, and online events.
Read Also: Top 10 Business Schools In The World (+Tuition)
9. Mcgill University
Mcgill is located in vibrant downtown Montreal, so you're never far from off-campus activities and cultural events.
Mcgill University's own Desautels School of Management offers Bcom, MBA and PhD programmes, as well as interdisciplinary programs such as the Doctor of Medicine (MD)/MBA and MBA/Law, offered jointly with the School of Medicine and the School of Law.
Mcgill's College of Business also has a teaching center in Tokyo, Japan. The Bcom program claims to offer the most flexible range of courses of any Canadian business program. Students can choose from 12 different majors, 13 different concentrations, four different honors (including two joint honors with the Economics department), and three different minors.
The school partners with HEC Montréal to offer a single bilingual MBA degree.