Best Female Content Creators On YouTube [2023 Ranking]
Did you know that more than 42% of the YouTube audience is female? If you want to meet the most famous YouTubers on this social network, you've come to the right place because here you'll find a top list of the best female content creators on YouTube.
YouTube has become one of the most important social networks today. Although, at this moment, it does not have the same growth or popularity that it had a few years ago, it is still one of the most visited platforms by Internet users, especially because it offers more elaborate and better quality content than the competition.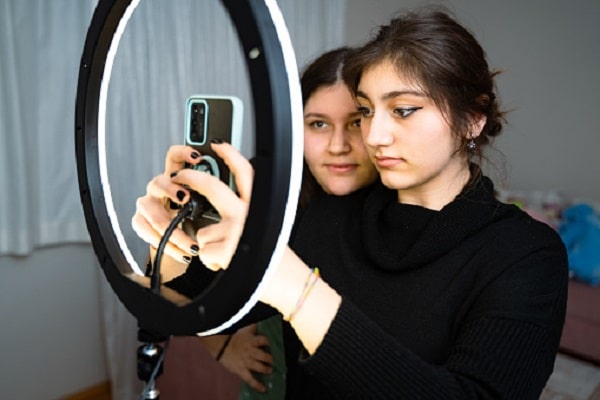 The YouTubers that you will see in this list stand out for their channels of different themes, from fashion and lifestyle themes to channels focused on gaming. The charisma and ability to entertain have made these creators' channels to be among the largest in the world.
Who is the most famous girl on YouTube? Here you will find the answer:
Top 10 Female YouTubers With The Most Subscribers
Kimberly Loaiza
Number of subscribers: 39.8 million.
Kimberly Loaiza is the YouTuber girl with the most subscribers in the world, with just under 40 million subs, a number even higher than the population of several countries.
She started her career as a YouTuber in 2016, her content is focused on fashion and lifestyle, uploading blogs and funny videos together with her children and her partner Juan de Dios Pantoja. Recently, he has ventured into the music industry and has released several viral songs.
YouTube is not the only platform where she can boast a large number of subs, since it is one of the most important influencers in the world. On Instagram, she has no less than 37 million followers, while on TikTok she has more than 72 million.
SSSniperWolf
Number of subscribers: 33.3 million.
Alia Lia Shelesh, or better known by her pseudonym SSSniperWolf, earns second place in the top 10 YouTubers with the most subs. Although her channel offers varied content, for a while she was mainly focused on gaming, her skill and ability in games like Call of Duty has led her to fame, being known by the community as Star Gamer.
Her content is summarized in video-reactions and comedy. Her sense of humor and engaging content keeps her channel constantly growing.
Ricis Official
Number of subscribers: 30.9 million.
A little-known content creator on this side of the pond, but one of the biggest accounts in Indonesia. Her channel is mostly related to dance and music, although she also usually uploads very funny videos.
Her channel started in 2016, and since then it has not stopped growing. She also dabbled in the world of fashion, with her hijab brand Ricis Style, which has been quite successful in offering hijabs with bold colors and patterns.
Yuya

Number of subscribers: 24.9 million.
We start this top one of the best-known youtubers in Spanish. The content of her channel is mostly about beauty, fashion and tips that can help us in our day to day. However, what catapulted her to fame was her incredible charisma and her nice voice, standing out among other similar channels.
Although currently she does not upload videos with the same regularity as a few years ago, in her golden age she became nothing less than the biggest YouTuber in the world, leaving a mark on Hispanic popular culture.
Currently, she has her own makeup line, and her life turned 180° after the birth of her baby, Mar. She is undoubtedly one of the content creators that marked a generation.
Chloe Ting
Number of subscribers: 24.4 million.
Chloe Ting is a YouTuber who has gained great popularity in recent years. Although you can find fashion and travel videos on her channel, what catapulted her to fame are her exercise routine videos, making her one of the best-known fitness content creators today.
The exercise videos consist of short-term routines, but with great intensity, being an excellent alternative for people who want to have healthier habits but do not have time to go to a gym. As these are high-impact exercises, you will be able to see results in a short time.
Noor Stars
Number of subscribers: 19.9 million.
An Iraqi YouTuber is little known in the West, but like other creators shown in this top, Noor Stars has a fairly large community, with almost 20 million followers.
Her channel is mainly dedicated to makeup, fashion and beauty videos, although you'll also find sketches and blogs. Her varied content and her great sense of humor has made her one of the biggest female YouTubers in the Middle East.
Jenna Marbles
Number of subscribers: 19.8 million.
This American YouTuber, actress and comedian became known in 2015. On her channel, you can find a wide variety of content, from blogs to funny videos, with a good sense of humor.
However, her fame did not last long due to a controversy that broke out in 2020, where several people criticized her for racist and classist comments she had made in the past. Despite the fact that this YouTuber hasn't uploaded videos for a couple of years, her channel is still one of the biggest today.
lele pons
Number of subscribers: 17.8 million.
One of the most influential Latina content creators. This Venezuelan content creator, actress, model and singer began her artistic career in 2014, on the forgotten social network Vine. Although in this app she got a large number of followers, it was not until she migrated to YouTube that she achieved international fame, being one of the Latina YouTubers with the most followers today.
On her channel you will find quite diverse content, although in recent years she has mainly dedicated herself to her musical career, with videos that exceed 400 million views.
Liza Koshy
Number of subscribers: 17.2 million.
Like Lele Pons, this American YouTuber began her career as a content creator on Vine. She makes comedy videos and blogs, showing her day-to-day life. Her spontaneous personality made her amass a large number of fans over the years.
She has also become known for his videos together with important political personalities, such as Joe Biden or Michelle Obama, as well as touching on certain social issues in his country. Likewise, she has worked as an actress in several movies available on Netflix, where she also shows off her skills as a dancer.
Read Also: The 17 Biggest Social Networks in the World
Katie Angel
Number of subscribers: 17.1 million.
We end this top with another Venezuelan youtuber who lives in California, United States. She has become famous for her "24 hour" videos, as well as making interesting blogs, with colorful thumbnails, so her content is mainly aimed at a child audience.
She also ventured into the music industry, whose videos can exceed 30 million views.