Tips for Finding a Job as a Teacher Abroad 2024
After finishing their studies, most teachers look for employment opportunities at the national level or focus on competitive examinations. However, there are many who are looking for a job as a teacher abroad. If you are one of them, here we are going to give you some tips to find a job as a teacher around the world.
Finding an education-related job is not so difficult if we know where to look for those opportunities. There are many possibilities to work as an educator/teacher, since we not only find the option of being teachers in schools, there are more options where to exercise this profession.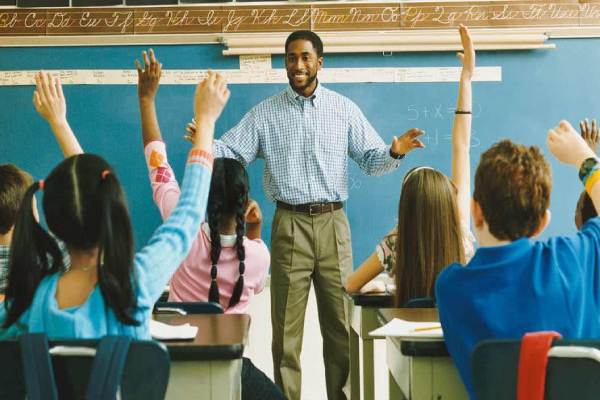 There are endless options to be able to work as a teacher abroad, for example; academies, private classes, online training, public or private school, public or private institute, university professor, volunteer, teacher in cultural activities, teacher for the elderly or even in hospitals, residences, circuses and others that may escape me in this moment.
Finding a job as a teacher abroad, although it is a path full of challenges, a lot of training, bureaucratic processes and requires going through a journey of cultural integration that may not be so simple, depending on the destination country, it is still a worthwhile experience.
Try on your own if you are looking for a better salary, fair working conditions and teaching within a high-value educational system. 
Obviously, not all countries can offer these conditions and in general, the final result is totally influenced by your qualifications, the position you are going to occupy, the employing institution, the destination and even your country of origin. 
The key is in the research, which is why below we offer you all the basic information you need to know about how to find a job as a teacher abroad. 
Without further introduction, let's get started! 
Main employment options as a teacher abroad
There are different options for those who want to find employment as a teacher in an international destination. Some of the most common and viable are the following: 
Employment abroad as an English and a foreign language teacher 
If you have advanced English language skills, another option for finding employment as a teacher abroad is to obtain a IELTS or TOEFL certificate. 
On the one hand, IELTS (International English Language Testing System) is an international certification that qualifies and tests the skills necessary to teach the English language in foreign countries but mainly required by Britain, specifically when it comes to teaching English to non-native speakers.
However, both certifications are usually treated as equivalent, so they do not represent a limitation in terms of foreign destinations where you can find employment as an English teacher. 
Employment abroad as a teacher in public schools or universities
Although it is a slightly more complicated option, since schools and universities will generally give priority to professionals native to the country in which you are located and their calls require a high level of preparation, if you have already lived in a place for some time, you can be another option worth the effort to explore to be a teacher in your area of ​​specialization. 
Employment abroad as a teacher in a private school
Teaching in private academic centers is a much easier option since most of these institutions publish job offers on different online job boards and have less demanding access requirements than public institutions. 
Employment abroad through voluntary teaching
If you want to live a volunteer experience abroad as a teacher, you should know that it is one of the best options to improve your professional resume in addition to putting your professional activity at the service of those who need it most. 
Most international volunteer programs take into account professionals in the education sector to offer them vacancies. 
Employment abroad as a private teacher
Another option to go abroad to work as a teacher is to offer private classes, that is, on your own to students who want to reinforce their knowledge in a subject or learn a language in a more personalized and close way. 
Thanks to digital advancement, this option to work as a teacher abroad also has many sources of online employment that you can do from home or from any place where you have a computer with an internet connection. 
General requirements to work as a teacher abroad
The requirements to pursue your teaching career abroad really vary depending on the country you choose to seek employment and the institution that would hire you; However, there are four requirements that will generally be mandatory in any international country where you plan to work as a teacher:
Employment contract with an academic institution or teaching center.
Visa with work authorization.
Health insurance. 
Certification to prove advanced command of the local language. 
Valid passport. 
Recommendations for finding employment as a teacher abroad
Before going abroad to look for a job as a teacher, it is highly advisable to ensure that:
Explore the labor market of each country well
Before you start looking for opportunities to teach in a country, you first have to know what the current situation is like for teachers who already live there, especially in the area of ​​teaching your specialty.
Are there options? What is the salary? What conditions do they offer? Research until you are 100% oriented to your preferred destination.
Study the educational system of your destination
The educational system is the teaching structure made up of a set of institutions and organizations that regulate, finance and provide services to provide education in accordance with the policies, relationships, structures and measures dictated by the State of a country.
That is why the educational system varies completely depending on the destination you are going to and can be one of the biggest challenges or "cultural shocks" for a teacher who decides to go teach classes abroad. Research is key to overcoming this challenge.
Join a community
If you want to find out about exclusive opportunities or receive advice on any questions that arise in the middle of the application process, don't be alone! Contact people who have gone through the same procedure or who are also looking for employment opportunities as a teacher in another country.
Facebook groups, such as Working for the World, are a wonderful option to connect with people who have similar professional goals to yours.
Personalize your resume to the maximum
Not all countries accept the same resume models, so be sure to adjust your CV to the conditions of the destination country and of course, each job offer to which you apply as a teacher. 
Search websites and job boards for teachers
In addition to searching for international job offers for teachers on traditional job boards, be sure to check out some sites dedicated exclusively to sharing job opportunities for teachers who want to move to work abroad. These types of sites will usually offer more details, options, and resources of interest to you.
Below we offer you some examples of web pages that fulfill this function.
Have a "plan B"
Sometimes things do not go as we expect and no matter how complicated it may be, if we want to avoid unwanted unforeseen events, it is best to make a good plan and always think about how to return to your country or move to another destination if the plans do not go as planned. you expected
Platforms to find employment as a teacher abroad
Some platforms that continually publish job offers for teachers abroad are:
Work for the World
LinkedIn 
Conclusions
Now it's turn! We hope that this information serves as a basis to help you find employment as a teacher abroad, an experience that will undoubtedly greatly expand your professional opportunities and enhance your growth in every way. 
Read Also: 10 Websites To Look For Work In The United States
Remember that if you have any questions about how to work as a teacher abroad or how to find employment in any other professional field in which you are interested in developing, leave us a comment.