5 Best Nursing Schools in the United States for Foreigners
The best nursing schools in the United States have a wide variety of offerings for international students. Do you know which are the best institutions to study this career, what they offer and how you could be part of them? Here we bring you all the information.
Learn about the advantages that the best nursing schools can give you as an international student. Do not stay in doubt and get ready to study the career with the greatest demand in the world; There are many options that can be adapted to your needs and today, you are going to know them all. Keep reading!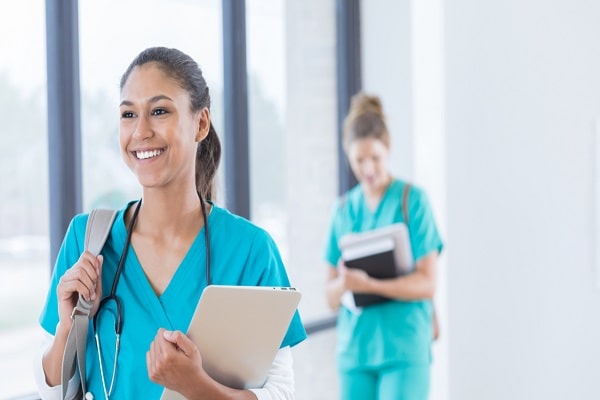 6 Reasons to Study Nursing in the United States
Over the last 20 years, the nursing profession has exploded around the world: being one of the most profitable jobs, it is also among the most in-demand activities.
As a result of the COVID-19 pandemic, health protocols intensified in such a way that nursing work became even more essential. This has also caused many related organizations, as well as universities that offer degrees in Health Sciences and public and government institutions, to promote the career among the younger generations.
Read Also: Top 10 Best Professions In Africa [Most Profitable]
So why study this career in nursing schools in the United States? We will give you reasons that could make you prepare your bags to travel to the land of opportunities:
1. The United States has a high deficit of nursing professionals
The shortage of nurses has caused a strong demand that has spread outside the country. This is due to the pandemic, but also due to a recent wave of retirements and withdrawals, which has caused many hospitals to turn to recruitment agencies to recruit more professionals to fill the gap in staff.
2. Work and residence licenses have doubled in the last three years
According to the National Institute of Migration in the United States, this year there are 280,000 green cards available for international professionals who want to settle in the country, of which more than half have to do with jobs related to health care.
3. Nursing salaries in the US are among the most attractive worldwide
The United States Bureau of Labor Statistics published in its last update of 2021 that the average salary of a nursing professional is $76,600 per year, which translates to $37.31 per hour. But let's not forget that this is the average salary; Actually, if we consider that there are many areas, some nursing specialties earn salaries of up to $180,000 annually.
4. Hospitals prefer bilingual nurses
Undoubtedly, being bilingual is a great advantage in any profession, but in nursing it has a very special value for a statistical reason: in the United States there are 3 million registered health care professionals, but only 3.6% are of ancestry Hispanic (and not everyone is fluent in Spanish), which can make it difficult to care for Latino patients.
Being bilingual and studying nursing will give you greater competitiveness since speaking English and Spanish in sectors with the largest Latino population exponentially increases the chances of hiring.
5. There are many more opportunities to obtain residency
Once you finish your nursing degree, finding a job will be the easiest thing in the world: all you have to do is update your student visa to a work visa: this permit is known as the H-1B Form, exclusively for university professionals, and it will give you an additional advantage when applying for your permanent residence.
6. All these schools accept the PTE Academic English certification
Did you know that an essential requirement to practice nursing in the USA is an English certification? Indeed, the Health Resources and Services Administration (HRSA) requires that international professionals demonstrate a proficient or professional level of English. 
As of 2019, the federation of the United States deemed it necessary for nurses to have "The requisite level of proficiency in written and spoken English demonstrated by passing one or more nationally recognized and commercially available standardized tests of foreign ability to speak and write English.
The good news is that the Health Resources and Services Administration proposed PTE Academic on the list of tests to approve nursing licenses, arguing the following:
PTE Academic is a recognized computer-based assessment program in more than 50 countries.

Its standardized evaluation measures reading, writing, speaking and active listening skills, as well as essential aspects of grammar, oral fluency, pronunciation, spelling, vocabulary and discursive management.

The test is fairly straightforward, based on an overall score on the 

Global English Scale

, which ranges from 10 to 90 points.

To apply for a nursing license, 

the applicant must achieve just 55 of the 90 points on the test.
Having the one from PTE Academic will give you a huge advantage when applying for a nursing license in the United States when you finish your degree, since the chances of passing with 55 points are really high.
These are not the only reasons, but they are the most important, especially for those who want to study nursing in the United States, since once you have finished your degree, the possibilities of practicing the profession within the country are very high.
In the following list, you will be able to know the 5 best nursing schools in the United States that offer very attractive careers and professional health programs. Unlike other nursing universities, they offer accelerated courses that have the same validity to apply for a nursing license. 
How Did We Choose the Best Nursing Schools?
To choose the best nursing universities, the process consisted of using 4 high-value criteria and evaluating which ones met the most of them:
Have Accelerated Nursing Degree Programs: Bachelor of Science in Health degrees have a duration of 4 years, Accelerated Nursing Programs (ANP), also known as Bachelor of Science in Nursing (BSN) They last 2 years and in some cases up to 1 year. 
Include academic programs for international students: whether they are exchange programs, temporary residence, scholarships.
Wide variety of specializations: including geriatric, pediatric, prenatal and intensive care nursing.   
Being economically accessible: We believe that a good nursing school does not necessarily have to be expensive.
Based on these criteria, we are going to learn about the 5 best nursing schools in the United States for international students:
Top 5 Nursing Schools in America for International Students
1. Northeastern University (Massachusetts)
Ranked as one of the 80 best universities in the United States and the best nursing school in the United States, Northeastern University stands out for having a wide variety of undergraduate and graduate programs (more than 350), including the accelerated nursing program (BSN):
Advantage:
Its accelerated nursing program (ANP) is focused on those people who have an urgency to practice as soon as possible.
It allows students to complete the ANP program in just two years.
It has additional preparation courses for the NCLEX-RN exam: the National Council Licensure Examination is a mandatory exam for anyone who wants to practice the nursing profession and have their license.
2. Madonna University (Detroit)
The second on the list of best nursing schools in the United States is Madonna University, this university has an attractive 2-year accelerated nursing program. But it has an added bonus: If you want to advance into a nursing specialization, it also offers the Bachelor of Science in Nursing, which only takes 3 years, one less than most universities. 
Advantage:
Internships on campus
Hybrid classes: face-to-face and distance
Guidance and facilities to obtain a license as a registered nurse (RN), essential to practice in the United States.
3. Loyola University (Chicago)
It also has a two-year accelerated nursing program, which, by the way, according to the students' own opinions, is just as rigorous as a 4-year bachelor's program.
Advantage:
Network of contacts with hospitals to carry out professional practices in the field
Earn an Associate of Science in Nursing, or Associate Degree in Nursing, better known as an ADN degree.
Guidance and support to apply for the National Council for Registered Nurses Licensing Exam (NCLEX-RN), an essential requirement to practice the career.
4. Creighton University (Omaha)
This university is of Jesuit origin, and despite being private, its courses are quite accessible. We can highlight that being a small community, both students and professors interact in a highly personalized academic relationship.
Advantage:
Your accelerated nursing program lasts only 18 months.
Its academic plans seek that students concentrate on a specific area of ​​study.
The nursing program contains a wide variety of areas of specialization in health care.
5. Auburn University (Alabama)
The list of the best nursing schools in the United States won't be complete without Auburn University. If you already have a bachelor's degree but want to expand your career opportunities in the health care field, Auburn University will be a great choice as it has one of the shortest nursing programs in the country.
Advantage:
Allows you to finish the accelerated nursing program in just 1 year (as long as you have a previous university degree)
Offers mixed classes and consultancies: face-to-face and online
It is one of the cheapest nursing colleges in the United States: annual tuition is between $18,000 and $25,000.
All of these nursing colleges are a great option if your goal is to work in the health field and create real social change. However, you should also consider other fundamental factors to start designing your academic project: speaking English is an essential requirement.
If you do not have English language skills, your chances of getting into one of these universities, as well as landing one of the thousands of nursing vacancies currently available, will be less.
Read Also: Massachusetts Health Insurance – Types & Best Plans
Currently, more than a million international students are fulfilling their dream of finishing a degree in one of the best nursing schools in the United States; prevent the language barrier from becoming an obstacle and prepare yourself with an English certification that provides you with greater academic and professional opportunities.