Do Cosmetic Products Expire? Find Out Here
When you open a cosmetic such as makeup, shampoo or moisturizer, the countdown of its useful life begins. Know the 'expiration date' of these products, their risks if they are expired and tips to extend their validity.
You must have asked yourself this question: Does the cosmetics I have been keeping for months in my drawer expires? The answer is that they can expire since from sun creams or moisturizers to shampoos or makeup products, they all have a useful life period, after which their effect or properties may diminish, and even, in some cases, pose a risk to the health of your skin.
The period of validity usually depends on the type of product and its composition, the date that manufacturers prints on it are based on different variables.
All cosmetics must pass a safety evaluation that includes pH level test, stability, viscosity and many more, the results of which will help determine their longevity.
Mind you, those cosmetics that expire sooner are those that contain the most amount of water, those that are applied to sensitive areas, or those that are intended for babies.
Read Also: How To Start Hair Cream Production In Nigeria: Step By Step
In addition to all the above, other variables such as the container in which it is presented will also be taken into account: if it is with a lid, or if it is airfree or with a plunger, because in this way it will not be able to be contaminated with bacteria, nor will the air affect its composition.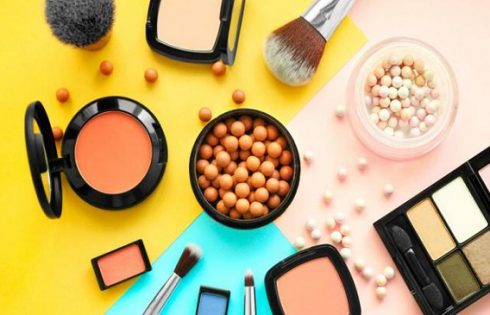 Cosmetic products can be roughly classified into those that expire according to their manufacture – indicated with an hourglass symbol and 'use preferably before the end of …' – and those in which it begins counting its time from when it was being opened.
Approximately how long does each cosmetic last?
Although, as we have already said, the expiration of a cosmetic depends on many factors, and the specifications that appear on the packaging should always be read carefully. How long does it take for a cosmetic to expire? below we have listed their expiry dates.
Moisturizing creams (face and body) – 12 Months
Eye contour – 12 Months
Make-up removers – 12 Months
Shampoo and bath gel – 12 Months
Makeup bases – 12 Months
Loose or compact powders – 6 to 12 Months
Lipsticks – 12 Months
Nail paints – 12 Months
Mascara – 36 Months
Shades – 12 Months
Risks of using expired products
Once the dates indicated on the packaging are exceeded, neither the safety nor the efficacy of the product is guaranteed, so it is best that it ends up in the garbage. If you decide to continue using it, nothing may happen to you, but there is also a higher risk of irritating dermatitis, skin rashes, or phototoxicity if used under sun exposure.
Tips to make our cosmetics last longer
Although the product has a preferred expiration date, it may be that if the conservation is not adequate, the content may deteriorate or lose its effectiveness earlier than expected, as it would happen with any food that needs to be refrigerated if we leave it out of the fridge.
This can manifest itself through organoleptic characteristics, such as bad smells in cosmetics, a different texture or color, or even the presence of mold.
A good way to know how long a product has been open, and thus know if it is in good condition, is to place a label attached to the container with the opening date; so there will be no room for error.
Read Also: Benefits and Properties of Shea Butter (Ori in Yoruba)
Some advice that as the dermatologist says we should try to leave the products at room temperature, away from extreme cold or heat, to influence the correct closure of the container – it is recommended to choose those with a plunger or airless – and wash hands before opening and closing cosmetics.
In addition, hygiene can be improved by picking up the content with a small spatula so as not to contaminate the rest; remember that the fingers can harbor bacteria that remain and proliferate in the composition.
It is important to avoid sun exposure from cosmetic products, especially sunscreens, as radiation can cause their composition to deteriorate or oxidize, losing efficacy and increasing the risk of irritation or other damage to the skin.
Now it only remains to follow these tips and get down to work in that forgotten cosmetic drawer and remove the expired ones. Remember that the health of your skin is at stake.