How to Start a Business With Little Capital In 6 Steps?
When it comes to carrying out a business idea, we know that something that stops many entrepreneurs is the lack of financial resources. That is why today we are going to give you some tips on how to start a business with little capital. Yes! It is possible and more common than you think.
The 6 steps to starting a business that we are going to explain in this article are:
Start with what you have
Build a business model
Use your contacts
Make a business plan
Define a budget and a goal
Take advantage of all channels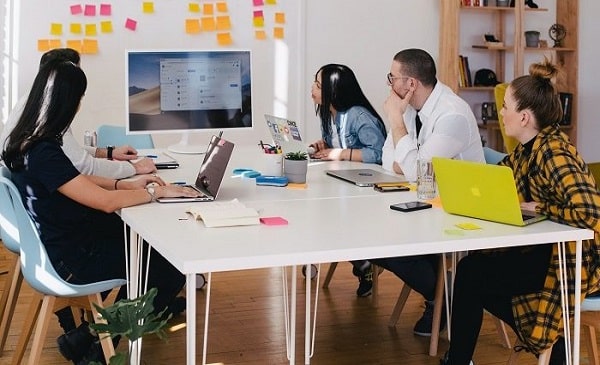 1. Start with what you have
There is a (false) belief that the most important thing to start a profitable business is to have a large budget to invest from the beginning, but what to do if you do not have it? There is a famous quote from a renowned American tennis player that could fit perfectly in this situation:
Start where you are. Use what you have. Do what you can.
And it is that, although it seems obvious, sometimes we focus on a long-term objective when what we should be doing is analyzing the human, creative, financial, and intellectual resources that we have when planning our venture.
To examine these resources in-depth, there are key issues you need to consider. Take a pencil and paper and write down everything that comes to mind when reading each of the following questions:
Skills: What do you know and can do?
Experience: What did you do before that could serve you today?
Knowledge: What do you know better than others?
Tangible resources: What objects and tools do you have that could be useful?
Contacts: Do you have acquaintances who could help you in any way?
Don't limit yourself. The idea is to put together a long list that will later be used to create different combinations until you find the right one.
In this process, it can help you a lot to think about what your MVP  (minimum viable product) would be like, that is, the fundamental characteristics that your product will have for a first launch. Then it can be improved!
2. Build a business model
Another point of how to start a business with little capital is a business model, this could be defined as the way in which a company creates, captures, and offers value to those who consume its products or services.
There are three fundamental elements that define a well-developed business model:
Profitability: because the ultimate goal is to generate profit.
Scalability: can be adjusted for use in other parts of the business (or other businesses).
Repeatability: it can be standardized and then replicated.
The Business Model Canvas methodology is one of the most used in the world of business and entrepreneurship.
Among the main advantages of the Canvas Model are its clear and simple appearance, the ease with which it can be designed (regardless of the type of business) and the possibilities for reflection it offers.
3. Use your contacts
Networking is very important for new businesses because the right people could help accelerate sales growth to the share on your network of acquaintances.
Collaborations with other brands, word of mouth, and, hopefully, your business could reach the ears of an investor interested in being part of its expansion can also come from here.
Read Also: 10 Examples of Limited Edition Products & How To Start Yours
4. Make a business plan
Wait, don't we talk about the business plan already? No, it is super important that you learn to distinguish between a model and a business plan since confusing them is a fairly common mistake.
The business plan comes after the business model, and it is a long and detailed document that contains elements that define the company as a whole.
In it, you will find the description of the company and the products or services it offers, the analysis of the market, the objectives of the company and its plans to achieve them, the calculation of resources necessary to carry out its operations, among many others data.
Although all business plans are different, there is a basic structure that makes them up:
Table of Contents
Business definition
Industry overview
Market analysis
Competitive analysis
Marketing plan
Management plan
Operation plan
Financial plan and evaluation
Conclusion and recommendations
Executive Summary
The more detailed this document is, the better you are going to define the growth plan of your company, which is essential if you intend to request some type of financing or investment in the future.
5. Define a budget and a goal
If you are really keen on how to start a business with little capital then you need to define a budget goal. A rule that you can follow when defining your initial budget is: invest only what you can lose. It may sound extreme, but you have to prepare for all scenarios.
With this mindset, you will be maintaining flexibility and adaptability, two essential characteristics for any entrepreneur.
Setting a measurable objective in the medium term (3 to 6 months) will help you to be realistic when reviewing the results and determine if the plan is working or if, on the contrary, some adjustments must be made.
It is important to remember that sticking to the established budget and focusing every effort on achieving the objective are not only important actions but also essential for a good start.
6. Take advantage of all channels
If your initial budget does not include advertising expenses, don't worry! Take advantage of all the free dissemination channels available to you to publicize your brand.
The clearest example is social networks. In this case, the quality of the content and the usefulness that your audience can find in it are two very relevant characteristics to generate engagement (interaction) with your brand.
You can also create a blog to reach your audience through content marketing.
Ideas For Starting a Business
"What business can I start?" Big question! Here we share a list with some business proposals to undertake:
Offer Consulting
Your knowledge and experience are two of the most valuable characteristics you have and the best thing is that you can monetize them through consultancies.
One of the advantages of this type of business is that it can grow as demand increases. In the beginning, maybe just a computer will be enough and spend a good time developing a marketing strategy to publicize your services.
To increase your reach and, therefore, your sales, you can create your own ebooks or mini-courses and put them on sale through your own online store. This will help you expand your possibilities and grow your business without investing a fortune in it.
Sell ​​Services Online
Your skills and your time can be monetized too! There are many ways to earn money online. The key is to find that middle ground between what you are passionate about and what you know how to do better than the average person.
When you have defined a list of services to offer, find the right people to make them known.
Suppose you are passionate about lettering, that is, the art of creatively drawing letters by hand, then why not start a business with it?
Exhibit your work on your social networks and always focus on your target audience. For example, if you are interested in making lettering for event invitations, show the versatility of your creations on paper. If you prefer to make lettering for brands, then use objects that you have at your fingertips, such as canvas.
This is just one example that can be applied to any industry and type of service that you can offer.
Read Also: How To Start A Bakery Business: Ultimate Guide
Dropshipping
In short, dropshipping consists of selling without inventory through an online store. How? The seller acts as an intermediary between the supplier and the buyer.
With a solid foundation and a concrete plan, it will be a matter of time and a good execution for your business to become profitable.
Now that you know how to start a business with little capital we hope you will take the bold step so you can be your own boss and be financially stable.