Mr. Macaroni Biography and Net Worth: Age, Career & Facts
Meet Debo Adebayo the Nigerian Comedian popularly known as Mr. Macaroni. This article gives details on Mr. Macaroni biography, net worth, girlfriend, personal life and other important facts about the funny comedian turned activist.
The Nigerian social media space has experienced a lot of talented individuals for the past few years most especially during the Covid-19 pandemic which affected normal movie production and operation of movie theaters all over the world.
Nigerians are lovers of entertainment and the production of comedy skits has received a lot of recognition lately to the extent movie actors are now being featured on skits by comedians like Lawyer Kunle, Mr. Macaroni, Brainjotter, MC Lively, Taaooma, Pastor Remote, Young Elder and so many others.
Before we dive into the main topic which is the biography of Mr. Macaroni and his net worth, who exactly is Debo Adebayo?
Who Is Mr. Macaroni
Mr. Macaroni is a Nigerian comedian, actor, scriptwriter, content creator and producer, he is known for his unique slang "Ooin you're doing well", "Freaky Freaky" and "Fantabulous" e.t.c. He makes content centered on the Sugar Daddy role with his Agbada outfit.
He is one of the top comedians in Nigeria currently and one of the most sought-after comedians in Nigeria based on his unique type of comedy, always with new content which you can't predict. He was able to grow his fan base on Instagram, YouTube, Facebook, Twitter and other top social media platforms, no wonder his fans are massively searching about his profile so as to know him better.
We at NaijaXtreme has taken our time to research about Mr. Macaroni biography, Mr. Macaroni net worth, Mr. Macaroni girlfriend, Mr. Macaroni personal life and other important facts about him.
Read Also: Taaooma Biography & Net Worth, Career, Awards & Relationship
Mr. Macaroni Profile
| | |
| --- | --- |
| Full Name: | Debo Adebayo |
| Nickname: | Mr. Macaroni |
| Date of Birth: | May 3rd, 1992 |
| Age: | 29 Years Old |
| Place of Birth: | Lagos State |
| State of Origin: | Ogun State |
| Native language: | Yoruba |
| Nationality: | Nigerian |
| Education: | Redeemers University |
| Occupation: | Comedian, Actor, Social Media Influencer |
| Net worth: | $400,000 |
Now that you've gotten brief information about Mr. Macaroni you must be interested in knowing much about him, without further ado, here is all you need to know about your favorite comedian Mr. Macaroni.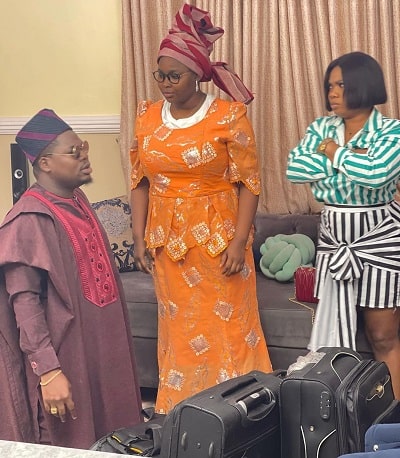 Mr. Macaroni Biography
Debo Adebayo popularly known as Mr. Macaroni was born on the 3rd of May 1992 in Lagos State Nigeria, he is currently 29 years old and originally from Ogun State in the South Western Region of Nigeria.
Mr. Macaroni is a professional comedian and a social media influencer, we will like to let you know he is also a human rights activist based on his effort in the 2020 #EndSars Protest which took place all over Nigeria, since then he has been seen fighting for the rights of people.
Mr. Macaroni father is a journalist and his mother an educationist, he is one of a family of 10. He made it known to the public that he has six (6) sisters and three (3) brothers. Debo was also raised by his parents together with his siblings.
He had a simple lifestyle and his inspiration came from Pastor Chris Oyakhilome of Christ Embassy, he also had his education in Lagos state where he grew up.
Education
Debo Adebayo a.k.a Mr. Macaroni had his basic primary education in Lagos state at Tendercare School in Ojota Lagos, likewise his secondary school education in Babcock University High School where he obtained his first school leaving certificate in the year 2004 and his West African Examinations Council certification in 2009.
To further his studies to the tertiary institution was a bit difficult as he had to change his university three times before he was able to finally graduate in 2019 from Redeemers University.
The reason for him changing higher institution was due to the fact that his first admission into one Private University where he got an admission to study Law but while in 200 Level it was made known that the institution's law department is not accredited.
For the love of studying law he applied to a different university which is also a private University, he had an issue with one of his lecturers which got the involvement of the school authority, though he wasn't expelled but he had to leave the school for reasons best known to him.
He applied for Creative Arts at the third University and was admitted but after admission, the dean of studies informed him that the school is yet to offer Creative Arts which we opted for and he was offered English, he had to forfeit the admission.
Lastly, he got admission to study Creative Arts at Redeemers University – a Christian-owned university by the Redeemed Christian Church of God. His presence in the school was well felt, he participated in politics and was very popular.
His popularity helped him become the President of the Student Union Government of the school and he had a good tenure which every student enjoyed.
Close to the period of graduation, he published a post on Facebook which the school took seriously and because of that he was expelled based on the claim that he portrays the school in bad light and was termed offensive which is punishable under the school law.
After his parents filed a suit against the university and other efforts to settle the matter the school agrees to settle out of court and in 2019 he graduated successfully from the University and embarked on his National Youth Service Corps (NYSC) and got his NYSC certificate in March, 5th 2020.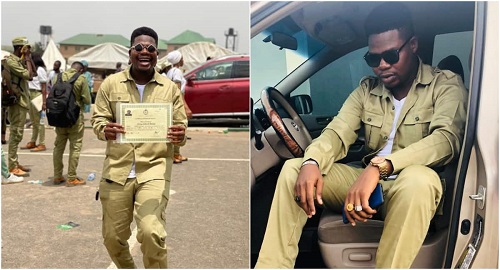 Career
Mr. Macaroni career kickstarted in 2014 as an actor, he has appeared in numerous soap operas like Wale Adenuga Production (WAP) Television series like Face-2-Face, Super Story, Family Ties, Papa Ajasco and many others just to mention few.
In the pursuit of a career in the entertainment world, Mr. Macaroni got inspired by the likes of Brother Shaggi and Maragji, seeing the skits of those two and the number of views they get on each skit inspired him to start his own. He started by playing the role of an Old School teacher before changing to the Sugar Daddy.
At the start of him switching to the Sugar Daddy role, he got a gig from a company to produce a short YouTube video and since then he has not been out of ideas, every week there is always a funny skit being uploaded by him and gets thousands of views within an hour.
This is what he focused on and he hasn't seen him appear in movies like he used to, he is now a professional comedian and social media influencer who mainly plays the role of a married man with Kemz Mama, aka Mummy Wa as his wife.
Personal Life 
You must be having various questions running through your mind concerning Mr. Macaroni like; who is Mr. Macaroni dating? who is Mr. Macaroni girlfriend? is Mr. Macarony married? e.t.c. Here is an answer to your question.
Debo Adebayo professionally known as Mr. Macaroni is currently single, he isn't married and there has been no update concerning him having a girlfriend. He has kept this totally out of social media space so we do not know if he is currently in a relationship but he is officially single.
The biography and net worth of Mr. Macaroni wouldn't be complete if you do not know his position in the family, he is actually the last born of the family.
Mr. Macaroni Net Worth
Mr. Macaroni current net worth is estimated at $400,000 – his earnings are attributed to income from acting, sponsorship and also adverts placed on his skits.
Read Also: Top 10 Richest Comedians In Nigeria – (Updated List)
Contact Details & Handles
You can always reach Mr. Macaroni via the social media handles below:
We hope we have been able to satisfy your curiosity about Mr. Macaroni, If you enjoy this article kindly hit the share button below. You can also make use of the comment box to contribute to the topic, thanks.