Full Meaning and Importance of NYSC in Nigeria
The full meaning and importance of NYSC in Nigeria should be reviewed often, especially by Nigerians, so as to instill in their minds the major reason why NYSC was established.
NYSC stands for National Youth Service Corps. NYSC (National Youth Service Corps) is a scheme that was developed after the Nigerian Civil War with the aim to promote good connections among Nigerian youths, not minding tribe, religion, or ideological differences, and thus supporting National unity. This program targets young university graduates below or not above 30 years of age.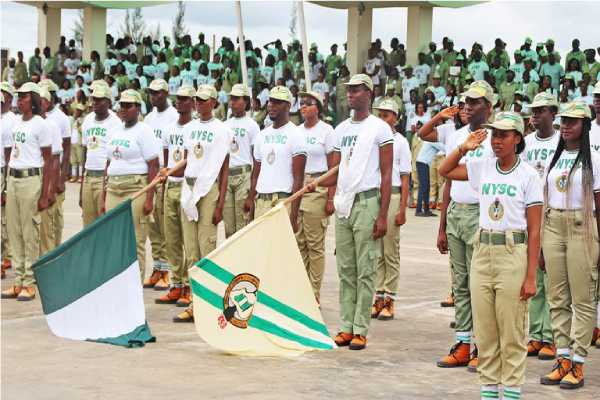 According to Wikipedia; The National Youth Service Corps (NYSC) is a program set up by the Nigerian government during the military regime to involve Nigerian graduates in nation-building and the development of the country.
One importance of NYSC in Nigeria is that it has brought unity and familiarity to a reasonable extent among different tribes of the country. NYSC creates a solid, results-driven platform that is firmly committed to achieving national unity and development. Other importance of NYSC will be discussed later in this article.
But before we discuss other importance of the NYSC in Nigeria, take note of these other facts about NYSC: The NYSC was founded under decree No. 24 on the 22nd of May, 1973 by General Yakubu Gowon, then Nigeria's former Head of State.
This program is made mandatory for all Nigerian graduates, both from a Nigerian university or abroad due to the seen importance of NYSC.
Without the certificate of NYSC, one may find it hard to secure a job in government-owned establishments and some private establishments in Nigeria. Participants of the NYSC program are called Corps members or "Corper", as most Nigerians term it.
Corps members undergo four segments in the National Service Year, which include in this order:
Orientation, Primary Assignment, Community Development Service, and finally, Passing out.
According to Decree No.51 of 16 June 1993, some of the objectives of the National Youth Service Corps are as follows:
To inculcate discipline in Nigerian youths by instilling in them a tradition of industry at work, and of patriotic and loyal service to Nigeria in any situation they may find themselves.

To raise the moral tone of the Nigerian youths by giving them the opportunity to learn about higher ideals of national achievement, social and cultural improvement

To develop in the Nigerian youths the attitudes of mind, acquired through shared experience and suitable training. which will make them more amenable to mobilisation in the national interest

To enable Nigerian youths acquire the spirit of self reliance by encouraging them to develop skills for self employment

To contribute to the accelerated growth of the national economy
Importance of NYSC in Nigeria
While some persons complain and throw up different opinions on why NYSC should be scrapped. Most of these reasons are insecurity in the nation, the youth still unemployed even after the whole service year, and other relatable issues.
Other persons counter these with their own reasons why NYSC should still be allowed. NYSC has a positive impact on young people and the country at large.
Some of the importance of NYSC in Nigeria include:
1. National Unity and Integration
Nigeria is made up of up to 250 ethnic groups. The inculcation of NYSC bridges the gap created by this difference in ethnicity and religion.
For instance, a young man from the South East, the Igbo tribe in particular, during his service year, can be posted somewhere far as the Northern region (majorly occupied by the Hausa tribe).
Staying in the midst of Hausas for at least 6 months and more opens the Igbo young man to the way of life of Hausas.
It may not be easy for him for the first few months but sooner he adapts to the culture, mixes up, and eventually go as deep as learning the people's language. This on its own helps to build national unity and integration.
INEC always hires the Corp members as ad hoc staff during the election period. According to INEC, the election process has experienced overall massive improvement and success when imploring members of NYSC to its conduct. This is another crucial importance of NYSC in Nigeria.
3. NYSC in Health Sector
Health Initiative for Rural Dwellers (HIRD), under the Community Development Service (CDS) of the NYSC, was instigated for Corps members who are part of the medical team.
Most times, these corps members volunteer for free medical outreaches and sensitization of people in their rural settings. This is always a great benefit to thousands of rural dwellers who may never have gotten access to adequate health care if not for this initiative by the NYSC.
Moreover, a lot of comments have been received commending the invaluable impact of NYSC doctors in public hospitals, especially during the period when resident doctors went on indefinite strike.
According to Prof. Femi Johnson, a Public health expert at the University of Ibadan; People make the mistake of thinking NYSC doctors are not eminently qualified.
But NYSC doctors are officially certified doctors who are undertaking their compulsory national service year. The importance of NYSC in Nigeria cannot be over-emphasized especially because it is related to the health of people.
4. NYSC in Education Sector
Corps members are placed in different private and public establishments, which are regarded as their places of primary assignment. Persons placed in schools teach, train, and educate pupils or students in basic knowledge, and ethics, and also for school examinations.
They also help to train those preparing for external examinations like WASSCE (West African Senior School Certificate Examination) and NECO (National Examination Council).
5. Prepare Young People for Life
NYSC is task-oriented and capable of bringing out the best abilities in young people and teaching them the proper values and mindset for the economic development of a nation. Nigerians who go through the NYSC program usually come out stronger, mentally informed, and ready to serve society through the skills they acquired.
The NYSC program involves lots of activities that will stretch one's capabilities. This factor is much more crucial than you may assume because society requires more cognitively capable individuals to build the nation's spirit as a whole.
The program brings people together from all over Nigeria, no matter what their social, religious, or ethnic background is. So many persons testify of how they stumbled into friendships during their NYSC service year, and still today, those friends have been their lifelong help.
Some married ones say they found their spouses during the NYSC program. A lot of proof has been recorded, but in summary, NYSC is a good ground for impactful relationships and connections. This, in one way or the other, reveals the importance of NYSC to youths in Nigeria.
In case you were just admitted into the NYSC program, we recommend you also read NYSC Checklist: Important Things You Need Camp
In Conclusion: Due to the immense importance of NYSC in Nigeria, all groups involved in the program should support and encourage it to continue in order for the country to remain together and progress.
Although recently, the importance of NYSC seems to be declining and its goals though still fundamental faced several difficulties that have questioned its acceptance.
Research reveals that if the goal and importance of NYSC can be revised to put a stronger emphasis on the development of the country, the program would become more focused and relevant.
The notion to scrap NYSC should not be endorsed instead, measures should be enforced to make the scheme more beneficial rather than damaging.