The 25 Highest Mountains In The United States
When it comes to mountains, no other American state contains as many high altitudes as Alaska. Of the ten highest mountains in the United States, all are in the state of Alaska.
In the United States, only Denali is above 20,000 feet. Four major peaks exceed 5,000 meters, nine exceed 4,500 meters, 104 exceed 4,000 meters, and 246 peaks exceed 3,500 meters.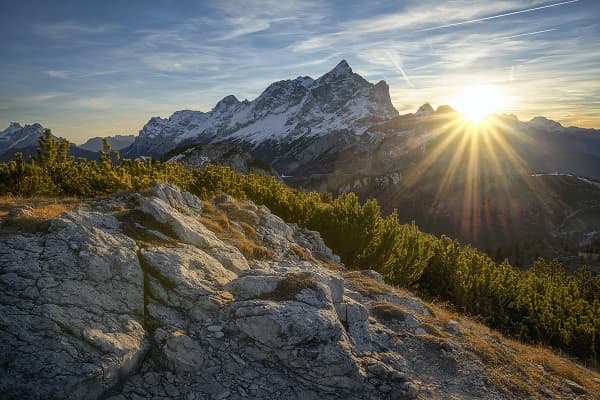 Mount Denali, the highest peak in the United States
Climbing Mount Denali—also known as Mount McKinley—is extremely difficult. More than 32 thousand people have tried to climb to the top and only a small percentage have succeeded. The extremely cold weather, the snow, the permanent ice at the summit and the hardness of the terrain make its ascent one of the most difficult on the planet.
Denali is also known as Mount McKinley after the 25th President of the United States, William McKinley. But the original name given to the mountain by the Alaskan natives was Denali. In 2015 President Obama officially changed the name of the mountain to Denali.
The Highest Mountains in the United States
m asl = meters above sea level
| | | | |
| --- | --- | --- | --- |
| # | Mountain | Location | Height |
| 1. | Denali | Alaska | 6190 m asl |
| 2. | Mount Saint Elias | Alaska | 5489 m asl |
| 3. | Mount Foraker | Alaska | 5304 m asl |
| 4. | Mount Bona | Alaska | 5044 m asl |
| 5. | Mount Blackburn | Alaska | 4996 m asl |
| 6. | Mount Sanford | Alaska | 4949 m asl |
| 7. | Mount Fairweather | Alaska | 4671 m asl |
| 8. | Mount Hubbard | Alaska | 4557 m asl |
| 9. | Mount bear | Alaska | 4520 m asl |
| 10. | Mount Hunter | Alaska | 4442 m asl |
| 11. | Mount Whitney | California | 4421 m asl |
| 12. | Mount Alverstone | Alaska | 4420 m asl |
| 13. | University Peak | Alaska | 4410 m asl |
| 14. | Mount Elbert | Colorado | 4401 m asl |
| 15. | Mount Massive | Colorado | 4398 m asl |
| 16. | Mount Harvard | Colorado | 4395 m asl |
| 17. | Mount Rainier | Washington | 4394 m asl |
| 18. | Mount Williamson | Colorado | 4383 m asl |
| 19. | White Beak | Colorado | 4374 m asl |
| 20. | La Plata Peak | Colorado | 4372 m asl |
| 21. | Uncompahgre Peak | Colorado | 4365 m asl |
| 22. | Crestone Peak | Colorado | 4359 m asl |
| 23. | Mount Lincoln | Colorado | 4356 m asl |
| 24. | Peak Castle | Colorado | 4352 m asl |
| 25. | Peak Grays | Colorado | 4352 m asl |