How To Start A Painting Business In 2023
Do you want to dedicate yourself to painting, but you don't want to work for someone else? Good news: you can start your own painting business and take care of the clients, the collection and everything else to chart your own destiny. 
However, starting a painting business requires a bit of preparation and a handful of steps. Let's learn how to start a painting business.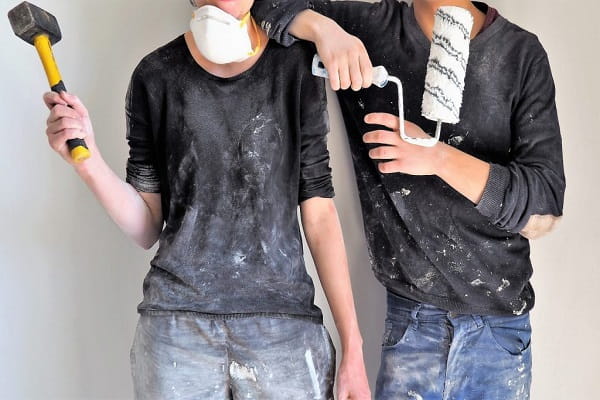 Calculate a business plan for your painting business
The first step in starting any business is to develop a business plan. That means finding out things like:
what kind of painting are you going to do
where your painting will take place
whether or not you will have other employees (you probably will, given the type of business)
how much painting do you want to do eventually
how is your financial situation
Put your finances in order
Speaking of finances, you should spend a lot of time thinking about how much your painting business will cost and trying to project potential profit margins in the first two years. You may not get much real benefit at first because of the need to repay the loans, but this is normal. 
Even so, it's a good idea to have these figures written down or at least stored in your head before you start the painting business in depth. You can also look for some personal finance tools to help you get your money in order.
What supplies do you need?
We've mentioned supplies because the biggest expense for painting companies is usually supplies.
As a painting company, you can use subcontractors, which means that you basically take care of the marketing and sales part of the painting company, while the actual painting workers do the main work themselves in exchange for a part of the cost. the benefits.
But let's say you plan to do all the painting yourself. This means that you will need several ladders at the very least, which can easily cost a few hundred dollars. You'll also need cleaning supplies such as drip pads, brushes, rollers, airless paint sprayers, caulking guns, scrapers to remove loose paint, sandpaper, and much more. Also add a lot of paint to the list.
It's not an exaggeration to say that painting supplies can cost thousands of dollars. Also think about what you can spend if you have several employees who need their own equipment.
Read Also: How to Start a Business With Little Capital In 6 Steps?
If you do not have cash to do it, you can always ask for a loan from the bank or save for a while. But you don't want to start a painting business without having your finances in order.
Register your business
After all of the above, it's finally time to register your business. That means thinking of a name; It's always a good idea to create a name for your painting business that:
identifies the business as a painting business
it's catchy and memorable
It doesn't have to be anything revolutionary: a name like "Jake's Paint Professionals " ticks both boxes and is easy to remember.
More specifically, you'll need to register your business with your state government, which involves submitting an Employer Identification Number. This number allows the government body to identify your business as a legal and taxable entity and will allow you to hire employees later.
Hire employees for your painting business
It's time to hire some employees for your painting business! Definitely invest in skilled men and women who know what they are doing and are willing to bring quality to every job they take on. 
It's always worth spending more time interviewing quality candidates than hiring just anyone who applies, as they could do a mediocre job and reflect poorly on your business.
Create an estimate formula/contract sheet
Before hiring any client, consider how much you will charge for your work. Calculating a general estimate formula is a good idea, as this allows you to give a potential customer a quote if they are interested in your business but not yet committed. Be sure to keep your estimate competitive but also high enough that you can eventually make a profit.
You may also want to draft a contract sheet to use as a template for all your official business clients. This is good for clarity between you and your client and can protect you from lawsuits if they dispute something about the terms of your agreement.
Market your painting business
Now comes the fun: marketing! There are many ways that you can successfully market your painting business.
Website
The first and most obvious way is to create a website, especially one that ranks well on Google or one that you can use to advertise to locals in your area. Websites allow people to contact you for future business or leave feedback as well.
Emails
You can also turn to email marketing, especially if you want to target people in your local area or meet people through your social media accounts. Just make sure you don't inundate them with ads for your business, as this could get annoying.
Business letters
You can also go a bit old school and create business cards for your business. Business cards allow you to deliver physical reminders of your business to everyone you meet and can be spread far and wide. Offer some to your employees, friends and family to maximize their spread throughout your community.
Read Also: Top 30 Business Ideas For You [Most Profitable List]
Paint your way to success!
After performing all the steps above, it's time to finally start your painting business and put some color in your financial spreadsheets. Good luck!