The 10 Richest Men In The World In 2023
Billionaires play a key role in shaping the global economy, politics and philanthropy. In addition, the companies of these billionaires allow several people to invest in the stock exchange to increase their equity. Check out the list of the  10 richest men in the world in 2023 below:
Who Are The Richest Men In The World?
In the top 10 on this list, seven are American businessmen, one is French from the luxury goods industry, a Mexican from the telecommunications segment and an Indian industrialist.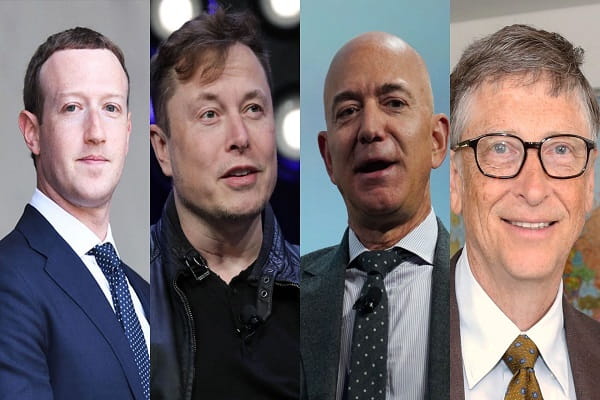 Check out the profile of the ten richest people listed by Forbes below:
1. Bernard Arnault – $186 billion
Bernard Arnault, a 73-year-old Frenchman, is chairman and CEO of LVMH, the world's largest luxury goods company, with brands including Louis Vuitton, Hennessey, Marc Jacobs and Sephora.
His $186 billion fortune comes mainly from his 97.5% stake in Christian Dior SE, which controls 41.2% of LVMH.
Arnault also owns a stake in Moelis & Company and $10.7 billion in cash.
He began his career in a construction company, and in 1984 he acquired Financière Agache, reorganizing it and selling all of its holdings except Christian Dior and Le Bon Marché.
In 1987, he was invited to invest in LVMH and became the company's largest shareholder, chairman and CEO two years later. It is a company with a large net profit that has increased Arnault's capital.
2. Elon Musk – $184 billion
Elon Musk is the second richest man in the world, with a net worth of $184 billion.
He is the co-founder and CEO of Tesla, as well as CEO and lead engineer at Space Exploration Technologies (SpaceX), a developer of space launch rockets.
In 2020, Tesla shares soared 740%, propelling Musk up the wealth rankings. His company is one of the most relevant within the S&P 500 index.
Musk also owns other private companies such as The Boring Company and has a large stake in Twitter shares.
3. Jeff Bezos – $116 billion
Jeff Bezos, founder and chief executive of Amazon, is 59 years old and resides in Washington. His fortune is valued at US$ 116 billion, and his participation in Amazon corresponds to 10% of that value.
In addition, it has other assets such as Blue Origin, The Washington Post and $12.8 billion in cash.
Bezos started Amazon as an online bookstore in 1994 and has since expanded to sell everything from food to medicine, becoming a huge e-commerce business and moving into other areas such as cloud computing.
In 2020, demand for online shopping due to the pandemic increased the value of Amazon shares by 76%. In July 2021, Bezos stepped down as CEO of Amazon but remains executive chairman.
He also has other projects, such as Blue Origin, which recently performed its first successful manned flight with Bezos on board. His fortune peaked at $211 billion in the same month.
Read Also: The 7 Best Investors In The World
4. Bill Gates – $113 billion
Bill Gates, 67, is a co-founder of Microsoft (MSFT) and currently owns a 1.4% stake in the company, equivalent to $25.4 billion.
His net worth is $113 billion, much of which is invested in Cascade Investment LLC.
In addition to Microsoft, Gates also invests in several other companies and sectors, including railroads, agricultural equipment and energy services.
He stepped down as CEO in 2008 and stepped down from the boards of Microsoft and Berkshire Hathaway in 2020.
5. Warren Buffett – $106 billion
Warren Buffett is a famous value investor and CEO of Berkshire Hathaway. He bought his first shares in 1962 and expanded the company's investments into insurance and other areas.
The company's investment portfolio includes interests in insurance, energy distribution, railroads and consumer products.
Buffett is considered the greatest investor of all time by many people in the financial market.
Buffett has a 14% stake in Berkshire Hathaway, worth $105 billion. He has donated an estimated $41 billion to charity and launched the Giving Pledge in 2010.
Finally, Buffett is still CEO, but has indicated that his successor could be Gregory Abel, head of non-insurance operations at Berkshire. His net worth is $106 billion.
6. Larry Ellison – $100 billion
Larry Ellison, co-founder, chairman and CTO of Oracle, is 78 years old and lives in Hawaii. His 40% stake in Oracle represents $72.4 billion of his $100 billion net worth.
Furthermore, he also owns Tesla shares worth $9.13 billion and $18.2 billion in cash. Ellison stepped down as CEO of Oracle in 2014 after 37 years in the role, and also resigned from Tesla's board in 2022.
Oracle is the second largest software company in the world and offers a variety of cloud, Java and Linux computing programs, in addition to the Oracle Exadata computing platform. It is a fundamental company for the foreign market.
Ellison has invested heavily in luxury real estate over the last decade and acquired most of the Hawaiian island of Lanai in 2012, where he has lived since 2020. Ellison focuses on philanthropy in medical research.
7. Steve Ballmer – $88.1 billion
Steve Ballmer is the owner of the Los Angeles Clippers basketball team and his fortune is estimated at $88.1 billion.
He joined Microsoft in 1980 as its 30th employee and was named CEO in 2000, succeeding Bill Gates.
He oversaw Microsoft's acquisition of Skype in 2011 for $8.5 billion. Microsoft has delivered good gross revenue over the years to its shareholders.
Ballmer is Microsoft's largest single shareholder, with a 4% stake. He bought the Clippers in 2014 for $2 billion, shortly after stepping down as CEO of Microsoft.
Finally, it is worth remembering that Ballmer and Gates met at Harvard University, but their relationship frayed when Ballmer began to push the company towards hardware during his tenure as CEO.
8. Carlos Slim – $86.5 billion
Carlos Slim, 83, a Mexican resident, owns most of his $86.5 billion fortune in his majority stake in America Movil, a telecommunications company based in Mexico City.
He also has large holdings in the Grupo Carso group of companies and in the Grupo Financiero banking and insurance group.
Much of his holdings in these companies passed to his six children, and he received billions of dollars in dividends from his holdings in various public companies.
9. Larry Page – $85.1 billion
Larry Page is one of the founders of Google, which is currently part of Alphabet. He has a fortune of US$85.1 billion, with his stake in Alphabet representing US$70.5 billion of that value.
In addition, Page has $14.6 billion in cash. Google is the global leader in internet searches, accounting for over 92% of search requests. The company, being a big tech, has a good operating margin.
Page has also invested in space exploration, asteroid mining and flying cars. In 2021, Page's fortune grew by almost 50%, which placed him high on the list of billionaires.
10. Sergey Brin – $81.4 billion
Sergey Brin is a co-founder and board member of Alphabet, Google's parent company.
He was born in Moscow, Russia and moved to the United States when he was 6 years old. Brin was Google's chief technology officer until the creation of the Alphabet holding company in 2015.
With Alphabet, the company began to invest heavily in new startups, functioning, in practice, as a private equity fund.
Brin is worth $81.4 billion, with a majority stake in Alphabet and $14.7 billion in cash.
In addition to Google, the company offers Google Workspace and electronic devices. Brin has also donated millions to Parkinson's disease research.
Read Also: The 10 Richest Women In The World – [Forbes Ranking]
Why does the list vary so much?
Forbes provides a list updated in real-time, which tracks the wealth of the richest in the world according to the price of the shares they own.