Full Biography Of John Okafor & Net Worth: [Nollywood Comic Actor]
Who is John Okafor? John Okafor is the Nollywood comic actor popularly known as Mr. Ibu. A lot of information surrounds this movie star that most of his fans and Nollywood movie lovers do not know about.
In today's post, we will shed light on the biography of Mr. Ibu, his net worth, career, awards, family and many other things worthy to know about him.
Before diving deep into the biography of John Okafor, let us quickly take a glance at Mr. Ibu's profile.
John Okafor Profile
| | |
| --- | --- |
| Full Name: | John Ikechukwu Okafor |
| Date of Birth: | 17th, October 1961 |
| Place of Birth: | Enugu State |
| State of Origin: | Enugu State |
| Nationality: | Nigerian |
| Native language: | Igbo |
| Education: | College of Education, Yola & MIT |
| Married to: | Stella Maris Okafor |
| Children | 3 - (Emmanuel Mandela Okafor, Chelsea Okafor, Jay Jay Okafor) |
| Occupation: | Actor and Comedian |
| Net worth | $1.5 million |
Now that you have known brief information about John Okafor, let us further to know much about his biography and other details about Mr. Ibu.
Read Also: Complete List of Nollywood Actors & Actresses
John Okafor Biography
Talking of someone whose looks alone are enough to make you burst into laughter, the Nollywood comic actor popularly known as Mr. Ibu, he has been putting smiles on the faces of Nigerians for decades now.
John Okafor is a comedian, writer, and actor and he is one of the best comic actors we have in Nigeria who has never run out of comedy. He is always loaded with new acts to make you roll on the floor.
As a talented actor and a professional in the movie industry, he has written some movie scripts, movies like Ibu in London, Police Recruit, 9 Wives, Honeymoon Guys, Ngozi: Abeg Marry Us and many other movies.
He was previously into martial arts, worked as a hairstylist, photographer and other skills just to keep himself going, after all that has been mentioned he made a decision to pursue his career in acting since he is a person full of humor.
Early Profile
Mr. Ibu (John Okafor) was born on the 17th of October 1961 in Enugu State, a South Eastern region of Nigeria. He is a native of Nkanu West L.G in Enugu and he is from the Igbo tribe.
John Okafor was not privileged like every other person, he didn't have the best care from his parents as his father died after John Okafor finished his elementary school. He had to move in with his brother who stays at Sapele.
While in Sapele, John Okafor did some menial jobs so as to support his family and at the same time sponsor himself through the higher institution. His plan didn't work out as he dropped out of school at the "College of Education, Yola" when there is no money to finance his studies.
Education
John Okafor as stated earlier had his elementary school in Enugu, he later got admitted to the College of Education in Yola. He couldn't finish with his studies and has to pull out of school to do some jobs.
After some years out of school, John Okafor enrolled at the Institute of Management and Technology (IMT) and this has been his highest level of education. Now he is a force to reckon with in the entertainment industry.
Career
Mr. Ibu does not need to be told before joining the entertainment industry because he is a very funny character. His looks will make you laugh, his voice and talks will also make you laugh, he is no doubt born to be an actor.
John Okafor didn't discover his talent quickly and this made him start trading, he and some of his friends contributed money to import from Niger Republic shoes and other wearables and sell them in Nigeria. There was a time he learned Shotokan Karate for good 16 years, he had a Black Belt from this.
Didn't stop there, he also lectures people on his Karate and according to him, he was the first to teach Karate in Federal Government Colleges across the country. He was able to achieve this because he is also a member of the Karate Federation of Nigeria.
Mr. Ibu started his media professional job at the Anambra Broadcasting Service (ABS) before he started acting. The Broadcasting Service gave him a platform for him to cast in some soap operas and this was where his journey to fame and riches started.
Read Also: Top 10 List Of The Most Handsome Nollywood Actors
His performance in these two soap operas "Ogbu Anyanwu and Kwere Kira" made him popular to some extent before he was made a production assistant, he learned a lot from this post where he started working with producers and learning from them.
Working with movie producers he couldn't keep his character as they quickly helped him discover it. Alex Ezeamaku, the MD, Zalex Production helped him to discover his talent and also helped groom him for the task ahead of him.
In 1997 Alex Ezeamaku gave him an imbecile role to play and he played it effortlessly, this makes a lot of producers develop an interest in him. He was able to work with many veterans in the industry.
He is known to always act an imbecile role though he acts in other roles and he interpreted them excellently. He has worked with top list actors and actresses in Nigeria like Pete Edochie, Chinedu Ikedieze, Patience Ozokwor, Osita Iheme, Monalisa Chinda e.t.c
Read Also: Top 10 Most Successful Actresses In Nigeria Currently
Personal Life
John Okafor is happily married to his heartthrob Stella Maris Okafor who is also an actress and a model. Both of them have managed to separate their love life from their profession and their relationship wasn't made public on social media platforms.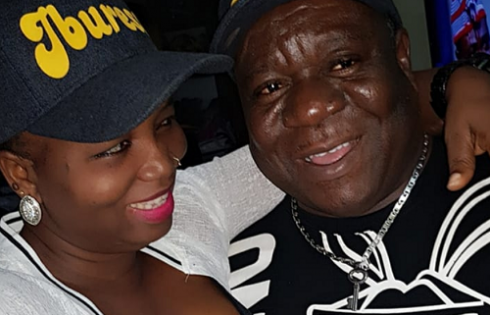 Mr. Ibu and his wife Stella Maris Okafor are blessed with three children namely Emmanuel Mandela Okafor, Chelsea Okafor and Jay Jay Okafor.
He loves to drive, he plays a lot, crack jokes, plays football and also plays draft.
Awards
Mr. Ibu has received a lot of awards of which we only have to mention a few on this post. He was awarded the "Best Comedian" by the Governor of Enugu state. He also has received awards from Multichoice African Magic Viewers Choice Awards.
In 2014 he was awarded the Best Movie Actor of The Year by Peace Ambassadors of Nigeria. In 2016 he was awarded the "Award of Excellence" by Magic Lens Africa Film Academy.
He has numerous awards to his name and also he has gotten some endorsement deals from big brands in Nigeria.
Net Worth
John Okafor's net worth is estimated to be about $4.2 million, this is an estimate given by entrepreneurs.ng and his wealth is attributed to years of hard work, acting and endorsement deals by Merrybet and GoTV. Never forget he is one of the best comic actors in the country today.
Filmography
As mentioned earlier, John Okafor has featured in hundreds of movies, below we have listed some of the movies Mr. Ibu acted in:
Agony, 1998
Vuga, 2000
Nicodemus, 2003
Police Recruit, 2003
Informant, 2003
Bullet, 2003
Fresh Pain, 2003
Ngozi: Abeg Marry Us, 2003
Naomi, 2003
Civil War, 2003
Unbreakable, 2004
Mr Ibu, 2004
James & John, 2004
Dollars from Germany, 2004
Mr Ibu in London, 2004
Circles of Live, 2005
9 Wives, 2005
Joshua, 2005
The Councillor, 2005
Common Sense, 2005
The Journalist, 2006
Sweet Mama, 2006
The Return of Mama-G, 2006
Store Keeper, 2006
Brainwash, 2006
Fool at 40, 2006
Over Heat, 2006
Men on the Run, 2006
Four Forty, 2006
Final Surrender, 2006
Chelsea/Liverpool, 2006
Recharge Card, 2006
Dear Mama, 2006
Captain, 2006
Bafana Bafana, 2007
Keziah, 2007
Basket Mouth, 2007
Desperate Search, 2007
Toronto Connection, 2007
How Far, 2007
Mental Case, 2008
The Tusk of Life, 2008
Yahoozee Prophets, 2009
Most Wanted Kidnappers, 2010
Open & Close, 2011
Honeymoon Guys, 2015
Read Also:
Nice having you read this piece, kindly make use of the comment box to make your contribution, also do not forget to hit the share button so we can reach more views.