The 10 Most Protected People In The World 2023
Who are the most protected people in the world? Some of the most important, powerful, and influential people in the world have the most impressive, huge, deadly, and in some cases bizarre, agencies, forces, and special security units that can exist.
These political leaders, business moguls, monarchs or celebrities, can modify the lives of millions of people for better or for worse with the decisions they make, therefore their integrity and that of their family is something of extreme importance, therefore both these soldiers, policemen or guards train for many years to be the chosen ones to cover their backs and sacrifice their lives for that of a VIP (Very Important Person), in some cases we cannot see them or we only see a few, but in reality, there are hundreds of people on monitors and in the distance watching.
To quote Uncle Ben (Spiderman comic and movie character): "With great power comes great responsibility," but rather I would say that great power leads to a large number of enemies and therefore also leads to a huge army to protect you.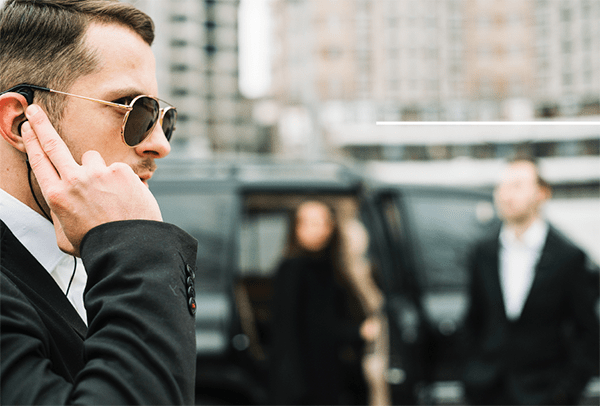 Without further ado, we have provided you below the list of the most protected people in the world.
The 10 Most Protected People In The World
1. Vladimir Putin: The most protected president
Vladimir Putin is not only the president of Russia, he is also the most powerful person on the planet and has in his possession the largest arsenal of nuclear weapons, which adds a plus to his importance and therefore to his personal security.
Like China, the Russian government remains firm in revealing information about this elite agency that protects body number one, that is, the Russian president and his family, in fact, there is no data on their operations and few reports are available to the public. It is so secret that for most things you can only make assumptions, but ultimately keeping Putin alive for so many years in the presidency makes it clear to us that what they are doing very well. Vladimir Putin is known to be the most protected man on earth.
Read Also: The 10 Richest Women In The World: [Forbes Ranking]
2. Donald Trump: The most protected billionaire
Donald Trump is not just a one time president of one of the most powerful countries in the world: the United States. He is also a billionaire who has hundreds of businesses around the globe, it is estimated that he has a net worth of about 2.5 billion dollars, with this wealth and his love for security he was able to make it on the list of the most protected people in the world.
The position of president of the United States of America has always come with high-security challenges, but Donald Trump broke all-time record. For example, protecting former President Barak Obama and his family for a year cost about $16 million, yet President Trump raised that term to a staggering $29 million.
In 2017, the US Congress budgeted $120 million for the security of the president and his family for one year. The secret service is the elite unit that is in charge of protecting the integrity of the president, we speak of more than 7 thousand elements perfectly coordinated and ready for any situation that threatens the life of the American president. These members include canine units, emergency response teams, snipers, motorized units, special operations teams and of course the same guards who are only a few meters from the president to protect him at any cost even if it costs them their lives.
The secret service is confirmed by military and police officers who have excelled in front of everyone else, thanks to their skills and characteristics. The secret service special agent position is very competitive, on average only less than one percent are accepted who apply for the position. Donald Trump is transported in the limousine better known as "the beast", which in short is the safest vehicle on the planet, much more than a war tank. And when Trump is transported to other countries, he makes use of Air Force One, which is likewise the safest presidential plane on the planet and which is guarded by two F35 combat forces armed to the teeth.
3. Kim Jong-Un: The most protected dictator
The years have made it clear that the supreme commander, aka "North Korean dictator," Kim Jong-Un is quite an interesting character. North Korea is one of the most controlled societies in the world, yet its leader's security is as strong as steel. During his visit to Singapore in 2018, a video of the North Korean president accompanied by several members of his secret service followed him closely in a perfectly coordinated trot.
It turns out that Kim Jong-Un not only has a few super soldiers watching his back, but he also has his own army believed to number between 100,000 and 120,000 men. This elite unit is called the Supreme Guard Command and essentially serves with Kim's highly trained personal army, which is directly and completely dependent on him.
4. Pope Francis: The most protected religious leader
Pope Francis is both bishop of Rome and ex officio leader of the world, as head of the Catholic Church and like the president of a country, he also needs the maximum protection and not precisely from the angels in heaven. Pope Francis resides in one of the probably most armored cities in the world: the Vatican City, in Rome (Italy), his first line of defense is the Pontifical Swiss Guard which is a unit of armed forces and honor guards maintained by the Holy See that protects the Pope and the Apostolic Palace, serving as the de facto army of Vatican City.
This military force was founded in 1506 under the mandate of Pope Julius II, in fact, the Swiss Guard is one of the oldest military units in operation, the more than 100 elements that make it up seem to be only ornamental, wearing heavy metal armor, spears and wielding swords in the 21st century, but in reality, they are a lethal force made up of the best soldiers Switzerland has to offer. They are perfectly capable of disabling anyone who tries to threaten their sanctity.
The Swiss Guard has one of the most advanced sands in the world and this includes the incredible modern MP7 submachine guns, the Swiss Guard selection process looks for candidates who demonstrate extreme dedication, physical prowess, higher education and military capabilities. Once he shows that he meets the needs of the Swiss Guard, he is sworn in by the Pope himself. The training includes crowd control, VIP protection, use of fire and non-lethal weapons, surveillance, and many tactics the job requires.
In addition to the Swiss Guard, the Vatican City has its own police known as the Vatican City State Gendarmerie Corps, and they assist the Swiss Guard during the Pope's appearances, especially in St. Peter's Square and in abroad, as well as providing general security, traffic management and investigative duties for the Vatican City. The small, but highly trained force includes a counterattack team and an anti-sabotage unit that deals with the elimination of detonating devices.
Read Also: Who Are The Highest Paid Actors In The World? (Updated List)
5. Xi Jinping: The most protected politician
As China's top man it is not surprising that he is very well guarded, he and the other leaders of the Communist Party are well protected by an elite guard unit called the Central Security Bureau, which is a notoriously secret organization, to this day. Today the most public appearance of its leader, His Excellency Wang Shaojun, came in 2015 when he attended a banquet at the White House and was only known as his highly ranked job because the official guest list casually mentioned his job title.
Although there is no official data on the number of attempts on his life, it is said that Xi Jinping is the person with the highest number of attacks in the world and it is not surprising when we understand that China is the most populous and subdued country on the planet. That means that they have a serious number of bodyguards protecting him at every step he takes, and today this secret security corps uses helicopter drones to keep the top Chinese leader safe and they also have a squad of soldiers dedicated to cybersecurity.
6. Mohamed Bin Salmán: The most protected Arab leader
Also on the list of most protected people in the world we have the Arab leader Mohamed Bin Salmán. He is the crown prince of Saudi Arabia, the nation with the largest oil in the world and one of the richest, Mohamed Bin Salmán is not only a prince, but he is also the country's deputy prime minister and president of the Council for Economic and Development Affairs, president of the Council for Political and Security Affairs and Minister of Defense. Salmán has spent more than $20 billion on military equipment in recent years.
Prince Salman is particularly known not only for his huge mansions, sports cars, exotic pets and anything that costs millions and millions of dollars but also for being a pretty brutal leader if you can define it in any way, as he is a leader famous for ending the life of anyone who criticizes his government internally or externally.
For this reason and partly because of the many enemies that Saudi Arabia already has historically, it is clear that he is one of the most protected people on the planet, it is rumored that even more than his father, the king, Mohamed Bin Salmán.
7. Queen Elizabeth II: The most protected sovereign leader
The great British monarch and who is undoubtedly of special importance to the country. According to the traditions of Great Britain, having a queen is an extremely precious and invaluable treasure and more taking into account that she is one of the monarchs that has lived the longest, for this reason, Queen Elizabeth II has one of the most impressive security forces that may exist.
The most visible and famous line of their defense is the iconic Queen's Guard, who is known for their elaborate marching shows, red uniforms, black helmets, and unwavering guard duty, but in reality, these men are trained to face any threat and their assault rifles are no toys.
However, the most important line of security to keep His Majesty safe with the Royal Protection Squad, also known as the Storlan York Elite Squad, which was formed in 1983 and reportedly consists of up to 185 officers trained by the SAS. (Special Air Service) and is responsible for providing 24-hour security to the Queen. In addition, Queen Elizabeth II has infiltrated security guards who accompany her at all times and of which she has keys, protocols and secret messages that they send to them in case there are feelings that she is in a dangerous situation.
8. Mark Zuckerberg: The most protected CEO
The CEO of Facebook and other companies, such as WhatsApp and Instagram, is one of the most protected young billionaires on the planet, and it is no wonder knowing his importance in the world of business and online communication. Mark may seem like a fairly simple subject and who is not a fan of the luxuries of capitalism, but his security is something that he does not take lightly and even less when we talk about the fact that there are figures that Mark Zuckerberg spends about 9 million dollars a year in his and your safety.
From 2015 to date, more than 30 million dollars have been spent on guards, security systems and private planes and the account continues to increase. Mark Zuckerberg is not a person seen in public normally, but when he does he is always surrounded by multiple guards, these bodyguards are sometimes called "the Zuckerberg secret police", some rumors suggest that this security force is made up of 16 guards to full time working shifts at all times.
According to Facebook, Zuckerberg's comprehensive security program is a way to deal with threats to his security that arose directly as a result of his position as founder, president and CEO of Facebook, but in part, these expenses are very important today because this social network has been involved in multiple scandals for using their companies to obtain information from people around the world in an unethical way, and for which the firm has presented threats, lawsuits of millions and millions of dollars.
9. Floyd Mayweather Jr.: Most Protected Athlete
The undefeated boxer is without a doubt the most protected athlete on the planet. First, we must understand that boxing is one of the most lucrative sports in the world, for this reason, one of its biggest stars in history protects himself from everything and more knowing that Floyd has a value of more than 500 million dollars, he is a fan of Whether carrying jewelry worth a mansion or hundreds of thousands of dollars in cash, it's no secret that Floyd has luxurious mansions, exclusive sports cars, and businesses all over the world. But Floyd has always been accompanied by two, three, six or even eight security guards, who because of their physique are almost impossible to take down.
From the photographs you see and considering Floyd's height, several of his guards are over two meters tall and almost certainly weigh over 180 kilograms. These guards are not just for show, they are really in charge of protecting the undefeated boxer at all times and that is why Floyd has access to them 24 hours a day.
10. Prince Harry and Megan Markle: The couple who were the most protected in the world
The happy marriage of the British royal family was without a doubt the most protected couple that ever existed; before of course having renounced royalty. It is estimated that the people who were involved in their safety were about a thousand people who dedicated all their working hours to make sure that nothing could harm them.
During his diplomatic trips to other nations, his own security personnel was in charge of selecting official residences that were carefully selected based on security and logistics. Approximately $ 8.7 million plus $ 4.7 million was spent on the royal couple's wedding on police services to keep all guests safe and that includes Queen Elizabeth II, the security team for the wedding allegedly included snipers for the rooftops, undercover cops standing in the crowd, months of counter-terrorism investigation and an all-over search for triggers, as their wedding posed a particular risk due to Harry's military service in Afghanistan and the anthrax threats he already had.
Read Also: The 20 Most Powerful Armies in the World [Global Firepower]
However, it was not long before Harry and Megan decided to move to Frogmore Cottage, a huge mansion about 45 minutes from London, very close to the famous Windsor Castle and where they currently raise their son Archie. According to Katie Nicholl, an expert on British royal family affairs, the place is basically like a fortress, and according to some magazines, Frogmore Cottage has high-tech cameras and sensors around the entire perimeter.