50 Countries With The Most Tanks In The World [2023 Updated]
We have listed the 50 countries with the most tanks in the world according to Global Fire Power. The tank is one of the most important vehicles of modern warfare. It began to be used during World War I, however, its most common use occurred only 20 years later, during World War II. To this day, it is considered one of the key pieces of any army.
The term "tank" has changed over the last few decades. At first, tanks were vehicles used to transport men on the battlefield. Later it became clear that tanks were the perfect means of conducting heavy fire. In fact, they are essential when it comes to laying siege to cities and breaking through front lines.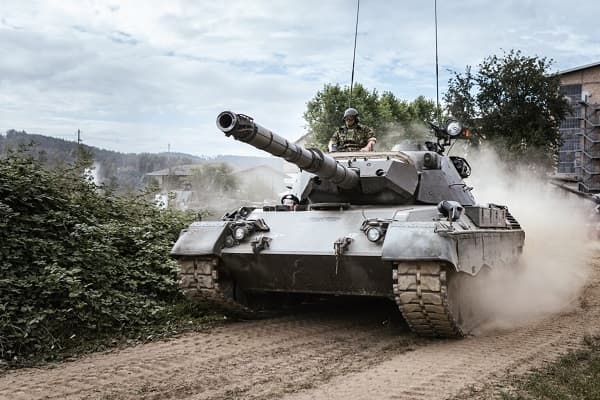 Until the advent of the main battle tank, tanks were usually classified according to their weight (light, medium, heavy, or super-heavy) or their doctrinal purpose (advance, cavalry, infantry, cruising, or reconnaissance). 
Some are larger and heavily armored and equipped with large guns, while others are smaller and equipped with smaller caliber guns. These smaller tanks move across terrain with speed and agility and can perform a reconnaissance role in addition to attacking enemy targets.
Although not all of them are in perfect condition and ready for use, Russia is the country with the most tanks in the world. In total, the country is estimated to have more than 12,000 tanks. According to the International Institute for Strategic Studies (IISS), only 2,800 of them are operational, while another 10,000 are in storage.
Read Also: The Best Military Schools in the United States
The countries with the most tanks in the world
The attached data does not reflect the effects of the war between Ukraine and Russia. Latest data corresponding to 2023. Estimates are made when official data is not available.
| | | |
| --- | --- | --- |
| # | Country | Tank fleet |
| 1. | Russia | 12,420 |
| 2. | USA | 6,612 |
| 3. | North Korea | 5,895 |
| 4. | China | 5,250 |
| 5. | India | 4,614 |
| 6. | Egypt | 4,394 |
| 7. | Syria | 3,540 |
| 8. | Morocco | 3,335 |
| 9. | Turkey | 3,022 |
| 10. | Iran | 2,831 |
| 11. | Pakistan | 2,824 |
| 12. | South Korea | 2,624 |
| 13. | Ukraine | 2,596 |
| 14. | Algeria | 2,196 |
| 15. | Vietnam | 2,044 |
| 16. | Israel | 1,900 |
| 17. | Jordan | 1,401 |
| 18. | Greece | 1,243 |
| 19. | Cuba | 1,230 |
| 20. | Taiwan | 1,110 |
| 21. | Saudi Arabia | 1,062 |
| 22. | Japan | 1,004 |
| 23. | Poland | 863 |
| 24. | Iraq | 826 |
| 25. | Turkmenistan | 680 |
| 26. | Burma | 664 |
| 27. | Thailand | 637 |
| 28. | Belarus | 601 |
| 29. | Cambodia | 539 |
| 30. | Azerbaijan | 510 |
| 31. | Mongolia | 470 |
| 32. | Romania | 451 |
| 33. | Brazil | 439 |
| 34. | Uzbekistan | 420 |
| 35. | Bulgaria | 410 |
| 36. | France | 406 |
| 37. | Nigeria | 376 |
| 38. | Kuwait | 367 |
| 39. | Lebanon | 361 |
| 40. | Sudan | 360 |
| 41. | United Arab Emirates | 354 |
| 42. | Argentina | 349 |
| 43. | Ethiopia | 340 |
| 44. | Spain | 327 |
| 45. | Serbian | 323 |
| 46. | Angola | 320 |
| 47. | Bangladesh | 320 |
| 48. | Bosnia and Herzegovina | 320 |
| 49. | Indonesia | 314 |
| 50. | Kazakhstan | 310 |