The 20 Poorest Countries in Europe 2023
Almost all of Europe's poorest countries are located in the east of the continent, many of them former members of the Soviet Union. The wealth or poverty of a country can be measured both in GDP per capita and in nominal GDP.
GDP per capita divides the Gross Domestic Product (GDP) of a country by its number of inhabitants.
Nominal GDP represents the monetary value of goods and services produced in a country during a given period of time. Therefore, this metric offers a wealth of the country as a whole, that is, in a more generalized way.
Ukraine, the poorest country in Europe
According to the latest data from the International Monetary Fund, Ukraine has a GDP per capita of $4,650. This means that, on average, a Ukrainian earns 4,650 dollars a year (about 4,307 euros).
Following the disintegration of the USSR in 1991, political uncertainty and weak administrative capacity contributed to the decline of the Ukrainian economy. However, between 2000 and 2008, the country maintained constant growth. In fact, the year 2000 was the first year of growth for the Ukrainian economy since its independence from the USSR.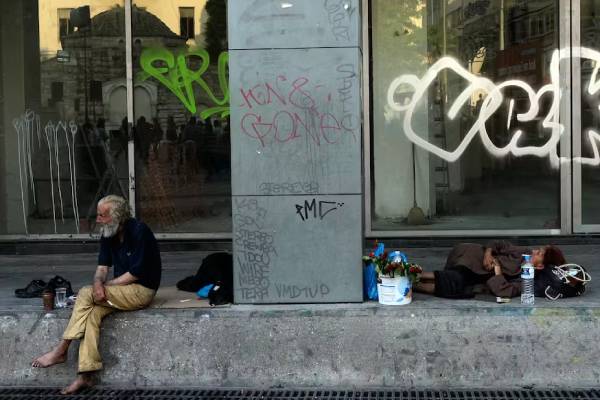 However, the 2008 financial crisis aggravated a stronger but still weak Ukrainian economy. All of this, together with the outbreak of the Crimean conflict in 2014 and the subsequent Russian invasion of the country in February 2022, has further led to the weakening of the Ukrainian economy.
Between 2021 and 2022, Ukraine's military spending has increased by 640%, going from $5.94 billion to $44 billion and accounting for 33% of the country's entire GDP.
The poorest countries in Europe according to their GDP per capita
| | | | |
| --- | --- | --- | --- |
| # | Country | GDP per capita (in USD) (2023) | GDP per capita (in USD) (2022) |
| 1. | Ukraine | 4650 | 4350 |
| 2. | Moldova | 6340 | 5670 |
| 3. | Azerbaijan | 6760 | 6830 |
| 4. | Albania | 7060 | 6460 |
| 5. | North Macedonia | 7380 | 6610 |
| 6. | Georgia | 7600 | 6670 |
| 7. | Belarus | 7940 | 7860 |
| 8. | Armenia | 8010 | 6580 |
| 9. | Bosnia and Herzegovina | 8220 | 7340 |
| 10. | Serbia | 10,850 | 10,360 |
| 11. | Montenegro | 11,290 | 9,810 |
| 12. | Turkey | 11,930 | 10,620 |
| 13. | Kazakhstan | 12,310 | 11,440 |
| 14. | Russia | 14,400 | 15,440 |
| 15. | Bulgaria | 14,890 | 13,110 |
| 16. | Romania | 18,530 | 15,850 |
| 17. | Hungary | 19,390 | 17,300 |
| 18. | Poland | 19,910 | 18,280 |
| 19. | Croatia | 20,540 | 18,430 |
| 20. | Greece | 22,590 | 20,620 |
Read Also: The 25 Richest Countries In Europe
The poorest countries in Europe according to their nominal GDP
| | | | |
| --- | --- | --- | --- |
| # | Country | Nominal GDP (in millions of USD) (2023) | Nominal GDP (in USD) (2022) |
| 1. | San Marino | 1810 | 1690 |
| 2. | Andorra | 3670 | 3400 |
| 3. | Montenegro | 7030 | 6100 |
| 4. | North Macedonia | 15,280 | 13,670 |
| 5. | Moldova | 15,830 | 14,410 |
| 6. | Malta | 19,410 | 17,780 |
| 7. | Albania | 20,180 | 18,510 |
| 8. | Armenia | 23,730 | 19,500 |
| 9. | Georgia | 27,950 | 24,610 |
| 10. | Bosnia and Herzegovina | 28,490 | 25,480 |
| 11. | Iceland | 28,630 | 27,840 |
| 12. | Cyprus | 30,860 | 28,470 |
| 13. | Estonia | 41,550 | 38,130 |
| 14. | Latvia | 47,400 | 42,230 |
| 15. | Slovenia | 68,110 | 62,170 |
| 16. | Azerbaijan | 70,030 | 69,910 |
| 17. | Belarus | 73,540 | 73,120 |
| 18. | Serbia | 73,960 | 70,910 |
| 19. | Lithuania | 78,350 | 70,520 |
| 20. | Croatia | 78,880 | 71,020 |