Top 10 Romantic Honeymoon Destinations in the World 2023
Honeymoon is considered to be the most lovely trip to romantic places. Honeymoon's days have the most romantic and unforgettable memory in our mind. This World is full of attractive places to visit especially for honeymooners.
You may love to visit all over the world. But, you do not know about the most romantic as well as best honeymoon destinations and spots. So, we created a post specially designed for your unforgettable journey to enjoy your newlywed partner in every way.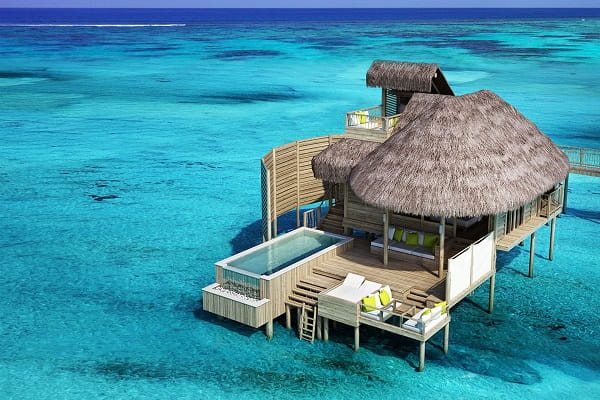 The 10 Most Romantic Honeymoon Destinations and Spots to Visit in the World
So, Here is a review and newly updated list of the top ten rated best honeymoon destinations all over the world.
10. Maldives
Maldives is full of Beautiful and small islands. There are more than 1,000 islands in Maldives as well as villas, bungalows and cottages above the water. Due to these ideal spots Maldives Surrounding looks romantic and cool. So you can choose one of them for you, far away from your family and others. Don't forget to checkout and enjoy the crystal clear water as well as white sand beaches of Indian ocean full of romantic and lonely places.
9. Mexico
Mexican Beaches are suitable for outdoor activities. You will not get tired during visiting the beauty of Mexico.
Things to Enjoy during visit to Mexico:
1. Wildlife Gardens and Natural Parks
1. Greenery of Lawns
2. Swimming Pool
2. Steam Bath
3. Golf Courses
5. Museum  Galleries
4. White Sand Beaches
Best Places and Spots to Visit in Mexico:
1. Huatulco
2. Mayan Riviera
3. Nueva Vallarta
8. Maui, Hawaii
Maui, Hawaii are the most favourite honeymoons destinations and loved by newlyweds couples even after honeymoon. Due to its rich culture of natural, these places are most likely to do a natural romance on white sand beaches and in the incredible climate. Don't forget to give joy to your life partner by getting a horseback rides on the beaches. Including the Maui, some other place like Kauai, Lanai and Molokai also offer wonderful Loving Honeymoon.
7. Bali, Indonesia
Bali is the most famous island in Indonessia and it has it's own attraction for the honeymoon destination seekers from all over the world. Due to Bali's blue and pure crytal clear Water as well as romantic white sand beaches, you will feel the entire environment full of romantic sounds. View of Indian Ocean is always unforgettable from balconies of above the water villas and last thing please do not forget to visit the temples in Bali.
6. Santorini, Greece
Santorini is a beautiful island in Greece. It is one of the most famous islands from all over the world, due to its red and black sand beaches nearby the Aaegean Sea and white and lighted mixed colours houses in the town. One of the most famous part of Santorini is its instinctive overwhelmed cottages. One thing to remember is that Santorini in Greece is one of the most expensive island of the world. So try to make a boom budget for your honeymoons, if you are planning for Greece.
5. Fiji
There are many hot and tropical islands in Fiji, more than 333. Some of them are so small, lonely and peaceful. So, you should get a boat for rent and make some unforgettable memories in rain forests of Fiji Islands. These islands will make your relation more powerful and romantic. So, you and your partner will not forget the retention of these South Pacific's islands.
4. Rome, Venice, Italy
Rome and Venice are the two most popular honeymoon popular due to its old constructed buildings and old world streets. These are the world's best honeymoons spots for you if you are the fan of italian foods and dishes. Due to peoples friendly attitude you will just feel like your home and enjoying the different dishes. Because, the food and people both are sweet and colourful. You can enjoy with your lover at famous grand canal of Venice. You can also get some more romantic fun by visiting the Great Amphitheater in Rome.
3. Thailand
The only one country which is full of several romantic honeymoon destinations. For Example, Ko Phi Phi Don, Phuket and Ko Samui. From Beautiful white and golden sand beaches to delicious and energatic seafood. Forest Trails to scuba diving.
Best Places and Spots to Visit in Thailand:
1. Ko Phi Phi Don
2. Phuket
3. Ko Samui
2. Bora Bora, French Polynesia
French Polynesia is full of most beautiful islands of all over the world. Bora Bora, Tahiti is the most popular among all of them because this small island is one of the most romantic. It is also the most wanted island and liked by many newlyweds honeymooners couple. Beautiful white sand beaches of south pacific for sunbathing and basking. Its crystal clear bright blue and green water give romantic view from balcony terrace of cottages and bungalows above seawater. Romantic Couples also have various other water pleasure activities.
Activities to do in Bora Bora, Tahiti, French Polynesia
1. Outrigger Canoe
2. Boston Whaler
3. Wave Runner
4. Jet Ski
5. Dramatic Sunset Cruise
6. Catamaran Sailboat
1. Paris, France
France is the most attractive country for couples as well as singles. Especially, Paris is the city of lights and the city of love. It is the most romantic place for newly loved couples. Because, this city is symbol of romance, love and full of world's best attractive places.
Best Places and Spots to Visit in Paris, France:
1. The Eiffel Tower
2. Musee D Orsay
3. Pont Des Art Bridge
4. The Louvre
5. Musee Du Louvre
6. The Grand Palais
7. The Jardin Des Tuileries
8. Place de la Comedie
9. Maguelone Beach
Read Also: The 17 Most Beautiful Islands In The World (+Pictures)
So, this is the list of the top ten most romantic honeymoon destinations to enjoy with your newlyweds partner and best places to spend holidays in all over the world.
Do let us know, which honeymoon destination is suitable in your opinion. If you have any further questions about this post or anything else, let us know through the comments and feedback below.