Baba Ijesha Net Worth: Bio, Age, Career, Wife & Allegations
Baba Ijesha is a talented Nollywood actor that has been in the Nigerian movie space for decades, a lot is hidden about him which will be revealed in this post, we are going to give you details about Baba Ijesha career, his age, rape allegations and other necessary information you need to be aware of concerning him.
Nollywood is blessed with talents, we have numerous stars making Nigeria proud in the Nigerian entertainment industry and the effort of Baba Ijesha cannot be ignored.
He is popularly called Baba Ijesha by his fans or Olanrewaju though his real name is James Omiyinka. Baba Ijesha is a talented comic actor, he is a comedian and also a social media personality.
He has been in the industry for some years now and many are asking about who Baba Ijesha really is, how old is he? who is Baba Ijesha married to? and to crown it all people want to know about his rape allegation.
Read Also: List Of The Most Beautiful Nollywood Actresses: Top 10
Without further preamble let us quickly take a glance at Baba Ijesha's profile before diving deep into Baba Ijesha net worth and biography.
Baba Ijesha Profile
| | |
| --- | --- |
| Full Name: | Olanrewaju James Omiyinka |
| Nickname: | Baba Ijesha |
| Date of Birth: | 8th October, 1972 |
| Place of Birth: | Ile-Ife, Osun State |
| State of Origin: | Osun State |
| Native language: | Yoruba |
| Nationality: | Nigerian |
| Education: | New York Film Academy |
| Marital Status: | Married |
| Occupation: | Actor, Producer, Filmaker, Director, Singer, Social Media Personality |
| Net worth: | $150,000 |
Now that you have an idea who Baba Ijesha is you definitely want to read Baba Ijesha biography and net worth in full, continue reading and enjoy every bit of it.
Early Profile
Olanrewaju James Omiyinka popularly known as Baba Ijesha was born on the 8th of October 1972 in Ile-Ife a city in Osun State Nigeria. Osun State is located in the South-Western region of Nigeria and is of the Yoruba ethnicity.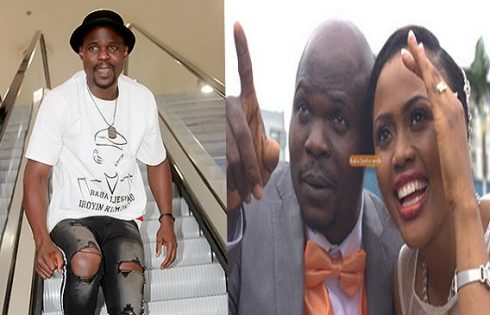 He grew up under the tutelage of his parents who have always been supportive since his kid days till he becomes of age.
Olanrewaju James Omiyinka a.k.a Baba Ijesha has been a very active person since his kid days and having the ability to mimic people in the Ijesha dialect has helped him carve out a career in acting.
Education
Baba Ijesha educational background isn't made known to the public but recently we got to know he had a GCE and tried to enroll in the University of Lagos (UNILAG) with the help of a fellow comedian named Princess.
In 2016 Baba Ijesha claimed he was studying Theatre Arts at the University of Lagos as he was off the media scene and added that he was in 300 level.
Olanrewaju can speak both English and Yoruba fluently which means he is a bit educated but as we lay our hands on Baba Ijesha full education information we will get you updated concerning that.
Career
Baba Ijesha acting career started when he relocated to Lagos state from Osun State and as we have it that Lagos State is the base of entertainers, if you really want to excel as an entertainer in Nigeria then you need to be in Lagos.
Luckily for him, he had his first professional movie role in Lagos State though he belongs to various drama groups before becoming famous.
As a good-looking young man with good posture coupled with his talents he was able to win the hearts of most movie producers, he has been on set with many top veteran actors and actresses in Nollywood.
His comedy humor has made his name a household name in Nigeria and this has garnered him a huge fanbase on his various social media platforms.
Baba Ijesha gained prominence after starring in the following blockbuster movies Afefe Ife, Opolo, Ololo Masun, Omo Orita and has featured in over 200 movies.
Read Also: Full Biography Of Iyabo Ojo & Net Worth: Career, Assets and Family
Personal Life & Relationship
Is Baba Ijesha married? Baba Ijesha is currently 48 years old in age and on July 14, 2012 he got married to his wife whose identity has not been made public since their marriage.
Their traditional marriage was followed by a church wedding that took place at the Eko FM Multi-purpose Hall in Lagos State with many Nollywood stars in attendance.
We do not have any information concerning Baba Ijesha children so we cannot ascertain if he has kids or not as he doesn't post anything related to that on social media and also no information about his children on the internet.
Baba Ijesha Rape Allegation
The social media space went agog when the news of his rape breaks out, all newspapers and media platforms were boiling (TV, Radio e.t.c.).
It was made known that Baba Ijesha raped a 7-years-old girl when she was very young and later returned when the girl was 14-years-old to attempt another rape which was recorded with the CCTV. The underage girl is one of the three girls living with the Comedienne Princess.
Immediately this was made public a video to buttress the claim by Comedienne Princess was released and the Police also swung into action, he was arrested and detained at the Sabo Police Station in Yaba Lagos State.
This raised a lot of dust as many Nollywood actors and actresses raised the dust, while some used it as an avenue to banter with their fellow actors and actresses.
The likes of Iyabo Ojo and Yomi Famiyi took it to a different level where Yomi Fabiyi claimed Baba Ijesha should be released on bail as he has the right to bail because it is a bailable offense and on the other hand Iyabo Ojo insist he must not be granted bail.
Other Nollywood actors and actress also aired their own individual opinion concerning the saga the likes of Mr. Latin, Tonto Dikeh and many more.
Read Also: Tonto Dikeh Vows To Make Nollywood Actor Olarenwaju James Rot In Jail
Baba Ijesha Contact
Baba Ijesha's phone number is not made available but he has active social media handles. You can check on his clips and updates via the below social media platforms.
Net Worth
Baba Ijesha net worth is currently estimated to be about $150,000, his earnings are attributed to income from acting and also endorsement deals from real-estate firms.
We believe you have enjoyed reading this. It looks certain Baba Ijesha will not be seen on our home videos anymore as the committed offense has dented his name and no movie producer will want to associate with him in any way. What is your opinion about this? Make use of the comment box below.
[sc_fs_faq html="false" headline="h2″ img="" question="Is Baba Ijesha married?" img_alt="" css_class=""] Baba Ijesha got married to his wife whose identity has not been made public since their marriage on July 14, 2012. [/sc_fs_faq]