Tunde Owokoniran Net Worth & Bio: Career, Wife and Facts
Who is Tunde Owokoniran? In this article, we reveal to you the full biography and net worth of Tunde Owokoniran, his early life, career, wife, children and other important hidden information about him.
As we all know the Nigerian entertainment industry is the most successful in Africa and one of the biggest in the world, with this, much is expected, you see more people coming into the industry and you also see plenty of talented individuals doing their thing.
The Yoruba section of Nollywood houses a lot of stars and Tunde Owokoniran is one of them, those who keep us entertained and make us forget our troubles or worries, this is the reason why knowing much about the biography and net worth of Tunde Owokoniran is a necessity, let us know more about him.
Before going deep into the full biography and net worth of Tunde Owokoniran, we will like you to take a glance at his profile.
Tunde Owokoniran Profile
| | |
| --- | --- |
| Full Name: | Babatunde Owokoniran |
| Nickname: | Tunde Tilapia |
| Place of Birth: | Mushin, Lagos State |
| State of Origin: | Ogun State |
| Native language: | Yoruba |
| Nationality: | Nigerian |
| Education: | Lagos State University (LASU) |
| Married to: | Oluwatunmise Akinwinsola |
| Occupation: | Actor, Movie Producer |
Now that you have a brief knowledge about Babatunde Owokoniran you definitely want to read more about him because his story is quite an interesting one, even with the fact that life wasn't fair with him he was able to become a success.
Early Life
Babatunde Owokoniran popularly known as Tunde Tilapia was born in the Mushin area of Lagos State, though he is a native of Ogun state but spent most of his years in Lagos Nigeria.
As a child born into a polygamous family, much attention wasn't placed on him, it was unfortunate that his mother died while he was still very young, this affected him and also his education.
His father couldn't sponsor his education and this made him quit schooling for years, he started fending for himself, tried to get menial jobs which has been so difficult for him to get.
As time goes on he was able to secure a job with the National Union of Road Transport Workers (NURTW) and this helped him a bit, he was able to get a job as a bus conductor.
Read Also: Complete List of Nollywood Actors & Actresses – Updated
Being a conductor isn't lucrative in any way and doesn't portray one as someone with good home training in Lagos state even though you are one as the job requires you to be aggressive and stubborn else commuters will try to cheat you.
He had a job but the job can only feed him and buy him few wears but couldn't pay his rent, he was forced to live under the bridge in Lagos State.
On this faithful day, Tunde Owokoniran had had an altercation which made his boss evict him and also with the backings of the NURT officials.
Having no job at hand, Tunde decided to buy plantain with the money he was able to save at large quantities as a retailer and sell to other retailers who buy small quantities, this proved to be more lucrative than his conductor job.
When his income started increasing he started buying plantains in larger quantities from the popular Ojuwoye Market in the Mushin area of Lagos State and more sales were being made daily.
This was able to sustain him a bit but couldn't make him rich, but at least his level changed for better.
Education
Tunde Owokoniran attended Mainland Children School for his basic primary education and also he attended Ilupeju College for his secondary school education both in Lagos State.
After being done with his secondary school Tunde attended the Lagos State University (LASU) where he bagged a degree in Industrial Relations and Personnel Management.
Tunde Owokoniran Acting Career
Babatunde Owokoniran's career as a Nollywood actor started on this lucky day when he was busy selling his plantains in the market, on that faithful day Odunlade Adekola was having a meeting in the same market, on sighting Odunlade Tunde Owokoniran rushed to him and grabbed him.
He started narrating his story and also telling him about his passion for acting, this made Odunlade welcome him with open arms, he gave Tunde his home address and that was how his story changed.
After meeting Odunlade Adekola, Tude Owokoniran was given a role to play in one of Odunlade's projects and he performed excellently well, this secured him more appearances in other movies both in Yoruba and English.
As he was acting he was learning, he started improving the more and today we have a superstar with the name Tunde Owokoniran.
Read Also: Full Biography Of Odunlade Adekola & Net Worth: [Nollywood Actor]
Personal Life & Relationship
Tunde Owokoniran is a married man and he is happily married to his American-based wife Oluwatunmise Akinwinsola on the 24th of January 2016, their marriage is blessed with two kids.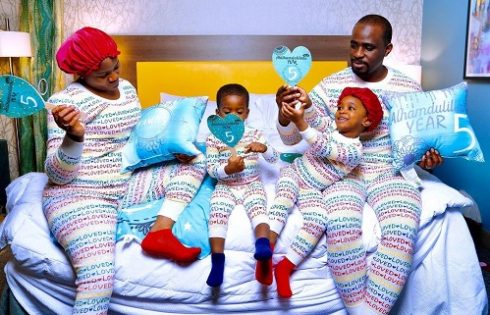 We need to remind you that Tunde broke up with his ex-girlfriend before getting married to Oluwatunmise, he claimed his ex wasn't ready to share the same dream with him.
Luckily for him, Oluwatunmise is a beautiful lady that also understands and always doing everything to support him in his endevors.
Tunde Owokoniran Movies
Here are some of the movies Tunde Owokoniran has acted in:
Oro Jade
Sokofun
Sunday Dagboru
Penkele Mess
Pepeye Meje
He has been starred and featured in numerous movies and aside from acting in Yoruba movies Tunde Owokoniran also has appeared in many Nollywood English movies.
Read Also: List Of The Most Handsome Nollywood Actors: Top 10
Net Worth
Tunde Owokoniran's current net worth according to Keninfo is estimated to be $300,000, though there is no concrete proof of this and you hardly find his real net worth on the internet.
[sc_fs_faq html="false" headline="h2″ img="" question="How much is Tunde Owokoniran Net Worth?" img_alt="" css_class=""] Tunde Owokoniran's current net worth according to Keninfo is estimated to be $300,000, though there is no concrete proof of this and you hardly find his real net worth on the internet. [/sc_fs_faq]