11 Ways to Make Money Online [Honest & Proven Ways]
If you are looking for options to generate extra income, online sales could be the solution. More and more people are deciding to start a business in this market, very motivated by the ease that digital tools offer to supplement their pockets. But what are the ways to make money online?
Whether to sell clothes, food or crafts, the web offers several possibilities for those who want to start working from home.
Main points of the article:
There are several reasons to make money on the internet. Whether it's to pay for a trip, buy a property or car, build an emergency fund or just create extra income, it's worth investing in the segment;
Some ways to make money on the internet are to sell via e-commerce, register on a marketplace or sell through social media;
If your dream is to explore the world of e-commerce, Shopify gives you the possibility of realizing it at a low cost. Create your free online store with WordPress and join millions of retailers spread across the world.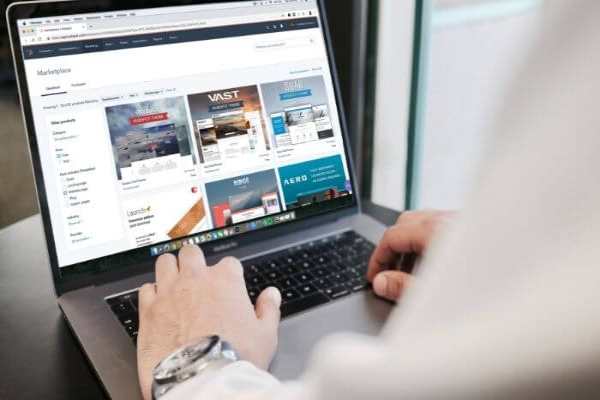 So, if you still don't know how to make money from the internet in a proven and honest way, continue reading this article! We have selected eleven options that will help you profit from an online business. So, shall we go?
11 best ways to make money online
Below, check out a summarized list of the 11 best ways to make money on the Internet:
Research the market;
Know your audience;
Create an online store;
Register on a marketplace;
Sell ​​through social media;
Start with what you already have available;
Have a YouTube channel;
Invest in affiliate marketing;
Market digital products;
Sell ​​ad space on your website;
Invest in digital marketing.
If you are interested in any of these options, see more details about them:
1. Research the market
This is the first step for you to discover which product or service is trending. Define which ways to make money online make the most sense for your entrepreneurial profile.
Then, see what investments are needed, who the customers and competitors are, what the online marketing strategy will be like, etc. Finally, create a business plan.
2. Know your audience
To make a profit online, it is essential to create your business persona, which will guide your entire strategy to promote your final product. Knowing in depth who your buyer will be is fundamental to the success of your company.
Therefore, to create the ideal customer profile, take into account sociodemographic characteristics, such as name, gender, age, social class, education, profession, where you live, lifestyle, etc.
3. Create an online store
Setting up a virtual store to earn money online is becoming increasingly simple, especially with the emergence of e-commerce platforms.
After all, with various type of tool, it is possible to create a personalized online store in a few minutes and start selling physical products or services online.
To build your e-commerce, the first step is to find a market niche that has high demand and in which you can offer a differentiator.
Here, it could be new merchandise in the segment, unique customer service, etc. The sky is the limit for you to stand out from the competition.
If you want to set up an e-commerce to sell your products, create your online store and have your own sales website. The platform offers all the necessary structure for you to publish and promote your goods, sell, receive your values ​​and send your products in an automated way.
4. Register on a marketplace
Just like a virtual store, the marketplace is an online sales channel for selling products. The difference is that, unlike a virtual store, it is a space that brings together sellers and mediates them with consumers.
This alternative is highly recommended for those who cannot invest a lot of money in the digital infrastructure necessary to create their own online store.
The main advantage of the marketplace is the number of visits these sites have. Therefore, your products will be sold to a solid audience, without the need for a lot of investment of time and money for advertising. Examples are Shopee and Amazon.
On the other hand, this method does not allow you to personalize your sales page. After all, when you have an online store, there is an identification that makes it easy for the public to recognize. In a marketplace, the layout is defined by the virtual shopping center administrator.
5. Sell through social media
Another option for making money on the internet is to sell your products on social networks, such as Instagram and Facebook. This way, you can take advantage of the great reach that these platforms have to scale your sales.
A big advantage of selling through social media is attracting more traffic to your business website. This is because some of these platforms lead the consumer to complete the order in an e-commerce (or contact a sales representative).
According to a survey by All INN, in partnership with Opinion Box:
87% of consumers already make their purchases online;
75% use social networks to search for products;
74% of consumers usually use Instagram, Facebook and other social networks to make their purchases.
Furthermore, social media is also a powerful means of relationship that helps you retain and retain customers. In after-sales, for example, it is possible to maintain contact via social media and generate new business opportunities.
Furthermore, most platforms have their own tools that allow you to create targeted ads, improving the reach of a publication.
6. Start with what you already have available
For you to be successful in your strategy on how to make money on the internet, a tip is to start with what you already have at the moment.
For example, if you have a physical store, you can also sell online, increasing your sales even further and with a smaller investment.
Now, if you have a special skill, such as cooking sweets, you can create a YouTube channel and teach recipes on the social network.
7. Have a YouTube channel
YouTube is one of the biggest search platforms on the internet. The advantage of creating an account on the social network is that the tool offers the possibility for brands to produce and disseminate complementary materials for their products, increasing the visibility of their business.
See some examples of videos that may be interesting:
Product presentation;
Content related to your segment;
Consumer testimonials;
Interviews with experts.
The important thing is to create relevant content that interests the public. Therefore, this can be a good way to make money online.
8. Invest in affiliate marketing
If you have a good following on social media, you can start working with affiliate marketing.
This is a commercial strategy that allows you to become a representative of a brand, promoting and selling products from that company, in exchange for commissions agreed between both parties.
However, to be successful in this segment, you need to affiliate with a product you trust and a niche market that you dominate and have influence.
Additionally, it's important to know how to better talk to potential customers. After all, your job will be to communicate to the public about the characteristics of this product.
9. Market digital products
Among the changes that the internet has brought is the popularization of digital products, such as online courses and e-books. The web now allows anyone to share their knowledge or learn a new skill remotely.
If you have some skills, such as knowing how to sew, make crafts, edit videos, among others, you can transform this knowledge into an infoproduct and, of course, make money on the internet.
And anyone who thinks that you need to have good equipment to create digital products is mistaken. With the tools available today, it is possible to produce content in the most diverse formats, such as e-books, spreadsheets, webinars, video classes, podcasts, etc.
Remember, what will define your course's popularity is its ability to help your target audience solve problems.
10. Sell ad space on your website
If you have a blog, website or online store with good traffic and conversion rates, another option for making money online is to sell ad space on your page.
This strategy can be in the form of a link in the website footer, side banners or pop-ups.
To get started, you can integrate an ad network on your website. There are some tool options for this, such as Google Adsense, Ezoic and Media.net.
11. Invest in digital marketing
After planning all the details to make money on the internet, it's time to make the business known on the web.
Your digital marketing plan must consider your business persona and model. In the case of e-commerce, some forms of promotion can be via social networks, email marketing and content on a blog.
Is everything clear about how to make money on the internet in an honest and proven way?
Throughout this content, you have seen eleven ways on how to make money on the internet. The secret to earning extra income online is thinking outside the box and finding what you most identify with.