Best Tourist Destinations In Nigeria and Their Location
In spite of the insecurity and poor economy currently plaguing Nigeria, we need to know there are still some positive things to note about this country. A country rich in cultural diversity and tradition has a lot to offer its citizens and tourists from every part of the world.
Nigeria is the most populated country in Africa rich in natural resources and manpower, the country is highly blessed with crude oil which serves as its major revenue source.
In Africa, you discover Nigeria leads in almost every aspect, the country boast of talented people and her movie industry known as Nollywood is the 3rd largest movie industry in the world.
As far as entertainment is concerned Nigeria leads in Africa, also the country has a very stable weather condition with a lot of tourist attraction centers which are not being given much of attention as Nigerians hardly tour for enjoyment.
Read Also: Top 10 Best Banks In Nigeria Currently
We have decided to make this article available for those who are interested in touring the country for relaxation after stressful working days, you too can take time to enjoy your weekends in one of the top 10 tourist destinations in Nigeria.
With security as a major concern, the list of tourist attraction centers in Nigeria compiled on this post are located in the most peaceful area of the country so you can be well assured of safety and fun.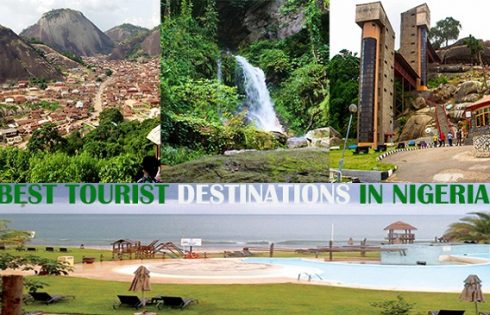 Without further ado, let us take you through the top ten tourist destinations in Nigeria with their location and things to expect on each.
Top 10 Tourist Destinations In Nigeria
What are the best places to visit in Nigeria? either for your holidays, honeymoon, or fun with friends, you sure want to visit these wonderful places in Nigeria.
#1. Idanre Hills
Location: Idanre, Ondo State
Idanre Hills popularly known as Oke-Idanre in the Yoruba language is one of the best and most visited tourist destinations in Nigeria, located in the South-Western region of Nigeria and in a serene environment with a good weather condition.
Idanre Hill is a wonder dated back to over about 800 years back having a diverse landscape with 667 steps and handwritings on the rock. The hill is surrounded by historical myths with ancient civilization records.
The hill is a UNESCO World Heritage Site having Omi Aopara; the thundering water, Agbooogun footprint, shrines, burial grounds, shrines and also the famous Owa's palace.
#2. Olumo Rock
Location: Abeokuta, Ogun State
Olumo rock is a very significant rock in Abeokuta the state capital of Ogun State, it is a historical rock that serves as a dependable refuge for the people during the 19th-century war and other war events in Yoruba land. The most interesting thing about this tourist destination is that it has caves in it and stairs carved on it for easy climbing.
Aside from the fact that you can climb the rock through stairs it has been beautified and modern facilities attached to it, you can take a lift through an elevator and enjoy a nice view of the city, it is also a perfect location for picture taking.
#3. Ibeno Beach
Location: Ibeno, Akwa Ibom State
If all you seek is top-notch leisure and fun then Ibeno Beach is where you should be. As history has it Akwa Ibom is a very beautiful state and has maintained this over the years. A friendly environment with numerous dishes and a haven for fun-seekers.
Ibeno Beach sits on a sandbank in Ibeno with a clear view of roaring waves perfect for sunbathing. The beach is very clean and well managed with mangrove forest, chill breeze with lush surroundings to keep your camera and smartphones filled with beautiful pictures.
Read Also: 5 Popular Indigenous Soups In Nigeria & How It's Prepared
#4. Obudu Mountain Resort
Location: Obudu, Cross River State
When talking about the list of best tourist destinations in Nigeria and even Africa you definitely going to see Obudu Mountain Resort on every list.
The Obudu Resort is located at the Sankwala Mountains above sea level on Oshie Ridge in Cross River state. Has a temperate climatic condition with breathtaking view and serene both physically and perfect on the camera.
#5. Arochukwu Long Juju Slave Route
Location: Arochukwu, Abia State
On the list of top 10 tourist attraction centers in Nigeria is the historical Arochukwu Long Juju Slave Route. This sacred altar with a six-foot gully takes you to the temple and the waterfall in Arochukwu Long Juju Slave route, to have a more remembering experience you definitely do not want to miss visiting the shrine of Ibn Ukpabi and the cult monument of Kamula. An exciting place to be where you will be served the history of the slave trade in the Eastern region.
#6. Zuma Rock
Location: Niger State
A wonderful tourist destination in the Northern region of Nigeria and a magnificent view from nearby communities and states, you can have a clear view of the rock even from the Abuja-Kaduna expressway. The rock has a monolith height of above 725 feet.
#7. Ikogosi Warm Springs
Location: Ikogosi, Ekiti
Another wonderful and interesting place to visit in Nigeria is the Ikogosi Warm Spring where cold and warm spring meet. The geological wonder spring has been confirmed to be a healing point of various ailments. Aside from the healing properties and other myths that accompany it Ikogosi Warm Spring is a perfect place for a holiday, excursion and undiluted fun.
Read Also: Cost Of International Passports In Nigeria, Types & Application
#8. Erin Ijesha Waterfalls
Location: Erin Ijesha, Osun State
Another good place to be in Nigeria is the Erin Ijesha Waterfalls which is also located in the South-Western region of Nigeria. Well known as "Olumirin Waterfalls" in the Yoruba language, a lot untold about this waterfall even though it is a very popular tourist attraction in Nigeria.
#9. Abuja Arts and Crafts Village
Location: Abuja
The Abuja Arts and Crafts Village is a perfect place for families, you get your kids accustomed to arts and crafts, here you have a first-hand experience and interact with arts and crafts of various kinds, jewelry, souvenirs, clothing, games and handmade crafts depicting the culture and traditions of African tribes most especially the Nigerian ethnicity and much more.
#10. Yankari National Park
Location: Bauchi, Bauchi State
Last but not least on the list of top ten tourist destinations in Nigeria is the Yankari National Park, you will be intrigued seeing the Flora and fauna, warm springs, wildlife, and numerous history. The part offers you various sightseeing features of it, well managed and funded to give tourists the best experience.
Read Also: Tribes With The Strongest Juju In Nigeria (BlackMagic)
Conclusion
Nigeria is a country with values, diversity and culture of a different kind, the country boasts of a lot of tourist destination and others we didn't write extensively on are Ogbunike Caves in Anambra state, Ngwo Pine Forest in Enugu, Oshun-Osogbo Sacred Grove in Osun state, Sukur Cultural Landscape in Adamawa state, Millennium Park in Abuja, Kainji National Park in Niger State, New Afrika Shrine and many more.