The 10 Biggest Churches in the United States (2023 Updated)
Do you want to know the biggest churches in the United States? In recent years, churches have become more than simply a place to assemble for religious purposes. Along with the expansion of the churches, the community as a whole has grown substantially.
According to the number of worshipers they serve per week, they can be regarded as big churches.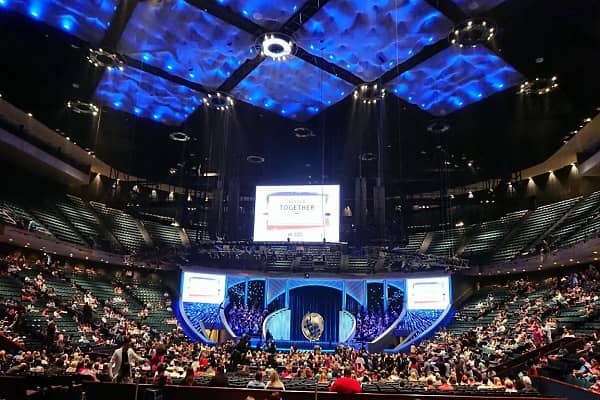 In the United States of America, big churches attract the attendance of millions upon millions of people.
A church is considered to be a big church if it consistently sees more than 2,000 persons in its congregation weekly.
Big churches that are flourishing and attracting members typically target those in their younger years.
In most big churches, bible reading is made easier with the help of cutting-edge apps and modern technology.
Their sermons and other church activities can be watched online. The music is up to date, and there are a few Christian rock performances sprinkled in there.
There are ministries geared specifically toward young people that are active. In most cases, big churches do have multiple locations for their various activities.
That being clarified, let's take a look at the top 10 largest churches in the United States of America.
Top 10 Biggest Churches in the United States
1. Lakewood Church Houston
The typical number of attendees per week is 43,500. The Lakewood Church is a large evangelical and non-denominational Christian congregation in the city of Houston, Texas.
Lakewood Church is one of the biggest churches in the United States of America.
John Osteen established Lakewood Church on Mother's Day, May 10, 1959, inside of a vacant feed store in northeast Houston. Joel Osteen, who was John Osteen's youngest son, took over as pastor following his father's passing on January 23, 1999, which was as a result of a heart attack.
The more senior pastors are actually his son Joel and his daughter-in-law Victoria. Currently, the attendees of Lakewood Church usually gather in the repurposed home of the Houston Rockets soccer arena.
Read Also: Top 5 Most Practiced Religions in Canada
Joel Osteen is not just popular but he is one of the richest televangelists in the world. He has also written a series of novels that have been extremely successful.
Joel, whose estimated net worth is approximately $40 million, has been lauded for advocating wealth theology, which places an emphasis on material gain and is characterized by the pursuit of financial success.
When Hurricane Harvey struck, he failed to make Lakewood Church available as a place of refuge, which resulted in him receiving poor press coverage.
2. North Point Church Alpharetta
The typical number of attendees per week is 30,629. Andy Stanley pioneered the establishment of North Point Community Church in 1996.
Even its inventor was taken aback by how quickly it expanded, since he had previously remarked, "We made the strategic decision to not concentrate on expansion but rather to concentrate on leadership development."
Both Stanley and his father Charles, who is also a well-known preacher, were involved in a fall that was widely reported on the outside.
3. Life.Church Edmond
The typical number of attendees per week is 30,000. Craig Groeschel established Life.Church in 1996, and at first, the gatherings of its forty members took place in a two-car garage that was furnished with little more than a borrowed overhead projector.
Currently, Life.Church now has physical locations across the country as well as a thriving online community.
It is a branch of the Evangelical Covenant Church, which defends fundamental evangelical Christian teachings, and it was founded in the 18th century.
Refreshments are provided, and there is rock music playing with the lyrics projected onto a screen.
Over two hundred million people have taken advantage of the free Bible app provided by the church.
4. Gateway Church Southlake
The typical number of attendees per week is 28,000. The Gateway Church is both a large congregation and a large organization.
In 2016, the church stated that it had resources of $218.7 million and earnings of $127.2 million.
However, it has also announced that it is reducing the number of staff and its spending in order to put itself in a better position for prospective growth.
5. Willow Creek Church Barrington
The typical number of attendees per week is 25,000. The first location of Willow Creek Community Church was the suburban community of South Barrington in Chicago, and it was created in the 1970s.
From the day it was created, the church and the congregation has since expanded to multiple locations throughout the metropolitan area.
One of the church's core beliefs is that it should stay true to its teachings while also adapting to the times.
Read Also: The 10 Biggest Churches in United Kingdom
6. Fellowship Church Grapevine
The typical number of attendees per week is 24,200. The Fellowship is a part of the Southern Baptist Convention, but it is also a part of the "seeker" movement.
This movement has the objective of attracting a larger audience through unconventional practices.
The founder Ed Young, has been the subject of criticism due to his marketing of gender (within the context of marriage), and he has written a book titled "Sexperiment."
7. Elevation Church Matthews
The typical number of attendees per week is 22,200. Elevation Church which was founded in 2006 by Steven Furtick who was just in his early twenties at the time he founded the church.
Steven Furtick and seven other families from Christ Covenant Church in Shelby, North Carolina, relocated to Charlotte and they started the church as a church plant through the Baptist State Convention of North Carolina.
Elevation is well-known for services that feature loud rock music in addition to preaching. These services have been described as "a cool warrior, in addition to a sexy church."
The church has experienced phenomenal expansion, and it now has many locations ranging from Charlotte, North Carolina, to Toronto, Ontario.
8. Church of Highlands Birmingham
The typical number of attendees per week is 22,100. Chris Hodges founded Church of Highlands Birmingham in 2001. According to the number of people who attend services there each week, it is the most popular church in Alabama.
In addition to that, Chris Hodges, the founder of Church of Highlands Birmingham also established Highlands College, a school for the training of ministers.
Michael Hodges, son of Hodges, had been serving as the pastor of the Greystone branch campus prior to his recent dismissal for an "ethical failing" of which the nature was not specified.
9. Saddleback Church Lake Forest
The typical number of attendees per week is 22,000. Saddleback College has campuses located all around southern California, as well as in Berlin, Buenos Aires, Hong Kong, and Manila.
Saddleback has also grown internationally. This is remarkable taking into consideration that Saddleback did not have its first permanent building until the early 1990s, despite the fact that it had 10,000 people attending each week.
A tent with 2,300 seats had been serving as a temporary solution for a number of years.
10. Dream City Church Phoenix
The typical number of attendees per week is 21,000. When compared to other megachurches, Fantasy City Church was established in 1923 as Phoenix First Assembly.
This makes it an older church. In the most recent decades, it has undergone tremendous expansion.
2015 marked the opening of the church's first campus in Scottsdale, and the following year it merged with the Community Church of Joy in Glendale.
Read Also: The 10 Largest Churches in the World
FAQs
Where is the biggest church in the United States located?
The biggest church in the United States is located at Houston, Texas.
Which Church is the biggest church in the United States?
Lakewood Church is the biggest church in the United States.
What church has the most members in the United States?
Lakewood Church has the most members in the United States.
Here comes the conclusion of the biggest churches in the U.S., there is no doubt the Lord's ministry is moving forward and if this makes you happy make sure you hit the share button below to enable others enjoy this too.