Full Biography Of Mazi Nnamdi Kanu: Age, Wife, Travails & Facts
The leader of the Indigenous People of Biafra Mazi Nnamdi Kanu is a force to reckon with as far as the Igbo tribe is concerned, a lot isn't known about him which we will shed light on for the benefit of our lovely readers and the Biafrans in general.
Today's article is centered on one of the most respected freedom fighters in the world Nnamdi Kanu, his name is widely known by the majority of Nigerians and this is mainly because of the unending love he has for his tribe with efforts to secure every life in his region South-Eastern region of Nigeria.
His aim and goals are to make sure Biafra comes to stay and the Igbo people have a country of their own devoid of marginalization and lack of security.
Nnamdi Kanu from his royal background was able to win the souls of many freedom lovers even those that are not Igbos love him for his selfless service and also sensitizing those who are ignorant of what is happening around them.
Mazi Nnamdi Kanu is no doubt a wise man, well educated and with high motivation, he is not the type that backs down and he has been consistent over the years on the actualization of Biafra.
Without taking much of your time before we dive into the full biography of Nnamdi Kanu let us give you brief information about Mazi Nnamdi Kanu profile:
Nnamdi Kanu Profile
| | |
| --- | --- |
| Full Name: | Nwannekaenyi Nnamdi Okwu Kanu |
| Date of Birth: | 25th of September 1967 |
| Place of Birth: | Isiama Afara, Abia State |
| Education: | University of Nigeria, Nsukka |
| Marital Status: | Uchechi Okwu Kanu |
| Children: | 1 |
| Occupation: | Political Economist, Activism & Radio presenter |
| Net worth: | $15 million |
It will interest you to read more about this great man and this is why we have made available the full biography of Nnamdi Kanu and his net worth, his early life, career, wife and other facts about him. Continue reading.
Early Profile
Nwannekaenyi Nnamdi Okwu Kanu popularly known as Nnamdi Kanu was born into a royal family on the 25th of September 1967 in Isiama Afara, Abia State.
His father HRH Eze Israel Kanu is the king of Isiama Afara in Abia State and he grew up with his parents before he decided to leave the country.
Nnamdi Kanu is a well-behaved child of his parents, he is the firstborn of his parents and also the first male child, his father HRH Eze Israel Kanu and his mother Mrs. Ugoeze Sally Nnenne Okwu-Kanu are both late.
Education
Nnamdi Kanu started his elementary education at Library Avenue Primary School which is now part of the Abia State government House located in Umuahia, he then proceeded to Government College for his Junior and Senior secondary school education.
After obtaining his first school leaving certificate Nnamdi Kanu furthered his education to the tertiary level at the University of Nigeria Nsukka (UNN) where he was left with no option than to further his education in Europe due to incessant strikes in the University.
History
Nnamdi Kanu got himself educated about the history of Nigeria, Igbos and Biafra, he was able to see the difference in the lifestyle of Nigerians the different cultures, traditions and even religious beliefs and discovered nothing should bind all the ethnic groups together.
The activism for Biafra actually started after he noticed the kind of hate that emits from the North towards the South of which has been a huge factor years back which also lead to the Civil war in Nigeria.
Even after the war and in this modern age the hatred is still noticeable as the Eastern region of Nigeria is being marginalized, completely taken out of the equation and tagged as the 5% (5 percenters).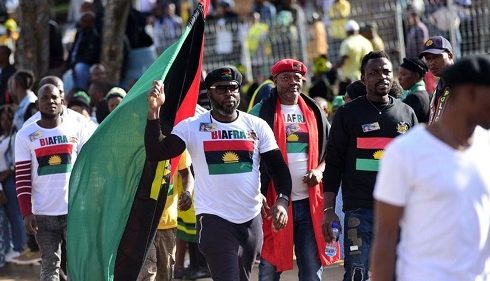 All these become an eye-opener and has been the cause for the fight for the restoration of Biafra which is known to be the Country of the Igbos.
Mazi Nnamdi Kanu didn't just wake up to take the mantle and lead the people of Biafra, According to his late father, Nnamdi Kanu decided to lead the Biafrans after it has been made known that the previous leader of the Movement for Actualization of Biafra "Ralph Uwazuruike" usually collects money from the Nigerian Federal Government thereby frustrating the struggle.
Immediately this was discovered Kanu challenged Ralph Uwazuruike and in turn, Ralph Uwazuruike tried to silence him and this birthed IPOB (Indigenous People of Biafra) which the government also tried to silence by declaring the group a terrorist group but the harder they tried the more popular the group becomes.
His Arrest
Nnamdi Kanu due to his stubbornness and focus on the actualization of Biafra didn't for once get tired of sensitizing his people and condemning the Nigerian government, he became a thorn on the Federal Government of Nigeria and they went after him.
In 2015, Nnamdi Kanu was arrested by the Department of State Service (DSS) at the Golden Tulip Essential Hotel Ikeja where he lodged and was taken to Abuja and handed over to the SSS.
Immediately the news of his arrest got to the public there was a massive protest in the South-Eastern region and also some South-Southern region.
The protest made him more popular and the majority of those that didn't believe in the struggle joined the protest, this made the court response to his case swift.
He was later granted bail after all bail conditions have been met, yet he wasn't released and this was said to be a way to calm tension so as not to provoke the Igbo people and Nnamdi Kanu supporters.
On the 23rd of November 2015, Nnamdi Kanu was arraigned in a Magistrate Court in Abuja with charges based on intimidation, criminal conspiracy and belonging to an illegal organization.
In 2017 he was released on several conditions which he broke due to the fact that those at the top offices in Nigeria didn't take the law seriously so there is no reason for him to abide by the same law.
Arresting him became impossible because the Federal government of Nigeria is being conscious of their steps, and finally they went after him which lead to a failed arrest, Mazi Nnamdi Kanu was able to escape, his dog was killed and his home destroyed by the Nigerian Military agents.
Operation Python Dance was launched by the Nigerian Army which the government used to lay siege on the Eastern states. The whereabouts of the Leader of IPOB was unknown for months before it was made known that he is in Isreal, a rumor about him being in Malasia also surfaced but currently he resides in the UK.
Nnamdi Kanu Wife / Family
On January 5th, 2016, Nnamdi Kanu got married to his heartthrob Mrs. Uchechi Okwu Kanu while in detention, Uchechi has always been supportive of his husband's agitation and beliefs.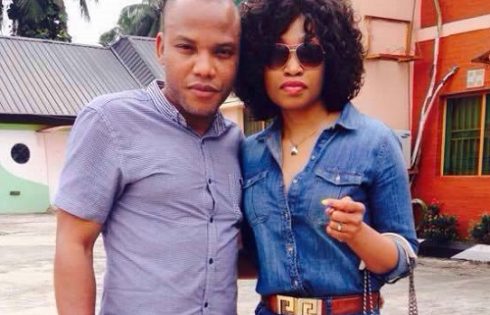 The couple lives together in love and are blessed with a son. We don't have full information about the other family members aside from his late parents.
Due to the manhunt by the Nigerian government, Nnamdi Kanu couldn't be present while his parents are being buried.
Nnamdi Kanu Net Worth
Nnamdi Kanu's current net worth is estimated to be about $15 million, he is the director of Radio Biafra and also a very influential man.
Facts & Controversies
The Nigerians Journalist Madam Kemi Olunloyo in April 2020 claimed that Nnamdi Kanu is dead of which the famous Nigerian Newspaper Daily Post reported that Northern and Southern organizations, Peace Accord Forum (PAF) believe Nnamdi Kanu is dead as well.
Nnamdi Kanu threatened the former Nigerian president Chief Olusegun Obasanjo and instruct the people of IPOB to eliminate Obasanjo and his lineage if any harm comes to him, this was because Obasanjo made a statement in a gathering in Abuja that IPOB must be stopped at all cost.
Nnamdi Kanu has huge die-hard fans, there are those that are willing to die for him and protect him, some sees him as a savior.
A video of Nnamdi Kanu making love with his wife went viral on the internet and this raised a lot of eyebrows.
In December 2020 Nnamdi Kanu announced the formation of the Eastern Security Network (ESN), the ESN has been at the forefront of security in the South East and has recorded numerous successes in flushing out the Fulani Herdsmen that has been causing havoc in the Eastern region of Nigeria.
Nnamdi Kanu will never back out of his agitation for freedom and actualization of Biafra.
If you enjoy reading this article "the biography of Nnamdi Kanu" kindly hit the share button, you can also make use of the comment box to contribute to this article. Thanks.
[sc_fs_faq html="false" headline="h2″ img="" question="What is Mazi Nnamdi Kanu Net Worth?" img_alt="" css_class=""] Nnamdi Kanu's current net worth is estimated to be about $15 million, he is the director of Radio Biafra and also a very influential man. [/sc_fs_faq]