Guide to Working as a YouTube Manager
YouTube has established itself as a leading platform worldwide, being a nerve center for diverse and accessible content. Its success is due to the versatility and ease it offers to access a wide range of information. 
From cooking recipes to programming tutorials, YouTube has it all. In this context, the figure of the YouTube manager has gained relevance, becoming a booming profession that can be done from anywhere in the world.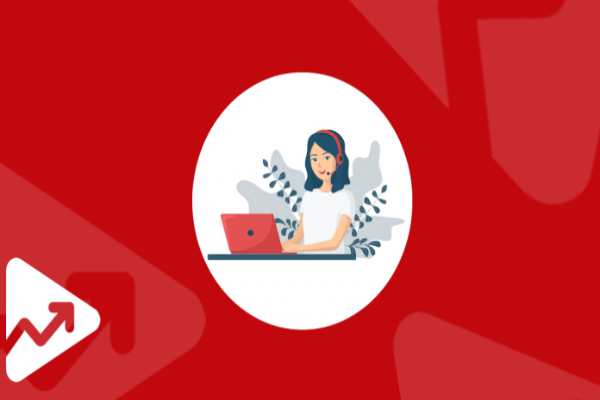 In this article, we will provide you with a detailed guide to becoming a successful YouTube manager and transforming your passion into reality.
What is a YouTube Manager?
A YouTube manager acts as a representative or administrator of a content creator, playing a crucial role in developing their career and achieving their goals. This figure can be considered a digital "headhunter."
Functions of a YouTube Manager
The responsibilities and functions of a YouTube manager are quite broad and multifaceted, constantly adapting to the changing dynamics of the digital environment and the specific needs of each creator or brand they represent. Below, we show you in more detail some of the key functions performed by these professionals:
Strategy and Planning
The YouTube manager plays a crucial role in crafting meticulous strategies for both the short and long term, with the goal of driving sustainable channel growth. This involves identifying market trends, understanding your target audience, and planning content that resonates with your audience. 
In addition, they must establish clear and measurable objectives, and develop an editorial calendar that ensures a constant and relevant publication frequency.
Content Optimization
This function involves advising the creator on the most effective and attractive video formats for their audience, as well as the management of tags, descriptions and thumbnails that increase the visibility of the content on the platform. 
It also includes ensuring that proper SEO practices are being implemented to improve the channel's ranking in search results, both within YouTube and on external search engines.
Search for Contacts and Collaborations
The manager must have the ability to establish and maintain strong relationships with other creators, brands and agencies, in order to open opportunities for strategic collaborations that strengthen the brand's presence and expand its reach. 
This can translate into appearances on other channels, participation in events, or partnerships with brands for sponsored content. Surely you have seen many YouTubers or content creators on other podcasts or channels.
Monetization
Providing expert guidance on the various monetization avenues available on YouTube is another key responsibility. This includes helping the creator navigate the YouTube Partner Program, optimize advertising revenue, and explore other revenue streams such as merchandising, channel memberships, or donations through Super Chat on live streams.
Metric Analysis
A YouTube manager must be skilled at analyzing data and metrics to evaluate the performance of the channel and individual content. This involves interpreting YouTube Analytics reports to identify trends, understand audience behavior, and detect areas for improvement. 
From these analyses, they should be able to provide data-driven recommendations to optimize future content and strategies.
Community Management
Fostering and maintaining an active and engaged community is essential to the success of a YouTube channel. The manager must monitor comments, respond to audience questions, and encourage participation, thus creating a positive and welcoming environment that encourages viewers to continue interacting with the channel.
Brand Development
In addition to the aforementioned responsibilities, the YouTube manager also plays a crucial role in developing and strengthening the creator's brand. This involves ensuring that all content and communications consistently reflect the brand's voice and values, and working to increase brand awareness and positive perception among the audience and industry.
As you see, the YouTube manager acts as an indispensable strategic ally, working tirelessly behind the cameras to ensure that both the content and the brand reach their maximum potential and resonate effectively with the audience. Their role is very similar to the manager of a musician or actor, and requires a unique combination of creative, analytical and communication skills.
What you need to be a YouTube manager
Now that you have known what the main functions of a YouTube manager are, let's see what the main requirements that this profile must meet are.
Deep YouTube Knowledge
It is essential to have complete mastery of the platform, including a thorough understanding of its policies, algorithms, and the current trends dominating the digital content space. This means being constantly updated and being able to quickly adapt to changes in platform policies and public preferences.
Strategic thinking
The ability to develop personalized and effective strategies for each content creator is key. This includes the ability to analyze data, identify opportunities and threats, and lay out a clear and coherent plan that leads to channel growth and brand strengthening.
Social skills
A YouTube manager must possess excellent communication skills to establish and maintain effective relationships with creators, other industry professionals, and channel followers. This involves being a good listener, having empathy, and being able to express ideas clearly and persuasively.
Creativity
Creativity is essential to generate innovative ideas that stand out in the saturated YouTube content market. This not only applies to the video content itself, but also to marketing strategies, collaborations and forms of monetization.
Organization and Project Management
Organizational skills are crucial to efficiently manage multiple tasks and projects simultaneously, ensuring deadlines are met and set objectives are achieved. This also involves being able to prioritize tasks and resources effectively, and maintain an organized and efficient workflow.
Together, these skills allow the YouTube manager to not only efficiently manage the channel and relationships with creators, but also contribute significantly to the success and growth of the channel on the competitive YouTube platform.
Where to look for a YouTube Manager job
There are several ways to look for a job as a YouTube manager:
Freelance: Use platforms like Freelancer, Fiverr, Workana, UpWork to find opportunities.
Work in Companies: Search traditional job portals such as Infojobs, RemotoJob and Indeed.
Directly: One of the best options is to create a portfolio or website and social networks where you show what you can do for your client. Once this is done, it is a matter of starting to search and present yourself offering your services. Obviously, networking and consistency will play a fundamental role in your success.
YouTube Manager Salary
Income can vary significantly depending on various factors, generally ranging between €600 and €3,000. Experience, training and the success of the channel are determining factors. In addition, commissions may also arise for sponsorships, products, or marketing actions that you carry out.
Read Also: 11 Ways to Make Money Online [Honest & Proven Ways]
Conclusion
With this guide, you are ready to embark on your career as a YouTube manager, a dynamic and constantly evolving profession. Whether working independently or for a company, opportunities are within reach of those prepared to take on the challenge. It's your time to shine in the digital world!