How to Make Money on YouTube [Beginner's Guide]
If you want to make money online and be able to work from home or travel the world as a digital nomad, YouTube is one of the best options available today for this. This platform is one of the most popular web portals in the world, and what's more, it is the second Internet search engine after Google. The figures it manages are spectacular, almost two billion people watch videos on YouTube.
As you can see, on YouTube there is a large audience, and therefore, a great potential to generate income.
For this reason, many companies, freelancers and influencers use the platform to attract traffic and income.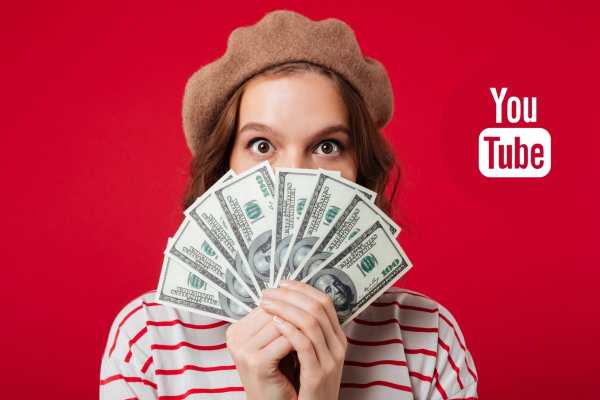 Best of all, there isn't just one formula for making money with YouTube, in fact, there are quite a few. It is not only the ads displayed on the platform that generate income, but also other options such as selling products, sponsorships, affiliate marketing or using YouTube to attract people to your website or other external platforms.
Therefore, if you want to learn how you can make a living from this platform, in this guide you will learn the best ways to make money with YouTube.
Taking the first step is as simple as registering and creating your own channel, uploading videos from the chosen field (gamers, bloggers, critics, humor, experts in a thousand and one topics, …) you can gradually get subscribers, visits and later, income.
How much does a Youtuber earn?
Many of the great winners have been with simple personal videos and/or with simple audiovisual montages, many of them telling their own experiences or points of view on the chosen topics.
Of course, we cannot expect to become millionaires overnight. The process must be constant, of growth thanks to dedication.
The income from the different channels will vary depending on various factors: visits, theme, types of monetization (advertising, affiliation, product sales, events, sponsorships…). We cannot forget that the key to everything is views, not subscribers or likes received, although these can help achieve greater reach.
One of the big unknowns is knowing exactly how much a YouTuber earns, however, there are some tools that can guide you about how much you earn on YouTube. For example, the Social Blade website offers statistics on how much a Youtuber earns. You just have to enter the channel and it will give you the results of how much money you make from YouTube.
How to make money with a YouTube channel
The first thing to note is that not all ads will give us the same returns, it depends on the theme to the nationality, always with nuances and small variations. The revenue per click usually varies, as does the monetized percentage of clicks.
There are two main ways to earn money as a YouTuber, these being the following:
AdSense
The most common option and the one chosen by those who are new to this world, it is important to highlight that with AdSense for YouTube, you will begin to receive income from a volume equivalent to 100 dollars generated. The more visits, the more income we will receive.
Regarding platforms like Vevo, although part of the general system, they have certain peculiarities. For example, in the case we are talking about, the user will receive a minimum of 20 dollars per month regardless of the visits received.
The way AdSense works on YouTube is as follows: Google places the ad on a video without considering the quality, depending on the views and clicks, we will receive some income or another.
It is very important to be very careful with the issue of Copyright because if we use images or copyrighted material, we can lose the money that we would have earned based on these third parties or be sued. On the other hand, it is important to highlight that since there is no contract, the user has no pre-signed commitments.
Which advertising generates the most income
This is one of the big key questions, and the answer is simple: advertising in English is usually better paid than others. Especially the one that relates to countries like the United States, the United Kingdom and Australia, since they are considered the ones that pay the best.
Something to keep in mind is that the conversion percentage is usually around 2% of visits on average, although this varries and can range between 1% and 3%.
In any case, the greater the impact our channel achieves, the greater the views and the better income we will obtain. In general, growth is somewhat progressive, and somewhat slow, although with work, good ideas and a lot of desire we can become one of the great "YouTubers" on the internet.
Although there is no ideal formula to make money on YouTube, talent, luck and offering something different or very peculiar will always be factors to take into consideration to achieve growth in views and therefore income obtained.
Make money with affiliate marketing
The next way to make money from YouTube is through affiliate marketing.
Affiliate marketing consists of recommending a product or service and in exchange, you receive a reward for the sales you generate.
The amount you can receive varies depending on the product and/or agreement you have made with the affiliate marketing company or platform.
As an affiliate, you have to obtain a specific URL in order to promote the products. You place this URL in your description box. When the customer places an order after clicking the link, you are credited with the sale in the tracking system.
Affiliates work in almost every industry if not all.
How to do affiliate marketing
Affiliate marketing works very well on websites, however, it is also working well for YouTube. Just like an affiliate website, you simply place the link in a place where viewers can see it, usually the description box of the video. Obviously, you will have to create content to lead viewers to click on that link and generate the conversion.
To do this, there are different strategies you can use:
Product reviews: you make videos talking about specific products. Then you add an affiliate link to your video description and encourage people to click if they're interested. One strategy to convert more is to offer a special discount through your link.
The best…: Another good way to make money with YouTube doing affiliate marketing is to create comparison videos, such as "the best headphones of 2024" in this way you will be providing useful information to people who, in this case, are looking to buy some. headphones.
Show what you use: A good option is to put a link to the products you are using. For example, if you are a digital nomad and travel the world, you can put links to the camera you use, the computer, backpack, tripod, even the clothes you wear. You have to be original.
Sale of own products
YouTube is a great platform to showcase your products, attract customers and generate sales.
If you have an online store or sell a product, you can use YouTube to show your products and generate a loyal audience that buys.
For example, you can create a video series that explains how to use your product or service.
Or maybe, create a podcast and empathize with your audience to generate sales like Nude Project does. They have a podcast where they hold talks with other professionals, entrepreneurs, and influencers.
Sponsorships
Maybe it is one of the best ways to make money with YouTube.
Sponsorships are known to everyone. It's when a brand pays you to publish your video in exchange for you mentioning their products or services.
Generally, audiovisual content creators mention their sponsors at the beginning of the video, or in the middle, when the audience has been viewing the content for a while. The format is similar to an advertisement, but it is more natural and convincing since the video creator himself is the one who talks about the product.
The ideal is to accompany it with some graphics, videos, animations provided by the company and where the sponsor can be seen well.
Obviously, the conviction of sponsors will be more notable when you have a sponsor related to the type of content you create.
Read Also: 11 Ways to Make Money Online [Honest & Proven Ways]
Bring YouTube traffic to your website
Another option is to use YouTube to drive traffic to your website. In this way, the massive reach of YouTube is combined with your website for selling products or services.
Imagine that you are a graphic designer and you offer graphic design services on your website. You can create a channel where you give pills or advice on graphic design, this way, if someone searches for that content they will know you and you will be able to offer your services. Not only that, it is a real way to gain authority and stand out as a great designer.