Visa for Australia: Types of Visas and Requirements
You are clear that Australia is your next destination, but before embarking on this adventure, there are crucial steps you must follow. The first is to make sure your passport is in order. Then, the most decisive thing: obtain the correct visa to travel to Australia that allows you to fulfill your dreams in this country.
There are many visa options, and at first, it may even seem overwhelming, but don't worry! We are here to help you. In this article, we detail the different types of visas for Australia, their requirements and costs, so that you can find the one that best suits your plans.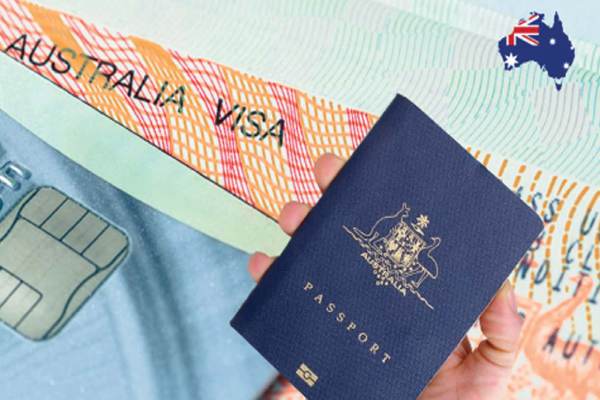 So, if you are ready to embark on your Australian adventure, read on and discover everything you need to know about Australian visas.
What type of visa do you need to travel to Australia?
Planning a trip to Australia requires considering several aspects, and one of the most important is determining what type of visa is right for you. It is essential to take into account your objectives and the duration of your stay. 
If you simply plan to visit Australia to enjoy its tourist attractions and see some of its most emblematic cities, a tourist visa would be the most appropriate. However, if your intention is to work or study in the country, you must opt ​​for a specific visa that meets those needs.
Each type of visa has its own requirements and conditions. For example, if you want to work in Australia, the process may be more detailed and require additional documentation, while a study visa may require an admission letter from an Australian educational institution.
It is crucial to thoroughly research the options available and ensure you apply for the visa that best suits your plans in Australia. An appropriate choice will facilitate your stay and ensure that you can make the most of your experience in the country.
Tourist Visa for Australia
If you are traveling to Australia for a short period, whether to enjoy its iconic beaches and surfing!, explore the unique wildlife or visit family and friends, the tourist visa is the ideal option. This visa is designed specifically for those who wish to enter the country for recreational, tourist purposes, or for short visits to family.
The tourist visa generally lasts for three, six or even twelve months, depending on your nationality and the length of your planned stay. However, it is important to remember that this visa does not allow you to work in Australia. You can study or train for a maximum period of three months, but the main purpose must be tourism.
As for the requirements, these may vary depending on your country of origin, but in general, you will be asked to prove that you have sufficient funds for your stay, medical insurance for your entire visit, and a travel itinerary (where you are going to go ). It is also essential to note that you will need to demonstrate your intention to return to your home country once your visa expires, so having a return ticket can be helpful in this process.
Regarding cost, fees may change, so it is always advisable to check the official Australian immigration website or contact the nearest embassy or consulate for up-to-date information on pricing and additional requirements.
While the application process may seem a little challenging at first, having all your documents in order and following the steps properly will take you closer to having an unforgettable experience in Australia.
Student Visa for Australia
The Australian student visa allows you to enroll in a full-time course of study. This includes undergraduate programs, postgraduate programs, English courses, among others. One of the most notable advantages is that, with this visa, you are also allowed to work a certain number of hours per week, which provides you with an opportunity to gain work experience while you study and, at the same time, helps finance your expenses.
To apply for this visa, it is essential that you have already been accepted into an Australian educational institution, you know, you can enroll in anything from an English course to an MBA, and that you have a Confirmation of Enrollment (CoE ). 
You will also be asked to demonstrate financial capacity, that is, that you can cover your tuition, accommodation and living expenses. A crucial aspect is health insurance: Australia requires international students to have Overseas Student Health Insurance for the duration of their stay.
English proficiency requirements may vary depending on the institution and course chosen. In most cases, you will need to submit results from tests such as the IELTS or TOEFL. However, some institutions may offer alternatives or exemptions depending on your academic record.
As for the cost, as with other visas, it is essential to check the official Australian immigration website for up-to-date details on fees and possible changes in requirements.
Choosing to study in Australia will not only enrich your academic profile, but will provide you with invaluable cultural experience and the chance to establish global connections that can be beneficial in your professional future. In addition to being a good option to improve your level of English and resume.
Working and Holiday Visas for Australia
Another visa option available for Australia is the Working and Holiday Visas. These visas are designed specifically for young people who want to experience a combination of work and holiday in Australia, offering them the opportunity to live a unique adventure while earning some money.
The Working and Holiday Visa allows applicants to work, study and travel around Australia for one year. It is an excellent option if you want to explore the vastness of the country, from its cosmopolitan cities to its natural landscapes, while immersing yourself in the local culture and gaining work experience in an international environment.
To be eligible for this visa, you must generally be between 18 and 30 years old (although the maximum age may be 35 for some countries) and hold a passport from one of the countries with which Australia has a Working and Holiday agreement. Some of the additional requirements include providing sufficient funds for your first stay in the country and having a round-trip ticket or additional funds for an outbound ticket.
In terms of work, with the Working and Holiday Visa, you can work with the same employer for up to six months and study for up to four months. It is a flexible way to live in Australia, allowing visa holders to have a variety of jobs, from hospitality and tourism roles to farm or corporate positions.
It is important to mention that there are two types of Working and Holiday visas: the Subclass 417 Visa and the Subclass 462 Visa. Both offer similar benefits, but eligibility varies depending on the applicant's country of origin, so it is essential to check which one is appropriate for you.
Opting for a Working and Holiday Visa in Australia not only gives you the chance to live a unique experience, but it also allows you to develop skills, establish new friendships and discover what this incredible country has to offer.
Temporary Graduate Visa for Australia
If you have invested time, effort and resources into studying in Australia, you may want to make the most of that education and gain work experience in the country. This is where the Temporary Graduate Visa comes into play. This visa is designed specifically for international students who have completed a course of study in Australia and wish to remain in the country to work or pursue further study.
The Temporary Graduate Visa is divided into two streams:
Graduate Work Stream: For those graduates with skills and qualifications that relate specifically to an occupation on Australia's skilled occupations list. This visa allows applicants to live, work, study and travel in Australia for 18 months.
Post-Study Work Stream: Designed for students who have completed a bachelor's, master's or doctoral degree from an Australian educational institution. Depending on the level of your qualifications, this visa allows you to stay in Australia for two to four years.
To be eligible for the Temporary Graduate Visa, you must meet several requirements. Firstly, you must be under 50 years old and have completed a course of study in Australia that has lasted at least 92 weeks. Additionally, you must demonstrate proficiency in English and meet the health and character requirements that Australia stipulates for its visa applicants.
The great thing about the Temporary Graduate Visa is that it gives you the freedom to work for any employer anywhere in Australia, giving you an excellent opportunity to build a professional network and gain valuable work experience in your field of study. 
It is also a gateway for those considering settling permanently in Australia, as it can provide a pathway to permanent residence, depending on your circumstances and qualifications.
Therefore, the Temporary Graduate Visa is a brilliant option for those who have studied in Australia and wish to continue their adventure, whether professionally or academically, in this dynamic and welcoming nation.
Other types of visas for Australia
Beyond the visas we have mentioned, which are surely one of the ones that best suits your profile, Australia offers a wide variety of visas to satisfy different purposes and needs. Depending on your goals, personal situation and preferences, there are several other options to consider:
Business Visas: Ideal for those who wish to invest, carry out business activities or establish and manage a business in Australia. These visas offer options for temporary or permanent stays.
Family Sponsorship Visas: These are designed for those who have family in Australia. They allow Australian citizens or permanent residents to sponsor family members to live in Australia.
Skilled Work Visas: For professionals with specific skills that are in demand in Australia. These visas are based on the list of qualified occupations and can offer a path to permanent residence.
Training and Research Visas: These are aimed at those who want to improve their skills or conduct research in a specific field in Australia.
Humanitarian and Refugee Visas: Australia also offers protection to those who face persecution in their home countries and are unable to return due to significant threats.
Retirement Visas: For those who wish to retire in Australia. These visas are designed for older individuals who have family ties in Australia or wish to spend their retirement years in the country.
Read Also: The 6 Best English Schools in Australia
It is essential to research and fully understand the options available before applying for a visa. Each visa has its own requirements, conditions and durations.