25 Largest Hydroelectric Power Plants In The World [2023]
Want to know the largest hydroelectric power plants in the world? In 2012, the report has it that the Three Gorges Dam, which is situated in the Chinese province of Hubei, became the world's largest hydroelectric power station succeeding the Itaipu hydroelectric power station (Brazil/Paraguay).
As of the time this article was published the Three Gorges dam has an installed capacity of 22,500 megawatts (MW), compared to 14,000 MW for the Itaipu dam.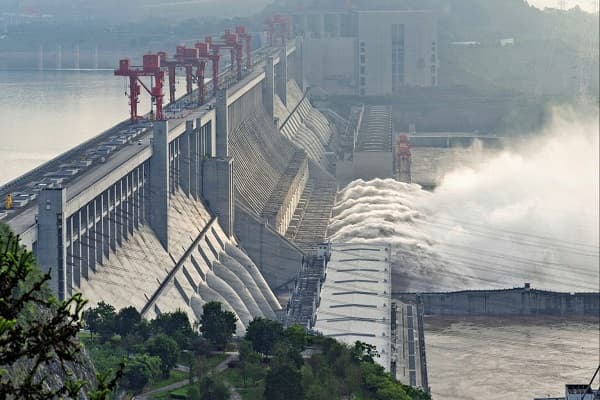 However, despite the great difference in installed capacity, the two plants generate very similar amounts of electricity per year: Itaipu 103 TWh (2016) and Three Gorges 111.8 TWh (2020). The reason is purely weather. 
The Three Gorges Dam experiences up to six months of the year in which there is very little water available to generate power, while the Paraná River that feeds Itaipu has much less seasonal variation in flow.
Read Also: The 10 Most Dangerous Countries In The World
Both dams are two of only six in the world that exceeds 10,000 megawatts of installed capacity. The rest are: the Xiluodu Dam (13,860 MW), the Belo Monte Dam (11,233 MW), the Simón Bolívar Hydroelectric Power Plant (10,235 MW) and the Wudongde Dam (10,200 MW).
The Largest Hydroelectric Power Plants In The World
| | | | | | | |
| --- | --- | --- | --- | --- | --- | --- |
| # | Name | Location | River | Installed capacity (MW) | Maximum annual production (TWh) | Completion year |
| 1. | Three Gorges Dam | China | Yangtze river | 22,500 | 111.8 | 2011 |
| 2. | Itaipu Dam | Brazil / Paraguay | Parana River | 14,000 | 103 | 1984/1991, 2003 |
| 3. | Xiluodu Dam | China | Jinsha river | 13,860 | 55.2 | 2014 |
| 4. | Belo Monte Dam | Brazil | Xingu River | 11,233 | 39.5 | 2016/2019 |
| 5. | Simón Bolívar Hydroelectric Plant | Venezuela | Caroni river | 10,235 | 53.41 | 1986 |
| 6. | Wudongde dam | China | Jinsha river | 10,200 | 39 | 2020/2021 |
| 7. | Tucurui Dam | Brazil | Tocantins River | 8,370 | 41.43 | 1984 |
| 8. | Baihetan Dam | China | Jinsha river | 8,000 | – | 2021/? |
| 9. | Grand Coulee Dam | USA | Columbia river | 6,809 | 20 | 1942/1950, 1973, 1975/1980, 1983/1984, 1991 |
| 10. | Xiangjiaba Dam | China | Jinsha river | 6,448 | 30.7 | 2014 |
| 11. | Longtan dam | China | Hongshui river | 6,426 | 18.7 | 2007/2009 |
| 12. | Sayano–Shushenskaya hydroelectric power station | Russia | Yenisei River | 6,400 | 26.8 | 1985/1989, 2010/2014 |
| 13. | Krasnoyarsk hydroelectric dam | Russia | Yenisei River | 6,000 | 15 | 1967/1972 |
| 14. | Nuozhadu Dam | China | Mekong river | 5,850 | 23.9 | 2014 |
| 15. | Robert Bourassa | Canada | Rio La Grande | 5,616 | 26.5 | 1979/1981 |
| 16 | Churchill Falls Hydroelectric Power Station | Canada | Churchill river | 5,428 | 35 | 1971/1974 |
| 17. | Tarbela Dam | Pakistan | Indus river | 4,888 | 13 | 1976 |
| 18. | Jinping-II Dam | China | Yalong River | 4,800 | 24.23 | 2014 |
| 19. | Bratsk hydroelectric power station | Russia | Angara River | 4,515 | 22.6 | 1961/1966 |
| 20. | laxiwa dam | China | Yellow River | 4200 | 10.2 | 2010 |
| 21. | Xiaowan Dam | China | Mekong river | 4,200 | 19 | 2010 |
| 22. | Ust-Ilimsk Reservoir | Russia | Angara River | 3,840 | 21.7 | 1980 |
| 23. | Jirau Dam | Brazil | Madeira River | 3,750 | 19.1 | 2014/2016 |
| 24. | Jinping-I Dam | China | Yalong River | 3,600 | 17 | 2014 |
| 25. | Fengning Pumped Storage Station | China | – | 3,600 | 3.4 | 2019/2021 |