Omoyele Sowore Biography & Net Worth: Career, Wife, Sahara & Facts
Who is Omoyele Sowore? The biography of Omoyele Sowore also known as Yele Sowore, his net worth, political affiliation, and activism is one thing that most people seek to know. The strong infallible former presidential candidate and human rights activist has been in the news space for years yet much isn't known about Omoyele Sowore biography, Omoyele Sowore net worth, Omoyele Sowore Wife and children, his investments and many other facts about him.
We at NaijaXtreme have taken our time to make proper research about this rugged activist and the CEO of Sahara Reporters and in this post, we will reveal to you all hidden details about Omoyele Sowore and all you need to know.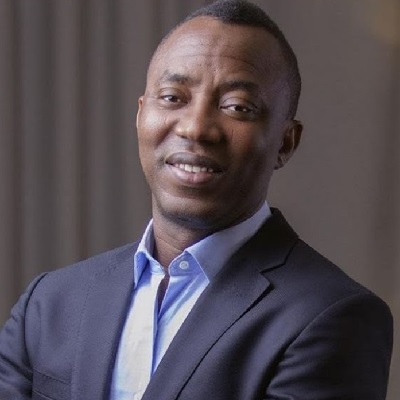 On August 3rd, 2019 Omoyele Sowore was arrested by the Nigerian Department Security Service (DSS) on the charge of treason because of the fact that he stagged a protest the themed – RevolutionNow. The DSS was of the opinion that because Sowore didn't win the 2019 presidential election he decided to unseat the elected president with his Revolution Now protest and this was where it all begins.
Read Also: Richest Igbo Men In Nigeria (Top 10 Ranking)
Without further ado, let us take you through a brief piece of information about Sowore before we dive fully into Sowore biography and his net worth.
Sowore Profile
| | |
| --- | --- |
| Full Name: | Omoyele Sowore |
| Nickname: | Sowore |
| Date of Birth: | 16th, February 1971 |
| Age: | 50 Years Old |
| Place of Birth: | Niger Delta |
| State of Origin: | Ese-Odo, Ondo State |
| Tribe: | Yoruba |
| Nationality: | Nigerian |
| Education: | University of Lagos (UNILAG) |
| Married to: | Opeyemi Oluwole Sowore |
| Children: | N/A |
| Occupation: | Politician, Human rights activist, Blogger, Writer, Lecturer |
| Net worth: | N/A |
| Instagram: | @yelesho |
Now that you know little about him you must be interested in knowing about the full biography and net worth of Sowore, read along.
Biography
Omoyele Sowore also known as Yele Sowore is a Nigerian human rights activist born on the 16th of February 1971 in the Niger Delta region of Nigeria. He is originally from Ese-Odo in Ondo State located in the South-Western region of Nigeria, Omoyele Sowore age is 50 years and he celebrates his birthdays every 16th of February.
Sowore came from a polygamous family with sixteen children so much attention wasn't paid to him, at the tender age of 12 years old he learned how to ride a motorcycle which he usually takes to the lake for fishing to cater for his family before embarking on the journey to school.
He developed a growing passion for the media during the military rule in Nigeria which kept him abreast of every news and happenings in the country then.
Education
Omoyele Sowore education started at a very little age where he attended basic primary school then proceeded to Secondary school. He later furthered his education at the tertiary institution, Sowore attended the University of Lagos (UNILAG) where he studied Geography and Planning and obtained his Bachelor's Degree around 1989 – 1995.
He started his political career and activism while he was an undergraduate and this leads to him being expelled twice before he finally graduated from the university, he was the Student Union President during his time in school and was involved in numerous student protests.
In 199, Omoyele Sowore left the country for medical treatment in New York in the United States and he decided to stay back to further his studies, he had his Master's Degree in Public Administration from Colombia University and this leads us to his career.
Career
Omoyele Sowore Career from his youth age is activism, in 2019 he contested for the post of Nigeria President under the political party African Action Congress (AAC) which he lost to Muhammadu Buhari of the All Progressives Congress (APC).
Aside from his political affiliation, he is also a blogger, writer, and the owner of the popular news agency Sahara Reporters which he started in 2006 while in Manhattan.
Sowore also worked as a lecturer at the Modern African History at City University of New York, Sowore also lectures Post-colonial African History at School of Art also in New York
Sowore Activism
Right from when he was an undergraduate Yele Sowore is known to always fight for the rights of people most especially students, this helped him win the presidential election of UNILAG Student Union Government.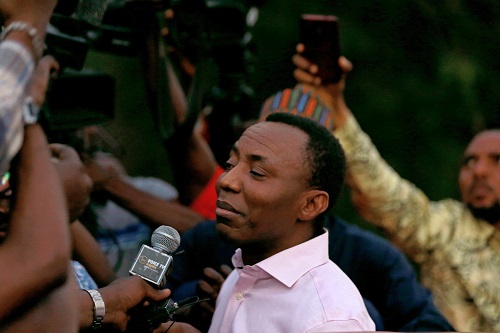 He has also made his position known in most of the protests against the government in Nigeria, against injustice and corruption. In 1989 he was at the forefront in the protest against the government concerning International Monetary Fund (IMF) loan of $120 million which was to be used for oil pipelines in Nigeria as there was a condition attached to the loan to reduce the number of universities in Nigeria from 28 to 5.
Sowore was also the leader of a protest of over 5,000 students which took place in 1992 against the government which leads to the death of seven protesters as the police opened fire on peaceful protesters. He was also in a protest for democratic rule on June 12, 1993 in place of the military rule being practiced in Nigeria.
Due to his stubbornness, the government has tried in various ways to keep him silent, he has been beaten, arrested, brutalized for the cause he believed in. He also lost his immediate younger brother Olajide Sowore in 2021, he was shot dead by Fulani herdsmen in Edo State which was seen as a plot to silence the #RevolutionNow convener.
Read Also: How To Become an OAP In Nigeria (Radio & TV ); Full Guide
Sowore Personal Life & Family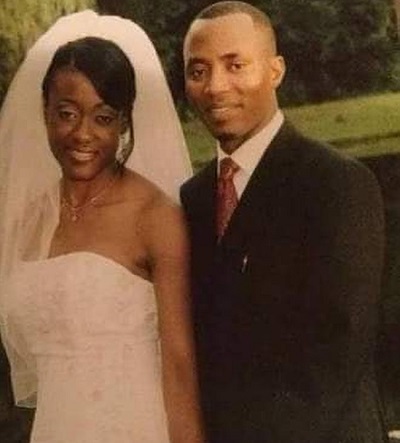 Omoyele Sowore is happily married to his wife of over 17 years Opeyemi Oluwole Sowore who is a Nigerian-American and they are both blessed with kids, his family lives in Haworth in New Jersey.
The wife has also been seen in various protests for her husband's release and also granted a lot of interviews on radio and Television stations.
Arrest & Treason Charges
It all began in 2017 when the Lagos State Police Command arrested Omoyele Sowore due to a petition by Lekan Fatodu a magazine publisher, Sowore published a video on his Facebook wall to confirm his arrest and the assault meted on him by Fatodu under the watch of the Nigerian Police at the Area F Police Command.
On the 3rd of August 2019 while plans were ongoing for the nationwide protest of the #RevolutionNow protest against the government of Nigeria Omoyele Sowore was arrested by the DSS of which the arrest was condemned by Professor SWole Soyinka, Oby Ezekwesili and many prominent Nigerians.
Based on the arrest Yele Sowore was charged with "Conspiracy to commit treason and Insulting the President". He was later granted bail on the 24th of September 2019 after several court appearances by the Federal High Court Abuja under conditions that his international passport should be submitted. Though the court has granted him bail but the DSS refused to let go of him as they claim they were not aware of such court order.
This sparked another protest by Sowore Wife at the United Nation Plaza, New York which caused a global decry on Nigeria's failed democracy though the Nigerian Government ignored this.
It was later made known to the public on the 29th of September 2019 that Sowore was locked up in the darkroom with no access to sunlight for days while he also hinted the public that top Boko Hara members who are terrorists have access to telephones, TV and even cable television in their respective cells.
On the 5th of December 2019, Sowore was released by the DSS with a confirmation that he has settled his bail terms, not quite long the DSS evaded his hotel premises to re-arrest him, and was later released on December 24th, 2019.
Read Also: Mariya Dangote – What To Know About Dangote's Daughter
Sowore Net Worth
Omoyele Sowore's current net worth isn't made known to the public but he is a writer, publisher and the owner of Sahara Reporters news agency which has been receiving financial grants from Ford Foundation and Omidyar Foundation.