The Richest YouTubers In Nigeria 2023 [Net Worth Included]
Who are the richest YouTubers in Nigeria? The wealthiest YouTubers in Nigeria have something in common "consistency", the leading video streaming platform YouTube is one of the highest-paying platforms in the world.
As long as you can create contents that will interest people to watch then you can earn, we have numerous Nigerian content creators who are doing well for themselves today and are earning huge.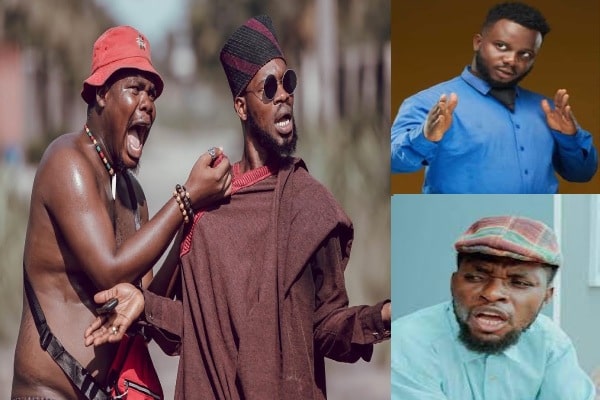 Mind you, YouTube isn't the only platform where these YouTubers upload their contents, they also make use of other video streaming platforms and social media apps like TikTok, Facebook, Twitter, Instagram e.t.c.
Owning a YouTube channel is what makes the difference, these YouTubers have been able to amass wealth significantly through their YouTube subscribers and viewers.
Never forget that YouTube is the largest video-sharing website/app; the application comes with many devices such as mobile phones, smartphones, and laptops and even embedded in most browsers as a form of extension and with this there are billions of visitors watching or streaming their favorite contents choice on their favorite YouTube channels every blessed day.
The revenues being generated through YouTube by YouTubers are enormous and the higher the number of your subscribers or viewers (traffic) the more money you earn. Some earn on a low key huge amount of which their name may sound new to you but viewing their subscribers you will be wowed.
Without taking much time let us reveal to you the richest YouTubers in Nigeria.
Top 10 Richest YouTubers in Nigeria and Their Net Worth
Below is a list of the richest Nigerian YouTubers:
Mark Angel – Net Worth ($1.9 Million)
The name Mark Angel is an household name in Nigeria, Africa and even all over the world, this fact can't be disputed as this YouTuber have over 9 million subscribers on his YouTube channel making his channel the most subscribed in the country.
His YouTube channel name is Mark Angel Comedy and has numerous videos for you to watch and laugh out loud, with over 2 billion views in Nigeria alone he was able to win the heart of many with his short movie skits.
Mark Angel most times features Emanuella and his comics are mostly shot in Port Harcourt which is his neighbourhood, Emanuella is actually his cousin and they both have gotten the recognition they deserve in Nigeria and globally.
He has over the decade been consistent and his talent and consistency has seen him through winning the creator award for the First African Channel to surpass over one million YouTube subscribers in the year 2016.
Mark Angel earn thousands of dollars monthly through the platform and also gets private sponsored adverts and promotions due to his large followers, he is also a 1XBet ambassador and currently Mark Angel net worth is estimated to be $1.9 million.
Edith – Net Worth ($1 million)
Another one on the list of the richest YouTubers in Nigeria is Edith the owner of the popular YouTube channel Editorial Natural Beauty 556, she is well vast in the production of natural ingredients for beauty enhancement, she also lecture her viewers on the right way to apply some beauty products.
She was able to learn most of the things she creates contents on through her grandmother at her tender age, with hundreds of contents centered on natural well-being, beauty enhancement, and also how to utilize natural recipes effectively.
Aside from her normal beauty tips and tricks Edith also gives life hacks on health remedies and some other information beneficial to ones health and healthy living.
Her authenticity has garnered for her huge YouTube subscribers of over 3 million which means she is a successful YouTuber because that alone makes her earn thousands of dollars monthly and also the channel keeps growing day by day.
Edith net worth is estimated to be $1 million and her wealth is attributed to money made from YouTube adverts, affiliate marketing, brand promotion and also private sponsored adverts.
Samuel Oluwafemi Asubiojo – Net Worth ($1 million)
The name may sound new to you as mentioned in the introduction of this topic but trust me, you must have came across his content as he is one of the most popular comedian on YouTube he is popularly known as "SamSpedy" and he is one of the richest Nigerian YouTubers.
Aside from being known as SamSpedy he is also known by some to be Mama Ojo and his comedy has gone far and wide all through the country giving him millions of views and also huge subscribers.
One of his comedy content titled "African Home:In My Feelings Challenge" got him over 7 million views and still counting and his channel subscribers is getting close to 3 million.
Asubiojo is a graduate of Zaporizhzhia State University, Ukraine where he got trained as a medical practitioner, his career choice didn't stop him from doing his comedy as he was able to balance the two without issues.
SamSpedy is no doubt one of the highest paid YouTubers in Nigeria as at the time this article was published and there is no doubt he won't stop here.
Aside from his huge subscribed YouTube channel he also has a TikTok account with over 1.4 million followers, on all his social streaming platforms he create comic contents, acting and also share his life experiences through his travels vlogs and documentaries.
SamSpedy net worth is estimated to be over $1 million and his earnings attributed to money made from YouTube ads and sponsored adverts.
Broda Shaggi – Net Worth ($1 million)
The thug life character Samuel Animashaun Perry popularly known as Broda Shaggi is also one of the wealthiest YouTubers in Nigeria today. He is a very successful YouTuber and his type of content is now being copied by other content creators.
Broda Shaggi has been so consistent for over a decade now and he has always given the best comedy skits to crack up his viewers, in the year 2022 Broda Shaggi is the highest earner, search through YouTube for his official channel called Broda Shaggi with around 3 million subscribers.
His acting skills cannot be ignored as he is a graduate of Creative Arts from the University of Lagos, his acts of a troublemaker or lout is distinct and very much on point like the exact way Lagos Agberos act and he adds much more sauce to make it funny.
Broda Shaggi came into the limelight through one of his skits titled "Jesu in Mushin" and ever since this got viral his popularity has been tremendous, hardly will you find a Nigerian that doesn't know him.
Broda Shaggi net worth is currently estimated to be over $1 million and his earnings are from YouTube adverts, Facebook earnings, affiliate marketing, brand promotion and sponsored ads.
Kassim Bramah – Net Worth ($990,000)
You must have heard the name Kalistus, his real name is Kassim Bramah and the name of his YouTube channel is Yawa Skits. If will interest you to know that Kassim is one of the first set of people to start comedy skits on YouTube in Nigeria.
As one of the top comedy YouTube channels Kalistus Yawa Skits has gotten more than 40 million views with his huge subscribers was able to make wealth for himself.
Kalistus net worth is currently pegged at $990,000 and his earnings are from YouTube adverts, brand promotion and sponsored private ads.
Emanuella – Net Worth ($900,000)
Now a young lady Emanuella started her YouTube channel and skit making as a kid, all thanks to Mark Angel who brought her into limelight. She is a talented kid that acts her role perfectly in a very funny manner.
Her YouTube channel has over 4 million subscribers with millions of views on most of her contents, with this she has been able to amass wealth for herself and also built a beautiful house for her parents.
Emanuella bet worth is currently estimated at $1 million and her earnings are from YouTube adverts and sponsored adverts.
Taaooma – Net Worth ($800,000)
Taaooma is one of the most successful YouTubers in Nigeria currently, she is well-known to be a skit maker and also a social media influencer.
With over 1 million subscribers on YouTube alone, Taaooma was able to win the heart of many with her humorous and parody skits which pegged her net worth at $800,000; that's huge though.
Lasisi Elenu – Net Worth ($800,000)
Another popular comedian and skit maker who has recorded huge success in the Nigerian comedy space is Lasisi Elenu, his form of comedy is quite different as he mostly speaks humorously.
Lasisi Elenu net worth is around $800,000 and his YouTube channel has over 1 million subscribers.
Jide – Net Worth ($800,000)
Another top-ranked YouTuber in Nigeria is Jide, he is also a popular social media influencer and through vlogging, comedy skits and humor on social media has been able to place himself among Nigerian comedy celebrities.
The name of his YouTube channel is JideJunior TV and he was able to garner over 1.5 million subscribers and way above 100 million video views on the platform.
Read Also: Top 10 Richest Comedians In Nigeria
Conclusion
The comedians listed here have done well for themselves, with the harsh economy and lack of jobs in Nigeria they were able to secure wealth legitimately, all these were done with so much hard work, perseverance and consistency together with their God-given talent. We cannot forget new comedians who are also racking in million like Sabinus, Mr. Macaroni, Carterefe and so many more.