The 10 Best Baseball Players In History
Care to know the best baseball players in the world? The history of all sports is full of unforgettable figures and baseball is not an exception. Without a doubt, this sport, which is so popular in the United States, has earned the respect of a large public, which has contributed to the aggrandizement of some of its representatives.
Baseball is a team sport that is practiced on a rectangular playing field, with key points along that space (bases), which are the ones that the batters must touch to reach the goal. Players from the opposing team are defending each of these bases. The batter's objective is to reach each of the bases before the defender is stepping on it and has the ball in his hand.
There are many ways to stand out in this sport: both from the batting spot, where strength and accuracy can contribute to the development of striking ability, and from the pitch, where strength and accuracy are also important, but above all, the ability to catch balls in the air.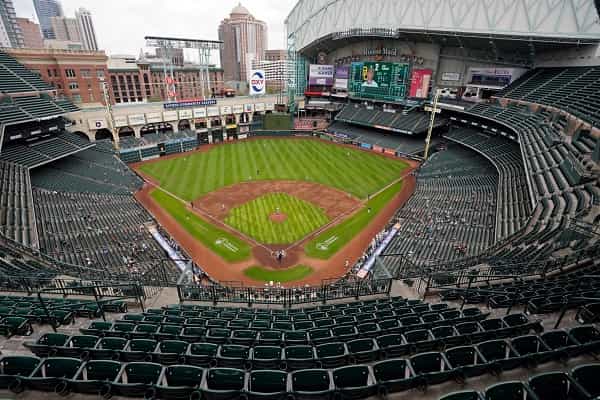 There are numerous athletes who have stood out in both fields. To be a good baseball player, posture is essential, but also the ability to react, to know how to make the right decisions in a short time.
Next we tell who are the best baseball players in history. Do you know them? Who is your favorite? Continue reading…
10 Best Baseball Players In History
Here is the list of the best baseball players in history:
1. Babe Ruth
Babe Ruth was born in Baltimore, Maryland on February 6, 1895 and died in New York on August 16, 1948. He made his sports debut on July 11, 1914 for the Boston Red Sox team. Throughout his career he held the roles of pitcher and outfielder. Other teams he played for are the New York Yankees and the Boston Braves.
One of the striking aspects of this player is that he did not have a sports figure: he liked the nightlife and good food. However, that did not affect his performance on the field of play.
In 1936 he was inducted into the Baseball Hall of Fame and is one of the most important baseball players of all time: in 1999 he was chosen as the athlete of the century by the Associated Press, a title he disputed with Jim Thorpe and Michael Jordan.
In addition, thanks to his friendliness and good predisposition towards children, Babe Ruth was a much-loved player: an icon of American baseball.
2. Ted Williams
Ted Williams was born in San Diego (California) on August 30, 1918 and died in Inverness (Florida) on July 5, 2002. His sports debut took place on April 20, 1939, for the Boston Red Sox.
His role was left fielder and he played much of his career for the Boston Red Sox.
One of his main characteristics is that despite being left-handed, he was ambidextrous on the field: he batted with his left arm and threw with his right. On some occasion, at the beginning of his career, he expressed that he wanted to be remembered as the best batsman in history: the curious thing is that he managed to win this title.
Among his marks is that of having been the best batting average in six seasons and won the triple batting crown two consecutive years.
In 1966 he was inducted into the Baseball Hall of Fame.
3. Mickey Mantle
Mickey Mantle is another of the great figures of Baseball. He was born in Sapnivaw (Oklahoma) on October 20, 1931 and died in Dallas (Texas) on August 13, 1995.
He was noted as a switch hitter. Among his important achievements stands out having been the Most Valuable Player of the American League for three seasons (1956, 1957 and 1962). In addition, he participated in the All-Star game more than twenty times. In 1974 he was inducted into the Hall of Fame, given his fabulous record.
He retired from Baseball in 1968. Later his popularity rose a lot, being hired in several sports programs on television and created a chain of restaurants. He became an activist against alcohol and drug use, the consequences of which he had experienced firsthand. He also created the Mickey Mantle Foundation, to encourage organ donation and make the fight against cancer more visible.
He will be remembered for his 18-year career as a center and for his home run record. He also won the Triple Crown in 1956.
Read Also: The 10 Most Valuable Leagues In The World
4. Nolan Ryan
Nolan Ryan was born in Texas on January 31, 1947. He began his career in 1966 with the New York Mets.
He played as a "pitcher" in eight All-Star Games, in four different decades. He is known for being unbeatable. His record is 5,714 strikeouts over a 27-year career. His throws were impressive: balls traveling at 160 km/h. This led to the public and sports critics nicknamed him "The Ryan Express".
His name appears in the Guinness Book of World Records, with a launch of 100.9 mph.
In his last years he played for the Astros, becoming the first baseball player with a million-dollar-a-year contract.
During the 1984 and 1985 seasons he suffered numerous injuries that affected his career. He continued to play for a few more years but, in 1993, he announced his final retirement. He was 46 years old. In 1999 he was inducted into the Baseball Hall of Fame.
5. Willie Mays
Willie Mays was born on May 6, 1931 in Westfield (Alabama) and made his sports debut on May 25, 1951 in the New York Giants team as a centerfielder. He also played for the New York Mets in the 1970s.
Due to the start of the Korean War, Mays was drafted into combat with the United States Army. A fact that led him to miss more than 250 games, in the 1953 season.
Throughout his career, Willie Mays received many awards. He has 12 Gold Gloves and reached sixth place on the MVP list. In addition, he was the first baseball player in history to reach the mark of 500 home runs and 3,000 hits.
6. Joe DiMaggio
Joe DiMaggio was born in California on November 25, 1914 and died in Florida on March 8, 1999. His sports debut was for the New York Yankees on May 3, 1936, as a center fielder. He retired from the same club on September 30, 1951.
In three seasons DiMaggio was named the best player (MVP) and has the mark of scoring hits in 56 straight games (hitting accurately and reaching first base before the enemy defense could get in his way).
When he retired he was fifth on the home run list with 361. In 1969 he was named the greatest living athlete.
During World War II, DiMaggio was drafted into the United States Army, where he served in a Santa Ana county as a physical education instructor.
In 1937 he acted as an extra in the film "Manhattan Merry Go Round", where he met actress Dorothy Arnold, whom he married two years later. After the divorce, DiMaggio married Marilyn Monroe.
7. Stan Musial
Stan Musial was born in Donora (Pennsylvania) on November 21, 1920 and died in Missouri on January 19, 2013. His sports debut took place on September 17, 1941, for the St. Louis Cardinals team. 
He played for 23 seasons in the Major Leagues and was selected for the All-Star Game 24 times.
His best season was in 1948 when he managed to lead the marks for both triples, doubles and hits as well as RBIs. For three seasons he was chosen best player (MVP).
In 1963 he announced his final retirement, which took place at the end of the season. The following year he was named director of the National Council on Physical Fitness by President Lyndon B. Johnson. In 1969 his name was inducted into the Baseball Hall of Fame.
His most remembered marks are 300 hits in 17 seasons and 12 walk-off home runs. An inescapable character in the history of Baseball.
8. Hank Aaron
Hank Aaron (known by the nickname "hammer") was born in Alabama on February 5, 1934 and died in Atlanta on January 22, 2021. His sports debut took place on April 13, 1954 in the Milwaukee Braves. On October 3, 1976 he retired from sports activity.
He fulfilled the role of right fielder and third baseman, in the Indianapolis Clowns, Milwaukee Atlanta Braves and the Milwaukee Brewers.
He was a high-level figure, who won a World Series and received in 1957 the award as the best league player (MVP) and three Gold Gloves. In 1982 he was inducted into the Baseball Hall of Fame.
In 1999, on its sixty-fifth anniversary, Major League Baseball founded an award, the Hank Aaron Award, to recognize the merit of the season's baseball players. Shortly after, the book I had a hammer was published, an autobiography in which Aaron shared his life and sports experience.
9. Ty Cobb
Ty Cobb cannot be missing from a list of the best baseball players. He was born in Narrows (Georgia) on December 18, 1886 and died in that same state but in the city of Atlanta, on July 17, 1961. He was a first baseman for the Detroit Tigers and the Philadelphia A's. He played for 24 years, displaying an incredible ability to make uncatchable shots.
Thanks to him, the Club of more than 3000 hits was created and he was also one of those that made the creation of the Baseball Hall of Fame necessary, occupying one of its main places.
When Cobb retired, he had 90 Major League records under his belt and is the baseball player with the highest batting average in his entire career. He also long held the record for most hits (4,191), but was surpassed by Pete Rose in 1985 (4,192).
10. Barry Bonds
Barry Bonds was born on July 1, 1964 in Riverside and made his sports debut on May 30, 1986 for the Pittsburgh Pirates. He was one of the most outstanding left fielders on the San Francisco Giants team.
One of the main marks that Bonds holds in his record is that of home runs. In a single season he managed to do 73 (in the year 2001), which helped him to gain great popularity.
Other marks he has achieved are the greatest number of home runs in the entire career and the greatest number of RBIs. He is also the only player who has been elected Best Player of the Season in the Major Leagues 7 times (in the years 1990, 1992, 1993, 2001, 2002, 2003 and 2004).
Read Also: Top 20 Largest Stadiums in the World
He has also been awarded 8 Gold Gloves. And he is an inescapable figure when it comes to talking about the great players of teams like the Pittsburgh Pirates and the San Francisco Giants.