The 10 Best Colleges In California 2023 [New Ranking]
California is home to many prestigious and colleges that offer students the best educational service through its undergraduate and postgraduate programmes. Seeing that there are many colleges established in this state, we have decided to provide you with the best colleges in California located within the Colleges of California Map. 
If you are preparing to enroll into any college in California, to ease your search we have compiled the list of top-rated colleges in California where you can get the best of higher learning education.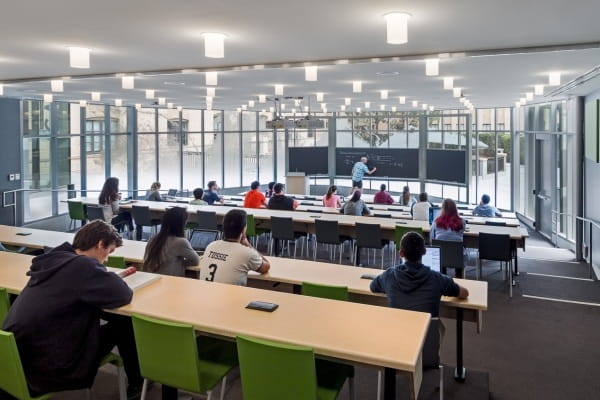 Many colleges in California are highly rated but not as the ones we list in this article. As such if you are planning on enrolling in any college in California, ensure you take a glance at the highlight of Californian colleges rated among the California State University Rankings.
Read Also: The Best Medical Schools In The World [Top Ranked]
The 10 Best Colleges In California [New Ranking]
#1. Stanford University
Location: 450 Serra Mall, Stanford, California
We start our listing of the California State University Rankings with Stanford University, which is undoubtedly one of the top Universities in the World just as it is in California. The institution is a private university that has a suburban setting and occupies a land area of 8,180 acres.
The institution offers diverse courses which students can choose from as well as student organization such as the Stanford Pre-Business Association and Stanford Solar Car Project, which designs, builds and other activities are carried out.
#2. California Institute of Technology
Location: California Blvd, Pasadena, California
California Institute of technology also known as CalTech comes in second on our list and it's undoubtedly one of the Best Colleges in California. CalTech renowned for the excellence of its natural science and engineering programs, CalTech is often regarded as one of the best universities in the U.S. the school which can be found under the Colleges of California Map is located at California Blvd, Pasadena, United States.
Once students complete the general education requirements, they can choose a major course at the end of their first years such as applied physics, mechanical engineering, planetary science, and history. More so, students can pursue a chemical engineering major, with concentration options in bio-molecular, environmental, materials, and process systems engineering.
#3. University of California – Berkeley
Location: Berkley, California
The University of California-Berkeley campus is a public school of higher learning and also among the colleges in the California State University Rankings been one of the best colleges in the state. The university makes use of a semester-based academic calendar to run its programme. It is not surprising that the school makes the list as it is among the Colleges of California Map.
The institution has over 1,000 student organizations which students can be part of; more so, University of California Berkeley is home to 14 schools and colleges, including several graduate and professional schools.
Also, graduate programs are offered in the school which includes the ones in the highly ranked Haas School of Business, Graduate School of Education, College of Engineering and School of Law. New students are expected to meet the minimum 3.4 GPA requirement for out-of-state applicants and at least a 3.0 GPA for state resident applicants, not forgetting that students have to submit their ACT or SAT scores.
#4. University of Southern California
Location: Los Angeles, California
We have on our list one of the oldest private universities in the United States of California and that is the University of Southern California. The institution that started with only just 53 students in the class and today, the university serves about 47,500 students annually who enroll for their respective courses in its over 100 academic programs across its six colleges.
The school makes use of the semester-based academic calendar for its academic programmes. Undergraduate students can pick from its arrays of major courses such as political economy, jazz studies, environmental science and health, and biochemistry. The institution also offers over 190 minors. High school leavers interested to study in this college has to submit their ACT/SAT scores to the institution.
#5. University of California – Santa Barbara
Location: Santa Barbara, California
Next on our list is the University of California-Santa Barbara which is also on is also among the institutions found in the radar of Colleges of California Map. The institution is the third largest college in California accommodating over 26,000 students per semester. Students can choose from its over 90 bachelor's degrees programmes and 50 postgraduate programmes which they chose.
Some of the major undergraduate programmes in the school include chemical engineering, biology, computing, and comparative literature among others.
However, the institution takes serious scrutiny and review which considers the GPA and standardized test performance with other special talents the students possess, as well as the location of their primary residence and secondary school too.
#6. University of California – Irvine
Location: Irvine, California
The University of California-Irvine is a public research institute and it is one of the 10 campuses in the University of California system. The institution offers 87 undergraduate degrees and 129 graduates and a professional degree. Some of the major undergraduate programmes offered in the school include Asian studies, cognitive science, public health, and landscape architecture.
#7. University of California – San Diego
Location: San Diego
The University of San Diego is a public institution that has a total undergraduate enrollment of 30,285 with a campus size of 1,976 acres. It is rated among the top research and academic institutions in the world. The institution has six undergraduate colleges, five academic divisions and five graduate and professional schools where students can select from any of its over 130 undergraduate majors.
Besides, the institution is home to some of the highly-rated medical school (School of Medicine) and Engineering school (Jacob School of Engineering). Some of the undergraduate programmes in this school include bachelor's programs in political science, oceanography, and visual arts.
#8. University of California – Davis
Location: Davis, California
The University of California – Davisis an IVY public institution also among the Best Colleges in California. The institution offers more than 200 degree programmes and it enrolls 39,000 students. Students can choose from any of its numerous undergraduate majors including applied chemistry, sustainable environmental design, and global disease biology.
More so, the institution operates a community and regional development program that prepares students to work as leaders in city planning and public policy. Besides, graduate students can enrol in programmes such as biological systems engineering and forensic science. Not forgetting that the school also offers a Master of Arts in education.
#9. Pepperdine University
Location: Pacific Coast Hwy, Malibu, California
As we gradually get to the end of our discussion we move over to the ninth college on our list and that is Pepperdine University. The university offers educational service to 8,000 students every semester offering comprehensive academics that emphasize global engagement and community leadership.
More so, the school offer about 73 degrees across five schools and it offers an online bachelor degree in management. Some of the major undergraduate courses include business administration, integrated marketing communications, media production, and nutritional science. Also, the school offer distance education in legal studies and dispute resolution students.
#10. Biola University
Location: 13800 Biola Ave, La Mirada, California
Coming in last on our list and one of the California State University Rankings is Biola University. It is a private, evangelical Christian university that has over 150 programmes of study across its 9 schools and it operates with the 4-1-4-based academic calendar.
Read Also: Top 5 Best Colleges in West Virginia [Updated]
Conclusion
College enrollment is on the increase as many individuals are beginning to recognize the importance of college degrees and the majority of them are interested in enrolling in the best and credible institution. Now you are acquainted with the Best Colleges in California and all you need to know about them. Interestingly, some of these institutions are among the best universities in the world especially the likes of Stanford University. You can choose from any of the institutions above to enrol in to obtain your bachelor's degree or postgraduate degree.