Full Biography Of Eniola Badmus & Net Worth: [Nollywood Actress]
Eniola Badmus is a well-known Nollywood celebrity, she is an actress and also a radio presenter who hails from Ogun state Ijebu-Ode to be precise. She came into the limelight after appearing in the movie 'Omo Ghetto' and 'Jenifa' a movie by Funke Akindele.
Eniola Badmus is a very controversial lady and an iron lady, most people on social media take a swipe at her because of her size and she is very good at giving a mindblowing response.
Badmus is known as a comic actress though she has acted in other roles not in any way related to comedy, we have seen her act in numerous Yoruba and English movies and she is good at what she does.
She is a professional actress and she is well educated in her career line as she studied Theatre Act in the university. With her height and size, she was able to win the heart of most movie lovers and also she is a very funny actress.
Before delving into the full biography of Eniola Badmus, let us quickly take you through her profile.
Eniola Badmus Profile
| | |
| --- | --- |
| Full Name: | Eniola Badmus |
| Date of Birth: | 7th September, 1977 |
| Place of Birth: | Ijebu Ode, Ogun State |
| State Of Origin | Ogun State |
| Nationality: | Nigerian |
| Education | University of Ibadan, Lagos State University |
| Occupation: | Actress, Radio presenter |
| Net worth: | $1.5 million |
| Social Media: | Instagram (@eniola_badmus) |
Now that you have seen her profile let us go deep into the full information about Eniola Badmus:
Early Profile
Eniola Badmus was born into the family of Pa Olalekan Badmus Ogunsina on the 7th of September, 1977 in Lagos State, though she is originally from Ijebu Ode the South-Western region of Nigeria.
She moved to Ijebu Ode in Ogun State to have her elementary education, she also had her secondary school education in Ijebu Ode before proceeding to Ibadan for her tertiary education.
After being done with her schooling in Ibadan she moved down to Lagos state to study and also start a career in acting, since then she has been based in Lagos state.
Education
Eniola Badmus as stated earlier had her primary school in Ijebu Ode likewise her secondary school education. She then furthered her education in the University of Ibadan having a Bachelor's Degree in Theatre Arts.
After being done with her studies in Ibadan, she moved to Lagos to have her Masters of Science in Economics at the Lagos State Univerisity (LASU).
Career
Eniola Badmus has a passion for acting right from her youth days, this is the reason why she studied Theater Arts at the university, after moving to Lagos state in the year 2000 she joined the Nigeria movie industry Nollywood and began her acting career.
She has been acting for a while but not famous not until she was featured in Funke Akindeles blockbuster movie "Omo Ghetto" in the year 2008, after that she also featured in "Jenifa" a Funke Akindele multi-millionaire project and award-winning movie series.
After getting fame, she has been featured in numerous Nollywood movies both Yoruba and English movies. On October 20th, 2020, Eniola Badmus was rumored to be shot dead at the Lekki #EndSARS protest which took place in Lekki, Lagos State and she came out to debunk it.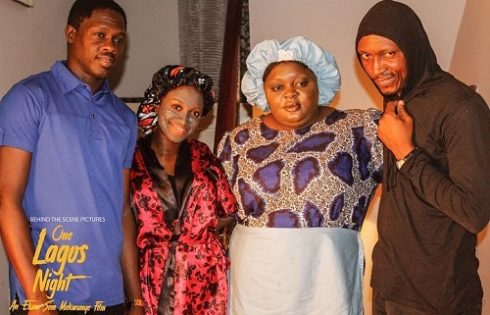 Her career in acting has taken her far, she has won a lot of awards and gotten good nominations, also she had endorsement deals from big brands of which one of Nigeria's Telecommunication company Etisalat is one, she was made the brand ambassador.
Aside from acting, Eniola Badmus is also a radio personality, and she was able to do this alongside acting and also taking care of her family.
Eniola Badmus has acted in over 200 Nollywood movies both Yoruba and English and some of the movies she acted in are; Jenifa, Not My Queen, Angelina, Village Babes, Blackberry Babes, Visa Lottery, Miss Fashion, Battle for Justice, Police Academy, Child Seller, Wicked Step-mother, Mr. & Mrs. Ibu and many more.
Also, she has worked together with other Nollywood actors and actresses like Jide Kosoko, Funke Akindele, Odunlade Adekola, Toyin Abraham, Bolanle Ninalowo e.t.c.
Family
Eniola Badmus was solely raised by her parents in Ijebu Ode, Ogun state. Though must isn't known about her parents, we also couldn't find any information maybe she had siblings or not.
We previously wrote about Bisola Badmus who is the Babby Mama of KWAM1 Wasiu Ayinde, many people thought Bisola Badmus is related to Eniola Badmus because they are both actresses, but it has been made known that they are not related.
When Eniola Badmus got to the stage of having her own family, she got married to her husband named Seyi and the marriage is blessed with children.
Awards & Nominations
Eniola Badmus Biography wouldn't have been complete without mentioning her awards, she is an A-List actress and one of the most sought for by movie producers, with the huge numbers of movies she has acted and also her talent it is certain that she must have a shelf filled with awards, here are some of her awards and nominations:
In 2010, Eniola Badmus was nominated as the "Best Actress in a Supporting Role"
In 2011, she was nominated as "Best Actress in a Leading Role (Yoruba)"
In 2011, she won the "Best Crossover in a Film" (Best of Nollywood Awards)
In 2012, she was nominated as "Best Supporting Actress in a Yoruba film"
In 2014, she won the "Best Actress of the Year (Yoruba)" (City People Entertainment Awards 2014)
In 2014, she was nominated as the "Best Comedic Act"
In 2015, she won the "Best Comedic Act" (Golden Icons Academy Movie Awards)
In 2015, she won the "Best Actress in Africa" (Black Entertainment Film Fashion Television and Arts)
Aside from winning awards and getting nominations to encourage her for her good works, Eniola Badmus has been the people's favorite and she has a huge fan base. She also had endorsement deals with Etisalat, Western Lotto, Indomie Noodles and also Peak Milk.
Filmography
Below we have listed some of the movies Eniola Badmus featured in:
Jenifa
Angelina
Oreke Temi
Blackberry Babes
Village Babes
Mr. & Mrs Ibu
Wicked Step-mother
Child Seller
Adun Ewuro
Visa Lottery
Not My Queen
Battle for Justice
Miss Fashion
Ojukwu the War Lord
Police Academy
Eefa
Omo Esu
" Black Val"
GhettoBred
Miracle
Househelp
Karma
Big Offer
Jenifa
Omo-Ghetto
The-Spell
Daluchi
Funke
Oshaprapra
Omo ghetto the saga
Eniola Badmus Net Worth
Eniola Badmus current net worth is estimated to be over $1.5 million, her earnings are attributed to years of acting and appearing in over 200 Nollywood movies and also through income from endorsement deals.
=> If you love this article on the biography of Eniola Badmus and her net worth kindly hit the share button to share to any social media platform of your choice.
[sc_fs_faq html="false" headline="h2″ img="" question="How much is Eniola Badmus worth?" img_alt="" css_class=""] Eniola Badmus current net worth is estimated to be over $1.5 million, her earnings are attributed to years of acting and appearing in over 200 Nollywood movies and also through income from endorsement deals. [/sc_fs_faq]